The trees, mainly birch and oak, will eventually cover an area the size of five large football fields on the outskirts of the town of Dingwall. Future plans will see a network of paths created in the new forest to encourage locals to make use of the site, which will also have an area of open ground.
As well as providing new recreational opportunities, the new woodland will contribute towards national tree-planting targets aimed at tackling climate change. The initiative is the brainchild of local farmer and land management consultant Richard Lockett, who owns Knockbain Farm.
Dingwall Community Woodland group was then set up to manage the project, which has received £33,000 of Scottish Government funding from Scottish Forestry grant schemes to support the work.
Mr Lockett has welcomed the first trees going into the ground. "I am delighted to see planting getting underway, much of it being done by local volunteers," he said.
"It really is fantastic to see all this hard work now coming to fruition. The enthusiasm and energy of the local community has been brilliant.
"We have been planting trees and hedges on Knockbain for some time now as there are so many benefits for nature, livestock shelter, climate change and, of course, for people. The field being used for the woodland is right next to the town of Dingwall and not crucial to the farm business, so when we thought about planting it up with native trees we really wanted the community to be at the heart of it all."
Josie Fraser, from Dingwall Community Woodland, said: "We want the woodland to be a great natural asset for the community and are currently seeking planning permission and funding for a small network of paths. This will allow everyone to access and enjoy this new woodland and see it grow over time.
"We have lots of other ideas and in the longer term hope to take ownership and manage the woodland on behalf of the community."
The community woodland is being hailed as "a shining example" of local people, farming and national foresters coming together to plant trees for nature, climate change and to strengthen a community's health and well-being.
Scottish Forestry's John Risby said: "Over many years, Knockbain Farm has planted trees and expanded its woodlands, becoming a great example of how trees can be successfully integrated with farming. When Richard told us of the consultation and community interest in planting a further area, we were very keen to support.
"What they have all achieved so far is truly fantastic and we are very proud to have played some part in it all."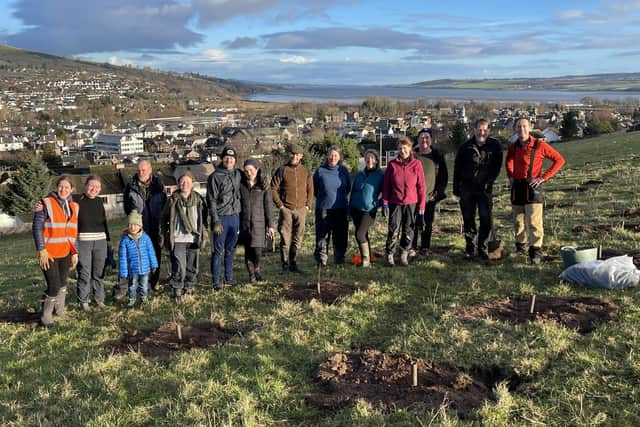 The Government has set out an ambition to see 21 per cent of the country's land covered in trees by 2032, with an annual target to plant 15,000 hectares of new forests by the end of the current financial year.
This is due to rise to 18,000 hectares – around 36 million trees – each year by 2025.