The caution comes from trade body Offshore Energies UK (OEUK), ahead of the publication of its annual Business Outlook report later this month. The report, which is due to come out on March 28, contains in-depth analysis of the UK's energy security, energy supplies and progress on emissions reductions.
It will show UK exports of gas to Ireland have more than doubled since 2017 and are set to rise further as the impacts of a 'de-facto' ban on new exploration come into play.
The Irish government has decided to stop issuing new oil and gas exploration licences, while home-grown production is falling as existing fields become depleted. Around 75 per cent of Ireland's current gas needs are met by supplies piped from Scotland – a dramatic rise from 53 per cent in 2019.
But official forecasts suggest the figure will exceed 90 per cent by the end of this decade.
OEUK's coming report will highlight the situation in Ireland as a red flag for the UK, warning that banning new licences in its waters, which is being called for in a bid to phase out fossil fuels and cut climate emissions, will result in growing reliance on imported petroleum and exposure to global shortages.
Westminster controls oil and gas licencing in the UK, but Nicola Sturgeon has expressed the intention for Scotland to move away from fossil fuels.
Launching the Scottish Government's new 25-year energy strategy in January, the First Minister said: "The imperative is clear. In this decade we must set Scotland on the path to an energy system that meets the challenge of becoming a net zero nation by 2045, that supplies safe, secure and affordable energy for all and that generates economic opportunity through a just transition."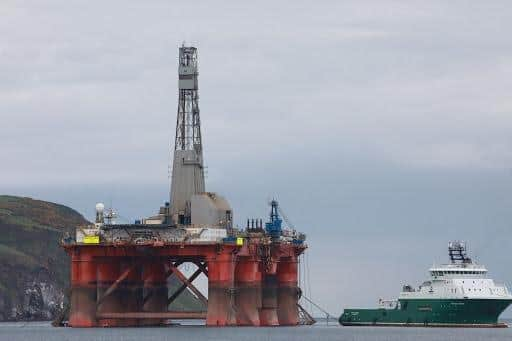 Environmentalists have called for a cut-off date for oil, gas and coal – the biggest drivers of climate change – before it is too late.
Ross Dornan, OEUK's markets intelligence manager, author of the coming report, said: "Following the Republic of Ireland's ban on new oil and gas licensing, its government's own estimates suggest that by 2030 Ireland could be 90 per cent reliant on gas imports.
"The Irish government was acting with good intentions. It imposed this ban to cut greenhouse gas emissions. But such bans can only reduce emissions if they are coupled with reductions in gas demand and consumption. Otherwise, you risk making your country ever more reliant on imports.
"Gas imported from abroad usually generates more emissions because of the energy used to liquefy it, transport it and then turn it back into a gas. So there is no real benefit for the planet if you replace domestic supplies with imports. The events in Ireland and its growing dependence on imports highlight the dangers of applying similar bans to the UK's production of oil and gas from the North Sea, Irish Sea and Atlantic."
The report comes in the wake of the biggest ever profits for global oil and gas giants, due in large part to volatile international prices caused by Russia's invasion of Ukraine.