Oyster season: Closer look at one community working to replenish Scotland's native oyster
With oyster season having started and a string of festivals dedicated to the bivalve mollusc ahead, Katharine Hay caught up with a community-led project working to restore the native variety
"The aim is to bring back oyster numbers here in vast numbers so that we can have a community harvest," says Danny Renton, one of the founders of Seawilding. The charity is run by a group of conservationists working together to restore seabed habitats in Loch Craignish on the mid-Argyll coast.
The body's goal is to plant one million native oysters in the sea loch and dozens of hectares of seagrass meadows – an ideal habitat for the mollusc – over a period of five years. To date, Seawilding has achieved more than a third of its target, with some 350,000 native oysters in the water and thousands of seeds planted.
The result comes during a busy month for those connected to the oyster trade, with events from harvests to the Scottish Oyster Shucking Championships. The competition will see chefs, oyster growers, producers, fishermen and industry professionals pit themselves against each other in a bid to claim the title of Scottish Oyster Shucking Champion. The winner will go on to represent Scotland in the World Oyster Opening Championships in Ireland at the end of the month.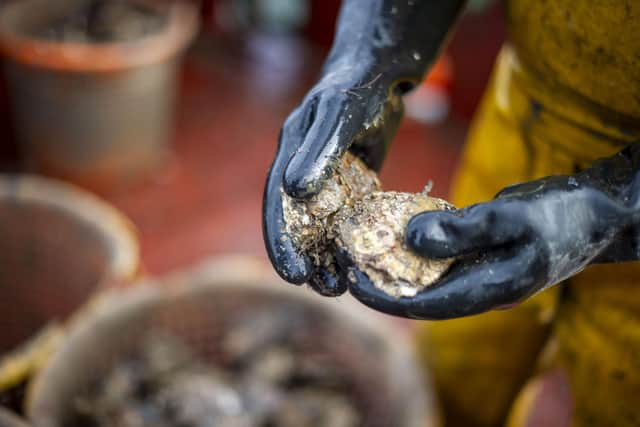 But for Loch Craignish, there is a hive of activity all year round.
To maintain a successful conservation project, hundreds of volunteers visit the area throughout the year to take part in the ongoing work, which can range from oyster scrubbing to surveying to seagrass planting.
Mr Renton, who spent the past few days with divers in the loch for the seagrass harvest, says: "We've just had volunteers from the Marine Conservation Society and Heriot Watt University. The amount of activity here is really testament to the desire for change to how we fish in our lochs."
Critics to some rewilding initiatives have argued such projects can be at the expense of local communities. But Mr Renton says the 500 or so residents in the area are very much at the heart of Seawilding.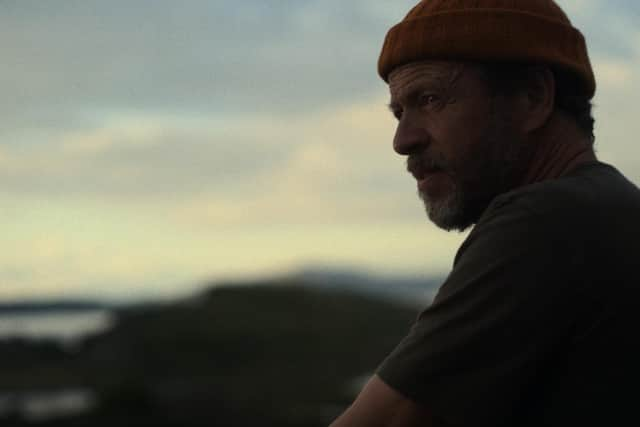 "If you talk to people here who are in their 80s or 90s, they will tell you about how much we've lost in our seas from when they were young," he says. "That's everything from an abundance of bird life and fish to seagrass meadows.
"Because these people have witnessed that decline, it means there is a will here to do something about it."
It is another long-term goal for the sea rewilders – to establish and example of a community-led fishing community.
"The outreach is huge," Mr Renton says. "Since building this project, we have schools taking part, residents volunteering and people coming to study the different methodologies that we are looking at and hoping to be replicated elsewhere."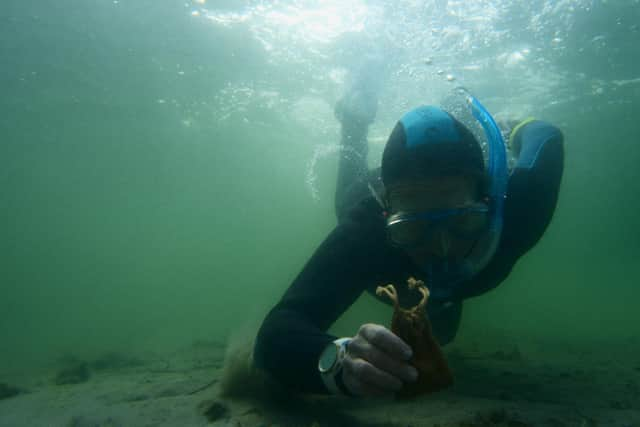 The demise of the native oyster
Native oysters were once abundant in Scotland's sea lochs. They are flatter and more consistently shaped than their cousin rock oyster, and their smaller portion of meat tends to suit those with finer taste.
With their ability to filter huge amounts of water, reduce erosion, sequester carbon and provide refuge for other species, the molluscs have gained a strong reputation in the scientific world as "eco-system engineers". But they have also provided a rich food source for communities.
People have harvested or cultivated the native oyster for centuries, with the delicacy supporting abundant fisheries in several parts of Scotland, most notably the Firth of Forth. At its peak, at the turn of the 19th century, this fishery produced 30 million oysters a year, many of which were exported to England and continental Europe.
Yet by 1957 they were declared extinct in the Firth of Forth – a pattern that has been repeated in many areas of Scotland's coast.
"It will take years and years to get back to those sorts of numbers," Mr Renton says. But in the meantime, the charity is developing what it hopes to be a blueprint for native oyster restoration that can be rolled out across the country.
Seagrass – a flowering underwater plant that provides refuge for many underwater creatures – has also experienced a similar demise. It is estimated the UK may have lost more than 90 per cent of these plant meadows, preventing the storage of millions of tonnes of carbon dioxide equivalent, with roughly half this loss occurring in the past 90 years, according to a 2020 University College London study.
"We have a situation where you can take a scallop dredger, dredge 3m away from the shore and completely destroy an important eco-system," Mr Renton says. In 1984, Scotland lifted a regulation known as the inshore limits, which prohibited industrial fishing within three nautical miles of the shoreline.
Ever since, certain species of fish stocks have rapidly declined, including various white fish species such as cod. Campaigners have since been making calls to reinstate these boundaries.
Another demand has been for the Scottish Government to ban scallop dredging and trawling, both of which involve dragging fishing equipment across the seabed.
"We can do all the work we can with restoring the marine habitat, but a trawler could come to the loch at any point and damage this mosaic of eco-systems that we are trying to restore in one fell swoop," Mr Renton says.
"Some trawlers and dredgers say they represent local fishing communities, but they certainly don't here. None of them live here at Loch Craignish and yet they routinely come in and destroy the seabed.
"The problem is we still have a system that allows people to extract from and destroy the seabed, and that's what needs to change."
Critics to the sea rewilding community, however, have argued fish stocks have depleted in the area due to climate change and warmer temperatures pushing certain species north. Some researchers have said while some stocks have depleted, other species in areas including the Clyde have increased.
One University of Aberdeen study in 2021 showed the biomass of sprats is now "four times higher than it was in the late 1980s", and the fish is now "highly dominant over the historically more abundant herring".
A Scottish Government spokesperson said: "Seagrass beds and other priority marine features play a key role in our marine ecosystem and provide natural benefits to the fishing industry and wider society, including storing blue carbon. We will implement measures to protect the priority marine features most vulnerable to bottom-contacting fishing gear outside of marine protected areas. Proposals for fisheries management areas will be consulted on next year.
"Scotland's world-renowned seafood sector supports vital jobs across our economy, especially in coastal and island communities. Government, the industry and communities all have a shared interest to ensure that both Scotland's fishing industry and our marine environment can thrive sustainably."
Earlier this year the Scottish Government binned its draft proposals for new, highly protected marine areas (HPMAs) – no-fishing zones – to be installed in 10 per cent of Scotland's waters after an immense backlash from coastal communities.
A spokesperson said ministers have continued engage with these communities over the summer and that a full response to a consultation on "the next steps" for the plans will "be published shortly".
Comments
 0 comments
Want to join the conversation? Please or to comment on this article.