Scotland's low emission zones: All you need to know about driving into Glasgow city centre from June 1
Only vehicles which comply with the latest diesel and petrol engine standards will be permitted to enter the centre of Scotland's largest city
When The Scotsman's Glasgow office relocated from the city centre to the south side 15 years ago, staff benefited from an unexpected side effect – noticeably cleaner air.
However, when the company moved back last year, there was no discernible increase in air pollution in the urban canyons that characterise the centre of Scotland's largest city.
It came as tangible evidence the country's first low emission zone (LEZ) has already had an impact in the run up to the final stage of the scheme's implementation following its launch at the end of 2018.
Glasgow is spearheading the change. From Thursday, June 1, only vehicles with the latest engine emission standards will be permitted within its LEZ, bounded by the M8 to the west and north (which is not included in the zone), the River Clyde to the south, and High Street and Saltmarket to the east.
It will be the culmination of a four-and-a-half year process, during which restrictions have gradually been ramped up, initially for buses.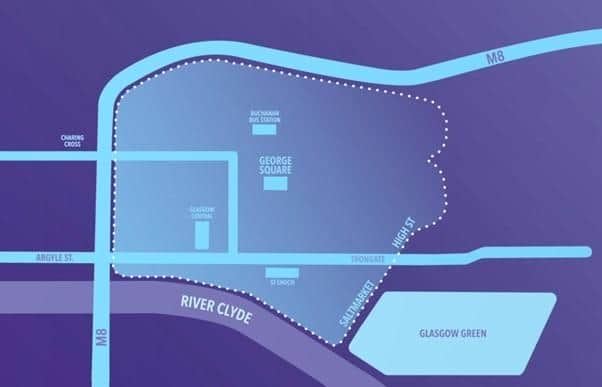 New figures from the Scottish Environment Protection Agency confirm the anecdotal observations from Scotsman staff. They show levels of nitrogen dioxide, one of the main traffic pollutants that is harmful to health, have fallen significantly in Scotland's notorious most-polluted road – Hope Street, the city's centre's main south to north bus corridor, which passes Central Station.
Glasgow City Council said high levels of the gas could particularly affect children, the elderly and those with respiratory conditions like asthma and bronchitis.
The readings show concentrations are now below the legal limit of 40 micrograms per cubic metre for the first time, albeit 17 years after the deadline set for achieving that.
Average concentrations on the street fell between 2018 and last year by 36 per cent, from 61 to 39 micrograms/cubic metre, and are only slightly up on the 2020 figure, during the Covid pandemic when traffic levels plummeted, of 36 mcg/cubic metre.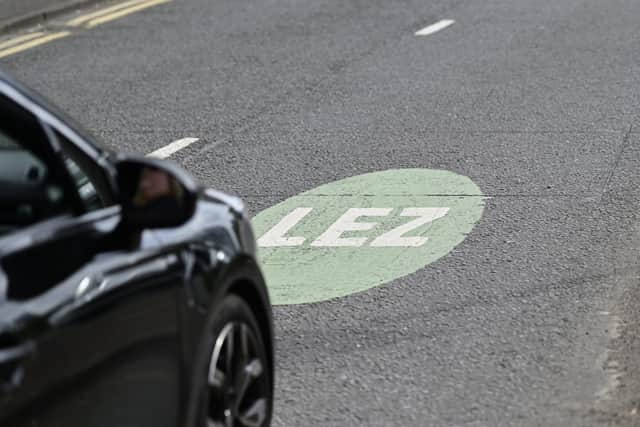 In addition, the total number of hours annually that concentrations exceeded 100 micrograms/cubic metre fell by 94 per cent over that period from 1,168 to 68.
Across the LEZ, nitrogen dioxide concentrations met the air quality standard at all, but five of 27 measurement sites, compared to 11 in 2015.
Buses were the first vehicles to be subject to LEZ restrictions, from Hogmanay 2018, when 20 per cent had to be compliant, which progressively increased annually to 100 per cent last year.
The city council insisted it was vital that other vehicles were included to further improve air quality, even though buses had made the greatest difference,
Transport and environment convener Angus Millar said: "With the success of the bus phase, it's clear that expansion to include all types of vehicles will allow us to maximise the LEZ's air quality benefits.
"While evidence suggests air quality improvements in city centre streets where buses were historically the main drivers of air pollution, we still have stubbornly high levels of harmful air pollution throughout the city centre – and while up to 90 per cent of vehicles entering the zone will be unaffected by the LEZ, restricting access to the remaining minority of vehicles that pollute the most is vital to protect public health."
However, there has been opposition from some businesses, including taxi drivers. The Glasgow cab section of the Unite union said: "Glasgow does not have illegal air pollution. There is no legal authority to proceed with the LEZ at this time. This is now solely about revenue raising."
When will enforcement of Glasgow's LEZ start?
Round the clock from Thursday, June 1.
Is my vehicle legal to enter the LEZ?
Yes, if it has the latest, Euro 4/IV petrol engine, fitted since 2006, or Euro 6/VI diesel engine, fitted since September 2015.
Are there any exemptions?
Residents of the LEZ will have another year, until May 31, 2024 to comply. There are also exemptions for "historical interest" vehicles over 30 years old, motorcycles, mopeds, electric vehicles, blue badge holders, emergency services vehicles, armed forces vehicles and showman's vehicles, which form part of a funfair. Taxis are exempt for a year if owners have applied for funding to retrofit their engines, or are awaiting further funding to become available.
What is the penalty if my vehicle is not compliant?
Number plate cameras at 23 entry points to the LEZ will identify non-compliant vehicles and £60 fines will be issued, which are halved to £30 if paid within two weeks. The fine doubles on each subsequent occasion the vehicle is driven into the LEZ within a 90-day period, up to £480 for cars and vans and £960 for buses and lorries.
How many non-compliant vehicles are likely to enter the LEZ?
Glasgow City Council does not know, but expects the number to fall once enforcement begins and fines start being issued. Its latest figures show some 125,000 vehicles a day enter the LEZ and around 85-90 per cent are compliant.
What happens to the fines revenue?
The council said it must be used for "activities that help reduce air pollution and/or contribute towards achieving our climate change targets".
June 2024. LEZs in the cities were introduced in 2022, with a two-year grace period.
Comments
 0 comments
Want to join the conversation? Please or to comment on this article.