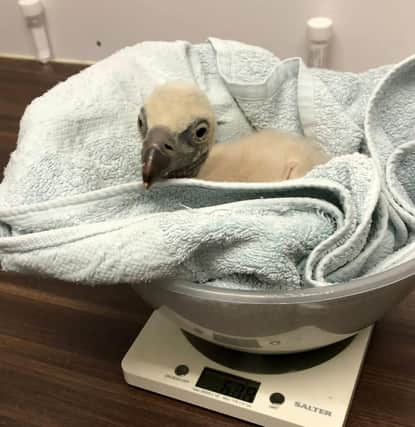 The chick hatched at the World of Wings bird centre in Cumbernauld, North Lanarkshire, weighing just 300 grams.
Now four weeks old, it is growing feathers and weighs nearly 2kg. It will eventually tip the scales at up to ten kilograms and have a wingspan of up to nine feet.
At around 16 weeks, a DNA test will be carried out so keepers can discover its sex and give the chick a name.
The chick was hatched by breeding pair Celeborn and Galadriel -- named after characters from the Lord of the Rings trilogy.
The adult birds both came to the UK from Spain where they had suffered wing injuries in collision accidents. Neither can fly freely but they now form part of a European conservation breeding programme for the species.
Once fully grown, the Scots chick could potentially be released into the wild to help support parts of their range where they have declined.
Stuart Paffett, head falconer at the World of Wings centre, said: "Because this chick has been naturally incubated and reared by its parents so far we have had very little contact with it.
"Mum is sitting on it a lot of the time, but the chick is now sitting up and looking curiously around and starting to move about a bit. We are really pleased with how it's progressing.
"You can see our chick from outside the aviary but we also have CCTV so we can monitor it. It is eating like crazy and growing at an impressive rate. It's also very very loud -- we can hear it from the other side of the centre when it's hungry or cold. As soon as mum goes off to stretch her wings our chick makes a racket.
"But we will only be able to tell the sex when it gets its health check and microchip at around 16 weeks, and the vet takes a feather sample for DNA."
Eurasian griffon vultures are native to mountainous parts of southern Europe, north Africa and Asia, where they scavenge on carcasses of dead animals they find by soaring over open areas. Like other vultures, they play a key role in keeping the environment clean, quickly disposing of carcasses.
They can live up to 40 years in captivity and the birds in Cumbernauld are the only breeding pair in Scotland.
Mr Paffett said the arrival of a chick at the centre was "amazing to see".
He added: "We all love vultures -- training the birds, flying them and getting to educate people about them is a privilege all by itself -- but to get the opportunity to breed them is amazing, bringing this little life into the world and getting to help a species which is so important.
"There are a lot of preconceived ideas about vultures but it's our job to enlighten people because they are incredible birds with wonderful characters.
"They are very curious and intelligent and more sociable than people imagine. Anyone who has ever worked with vultures absolutely adores them."