Supermarket's Scottish HQ deploys lasers to ward off seagulls pooing on solar panels and damaging buildings with 'bombs'
A supermarket giant has deployed a cutting-edge laser deterrent system to ward off an "infestation" of seagulls, which have been causing chaos at its Scottish headquarters.
Aldi's massive office complex, showroom and distribution facility in West Lothian has been plagued by the birds, which have been nesting on the roof in large numbers and creating problems for operations and maintenance teams.
As well as pooping all over the complex's 4,000 solar panels, reducing their efficiency, the winged pests have been dropping debris, terrorising workers and damaging buildings.
Contractors had refused to carry out essential work on the panels due to the extent of the fouling, while the need for constant cleaning and the reduced energy output were racking up hefty bills.
But all that is a thing of the past, thanks to installation of the new AVIX Autonomic Laser Bird Deterrent.
The results have been remarkable, with "an immediate 100 per cent reduction in bird presence" on the buildings.
The system is harmless – using light beams to trick the birds into thinking there is a predator in the vicinity, which prompts them to flee – but "highly effective", according to the Bird Control Group, which designed and manufactured the apparatus.
Testing suggests the technology can offer a long-term repellent against such infestations, with birds showing no signs of becoming accustomed or desensitised to the perceived threat.
The supermarket chain worked with Scottish Pest Control, a specialist firm that has bird-proofed buildings for other leading retailers such as M&S and Tesco.
The successful installation of the laser system has transformed the once-troubled rooftop, eliminating contamination and damage caused by seagulls and restoring contractors' confidence.
The firm has also witnessed a significant decrease in cleaning expenses, coupled with a notable boost in solar panel energy production.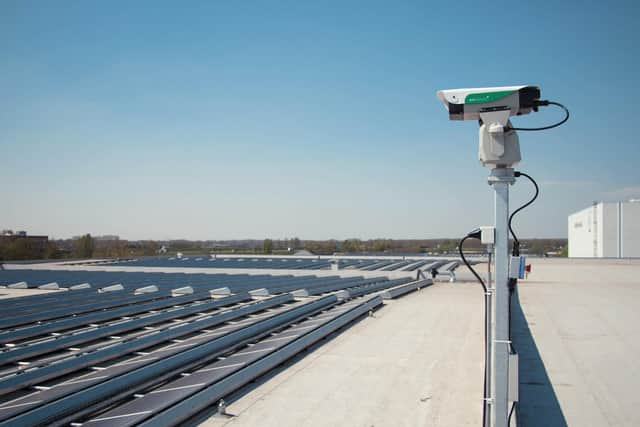 A spokesman for Aldi's Bathgate maintenance team said the non-intrusive nature of the laser system – in contrast to traditional methods that use spikes or netting to physically stop birds getting to their desired destination – made it an ideal choice for the company.
"We had a purpose-built chiller constructed at the same site and decided to install lasers on this as well and, to date, we have not had any birds on it," he said.
Comments
 0 comments
Want to join the conversation? Please or to comment on this article.