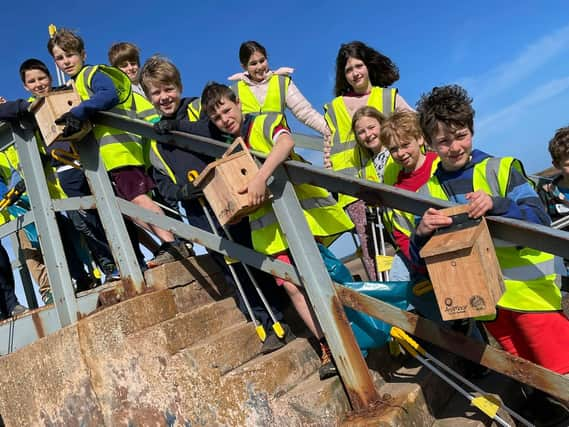 The homes are in fact nesting boxes, 400 in total, which are being set up in primary school playgrounds in the hope of boosting local populations of small birds.
The boxes are constructed from sustainably harvested larch timber that is grown and milled nearby.
The move is part of the East Lothian Primary Schools Birdbox Project, set up by Scottish teacher and conservationist Tom Rawson, founder of environmental firm GreenTweed Eco.
The initiative, which has seen 10 boxes presented to each of the 40-odd primaries in the region, is the latest in a series and brings the total number dished out across the nation to more than 3,000 over the past three years.
The Borders-based teacher, who works at the independent St Mary's School in Melrose, makes the boxes in a workshop at his Jedburgh home.
He hopes the East Lothian project, which is sponsored by North Berwick country clothing firm Ardmoor, will "put the natural world into the eyeline of primary school children across the region" and raise a new generation of nature-lovers.
He said: "With around 10 boxes in every primary playground, we hope that there will not only be a significant boost to local small bird populations but also that a generation of children can have the wild world in the foreground of their primary school years.
"These wee people are going to grow up to be the future guardians of the environment and it's important that nature takes centre stage from an early age."
The boxes have already proved popular, with feathered residents such as blue tits, sparrows, great tits and nuthatches moving in – as well as other creatures, including honey bees, bumble bees and wasps.
East Lothian teacher Kenneth Innes, from Compass School in Haddington, said pupils and staff were delighted to be part of the nest box project.
"We jumped at the chance to take part," he said. "We have been taking a lot of interest in birds over the last few months, conducting surveys, feeding them, building our own birdbox and also taking part in the RSPB Big Garden Bird Watch.
"To have such beautifully made, sustainable boxes in our playground has been amazing and has really helped create a bird buzz in the school. Children have been so excited to watch the smaller birds investigating the boxes and run to tell staff whenever they have seen activity."
The wood for the boxes is all from East Lothian, coming from trees grown at Baro, near Gifford, which is then processed at Tyninghame Sawmill.