Dame Ann, 80, the co-founder of Stagecoach and at one point Scotland's richest woman, has been charged with alleged human trafficking and immigration offences following a Police Scotland investigation.
The tycoon and philanthropist "strongly disputes" the allegations, which she described as "malicious", with her husband David McCleary and two other family members also charged after voluntarily attending a police station last week.
A source close to the family said those who made the allegations, believed to be a total six individuals, came to Scotland from a number of African countries through her charity, The Gloag Foundation, with a number staying at Kinfauns Castle near Perth and others located in the surrounding area.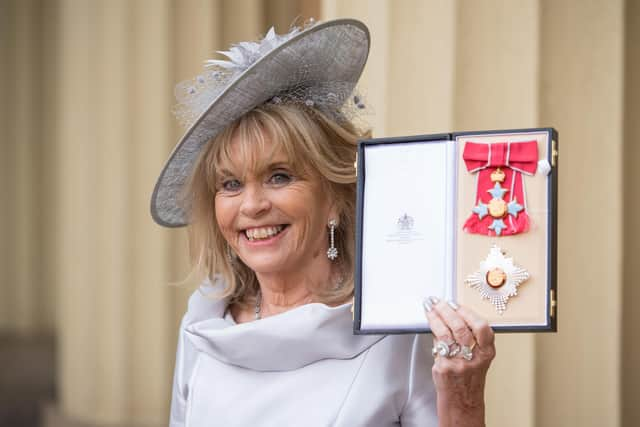 The source said: "They come from a group of people who Ann has helped. We are all bewildered by what has happened. It is ironic to some degree that Ann has been directly involved in charitable work that helps victims of human trafficking. She knows only too well the issues.
"Ann is an incredibly stoic human being and a lesser human would have been crushed by this . It is a testament to her determination in life that she wants to get this sorted and to carry on.
"The whole aspect of the maliciousness of this has been an utter bombshell."
Dame Ann has concentrated on her philanthropic work after stepping down as the executive director of Stagecoach, which she set up with a fleet of second hand buses with her brother Brian Souter, in May 2020. Most recently, she has been involved with helping victims of human trafficking in Romania and assisting those displaced by the war in Ukraine.
Her charities include Freedom From Fistula, which she founded in 2008, and now helps more than 20,000 women and children across Africa who have been injured during childbirth. She also established Kenya Children's Homes in 2002 which now educates and cares for more than 1,500 children every year.
In a statement, Dame Ann added she would "vigorously defend herself and the work of her foundation to protect her legacy and continue her work helping thousands of people in the UK and abroad every year".
Sarah Brown, wife of former prime minister Gordon Brown, was among those who issued statements of support for Dame Ann yesterday.
Ms Brown said: "Gordon and I have known Ann Gloag for many years through her huge personal commitment to Freedom from Fistula and supporting girls' health & education. She is a remarkable campaigner and quietly generous charity supporter. These charges just don't add up."
The Open Door Foundation, which runs three residential centres in Romania for those who have been trafficked, said Dame Ann's financial and material support through The Gloag Foundation had assisted 1200 survivors of human trafficking and directly helped to rescue almost 492 girls, including at least one trafficked to Scotland.
The charity said it was "shocked and horrified to learn of malicious allegations being made against our longtime supporter and friend, Dame Ann Gloag."
Monica Boseff , the charity's executive director, added: "I am in no doubt that without the generosity and support of Dame Ann Gloag, our organisation would not be able to continue its vital work helping some of society's most vulnerable people. Dame Ann's compassion and high moral values have infused our work from the beginning and we will continue to stand by her while she fights to clear her name."
"As recent high profile cases have demonstrated, the issue of human trafficking is a very real and dangerous threat to women, men, boys and girls across Europe. To conflate Dame Ann's decades of charitable work with these heinous crimes is not only harmful to her legacy, it is dangerous for so many victims who are truly in urgent need."
Dame Ann and her husband were charged after voluntarily attending Falkirk police station for an interview on Thursday.
It is understood Sarah Gloag, who is Dame Ann's daughter-in-law, attended voluntarily at Livingston police station in West Lothian with Paul McNeil, a son-in-law of the tycoon.
A Police Scotland spokesperson said: "On 19 January, 2023, four individuals were charged in connection with an investigation into alleged human trafficking and immigration offences. A report will be sent to the Procurator Fiscal."