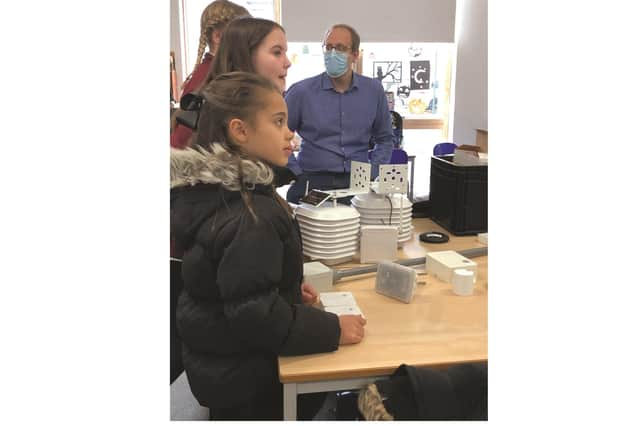 That is certainly the case at Roslin Primary School, where a group of Primary 6 pupils have acted beyond their years in grasping the potential of data with both hands – and using it to improve their school environment.
Monitors at the Midlothian school provide raw data which the pupils then plot on charts and graphs to show carbon dioxide levels and air quality around the premises.
High levels of CO2 are not conducive to good learning at school as it can make pupils drowsy and dull their attention span.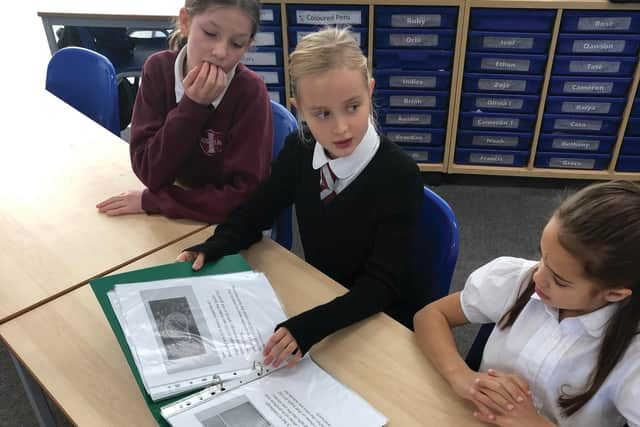 So the Roslin pupils have acted on their findings to think about where additional ventilation might be needed – and how to more effectively move people around the school, to reduce concentrations of CO2 when large numbers of pupils and staff are in the same area.
In other sessions, pupils also plotted the impact of last December's volcanic eruption in Tonga, and are hugely enthused by the potential of data, as class teacher and fellow data enthusiast Colin Burt, who previously worked in finance, explains.
"I'm very interested in data and we've done lots of work about what it means for the school," he says. "We want to make it relevant to children's lives, so we ask lots of questions, and collect and collate information to think about health and fitness, or how much plastic we're using in school."
Roslin Primary became one of the first schools to pioneer the Internet of Things project, led by the Edinburgh-based Data-Driven Innovation(DDI) initiative. The aim was to get CO2 monitors and other similar data-gathering equipment into all schools in the Edinburgh and South East Scotland region within three years.
The objective is to collect and interpret data to inform decisions in individual schools, and in the wider education community across the region.
Roslin Primary is clearly well ahead of the data curve. Its pupils were initially involved in the DDI initiative's Data Town project. Burt explains: "The children were given a map and told they could create sensors to capture different information.
"Where would you place them in the town? Why? What kind of data would they collect? What could that tell them, how could it help?
"The children [aged ten and 11] came up with great ideas – sensors on hospital doors to measure people going in and out; checking temperature in hospitals; sensors at traffic lights and roadsides to measure pollution and car speeds."
The primary pupils also looked at health and fitness, doing weekly circuits for a specific time. They mapped their results onto a graph to see whether they were getting better or worse, then linked that to sleep patterns and what they were eating to create personal plans.
Burt was made aware of the DDI initiative through contacts at the University of Edinburgh, and Roslin was swiftly accepted as a data-sharing school.
He recalls: "We got our CO2 monitors for the classrooms and air-quality monitors, and they helped us to make data useful. There's no point finding out about pollution levels, for example, and doing nothing.
"We ask: why is it high here? What can we do about it? What if we move monitors to different parts of the school, or bring plants into classrooms?"
A Roslin "data team" creates a weekly report based on the dozen CO2 monitors in school, then reviews the data and looks at peaks in emissions – when it might be above safe levels – and potential actions.
Burt explains: "We found that some peaks in certain classrooms were at points where all the children were getting up at the same time and moving about. So they thought we should ensure we have a door or window open at that point – or stagger the times they move around.
"They're well aware of the detrimental effects of high CO2 levels – why we need cleaner air with higher oxygen content – and want to work out how to tackle higher readings with practical action. We have put monitors in other areas of the school – the PE hall, library, some main corridors – to look at footfall at specific times. Is it too heavy and having a negative impact on CO2 levels? Could we use different corridors to benefit the circulation of air?
"The children are really excited about what we're doing. We had a core group who were really interested, but the numbers wanting to be involved has increased. We've got nearly the whole Primary 6 class now, and we are setting them data challenges."
The children are also keen to look beyond the grounds of Roslin Primary – whether that is a local wildlife corridor or the other side of the world.
"We'd like to go into places like Roslin Glen, to monitor water quality or to get leaf litter and see how many bugs or insects were in it and calculate how many are in Roslin Glen overall."
Further afield, the children were hugely excited when the impact of the underwater volcanic eruption in Tonga at the turn of the year showed up on the school's air pressure monitor.
"We set a challenge to see how fast the explosion had travelled around the world," says Burt. "They looked at how far Tonga is from Roslin, taking into account time differences, and using the old physics formula of velocity equals distance over time. Then they came up with all these questions – if there were clouds in the sky, would that slow the explosion down? If the wind was blowing in a certain direction would it speed it up?
"We did a conference call with a volcanologist based in Ecuador as part of an Edinburgh University project, and the children asked him lots of questions. That enthusiasm and excitement is great to see because they want to be involved in something completely different."
However, the children's data work is also ticking multiple curriculum boxes.
"Maths is always going to be in there because you're talking about graphs and charts, and technology as well," says Burt.
"We're looking at literacy, especially from a comprehension perspective, and deeper thinking, problem-solving and questioning. The way that we've been doing it, there's certainly been science too.
"The children are aware of the importance of data for providing solutions to problems within the world – for example, in influencing climate. And they realise that understanding it could be good for them in the future.
"My personal opinion is that using and analysing data should be a staple part of the curriculum, because it's such an important skill to have.
"These are the kinds of skills we need for the future, and for future jobs."
What the primary pupils say...
So we can tell if the thing we are measuring is improving – or whether it is getting worse [in relation to the school's carbon dioxidemonitors] – Bethany Macqueen
It allows us to solve problems. It allows us to see if our solutions have made a difference – Orla McCafferty
I enjoy data because I like the computer, technology and science sides of things – Olivia Inglis
I like comparing data from different environments, or from differentschools – Indira Williams
What fascinates meabout data?
I love to investigate the reasoning behind why data shows us certain things or results – Zoja Bielecka
The ways we can solve problems and how data helps in this – Orla McCafferty
How quickly the measurements can change in an active environment; for example, the way the Tonga eruption changed our air pressure sensors so quickly – Olivia Inglis
This year, the conference's focus will be on the potential for data to encourage greater diversity, equality and inclusion. Our diverse range of speakers will reflect what data is already doing – and what more it can do – to deliver better social, economic and environmental outcomes for all.
Confirmed speakers for the event include Dr Nakeema Stefflbauer, pictured, founder and chief executive of FrauenLoop, and Renata Avila,chief executive of the Open Knowledge Foundation.
A message from the Editor:
Thank you for reading this article. We're more reliant on your support than ever as the shift in consumer habits brought about by Coronavirus impacts our advertisers.
If you haven't already, please consider supporting our trusted, fact-checked journalism by taking out a digital subscription.