While unseasonably warm weather and sparse snowfall has forced several resorts across mainland Europe to close or drastically reduce the number of runs they have open, favourable conditions in Scotland have guaranteed several days of good skiing and sledging over the festive period.
Nevis Range, one the country's leading snowsports centres, said since Christmas Eve, it had welcomed around 5,500 visitors, with families arriving en-masse to enjoy its sledging area.
Glenshee has attracted up to 1,000 people a day. Other resorts, such as Glencoe and Cairngorm, have seen days where both have sold out of tickets, and although rainfall and forecasts of milder weather to come has invited caution, there is reason for optimism so far in the industry.
The promising footfall is in stark contrast to the situation on the continent, where a lack of snow is causing widespread concern, particularly among some low-lying resorts. Since Christmas, France has experienced the warmest weather since 1997, with temperatures at least seven or eight degrees higher than usual, with record highs also recorded in Germany, Poland and the Czech Republic.
The northern Alps and French Pyrenees are particularly struggling for snow and some resorts, after barely being open a month, have had to close until green rolling hills are transformed into crisp white pistes. The Swiss resort of Splugen-Tambo, despite a base altitude of 1480m, has also announced it will be closed "until further notice".
Other enterprising resorts have put in place hiking or mountain bike trails on slopes that ordinarily serve as ski runs, although some popular ski spots, such as Val Gardena, Val Thorens and Solden, remain busy.
While the rest of Europe's resorts will be hoping for more snowfall, skiers and snowboarders have been enjoying the white stuff in Scotland. At the Nevis Range, the sledging slope at the resort's top station attracted families between Christmas and New Year, with further snowfall on the mountains allowing it to open to skiers and snowboarders on January 2. That was one of only two full days of skiing at the resort over the holidays, but even so, those in charge are feeling positive.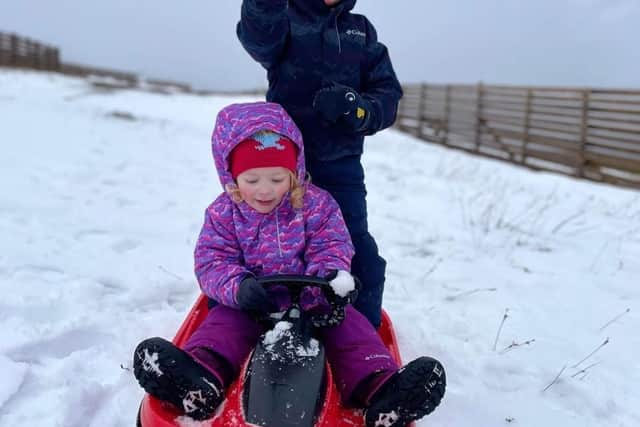 Chris O'Brien, managing director at Nevis, said: "We've had a great Christmas, I can't complain about it at all. There's been about 5,500 visitors since Christmas Eve, and of that number, about 2,000 bought sledging tickets.
"There was an awful lot of warm rain on Tuesday evening, but it's getting colder towards the weekend, and we have a lot of snow on the summit, which we're looking to get ready. I wouldn't say we're seeing skiers from Europe coming here, but what I would say is that we are seeing a lot of people who would have made last-minute decisions to go somewhere like the Alps deciding to come to Scotland instead.
"None of us would say 2022 was the best year of our lives. It was really challenging, but things are looking good. We have a lot of reasons to be optimistic."
Iain du Pon, managing director of the Lecht ski centre near Tomintoul, said an early dump of natural snow, complemented by some artificial snow to fill in the gaps, had made for a "great start" to the season. He said visitor numbers were comparable with previous years when similar snowfall levels were recorded, and there was an increase in enquiries from visitors from further afield.
"The current thaw is depleting the cover a little, but hopefully things will cool again in the next few days and we may see some further snowfall at the weekend to top things up," he said.
One skier, Duncan Crawley, decided to spend a day at Lecht earlier this week while visiting his mother in the nearby village of Strathdon. He said: "Due to the perfect weather and snow conditions, the crowds came in their thousands and the lift carrying capacity was up against it, but every wait in the line was an opportunity to have a chat with like-minded people, sharing our own personal skiing experiences."
At Glencoe Mountain Resort, managing director Andy Meldrum said it had been a "great festive period" for skiers, snowboarders and sledgers, with around 5,000 visitors descending on its slopes.
"It's been a much better season than last year, when we didn't get decent snow until mid-February," he said. "We've had quite a few visitors from south of the border and things are looking good for the next few weeks with plenty of snow in the forecast."
Glenshee, the largest ski resort in Scotland, said it too had been busy over the holiday period, with up to 15cm of new snow falling on some days. The demand saw the centre restrict numbers on some days, with people advised to book online to avoid disappointment.
David Farquharson, the resort's managing director, stressed while conditions were liable to change on a day-to-day basis at the moment, the snowfall was "pretty good" for the time of year.
"We've done pretty well in comparison with the last few years," he explained. "On our busiest day we saw about 1,000 people come to Glenshee. But the forecast is looking a bit milder, and we lost a lot of snow on Tuesday night.
"That means that what we have is what I'd describe as good Scottish skiing – snow with a few patches of heather sticking through."