Richard Ratcliffe and his wife were among dozens of protesters who gathered opposite Downing Street on Thursday – exactly five years since Jagtar Singh Johal was arrested.
Making a speech to the crowd, Mr Ratcliffe said: "The government took a long time to work on our case. It's taking a very long time to work on Jaggi's case."
Mr Johal claims to have been beaten and tortured by Indian police, alleging officers attached electrodes to his ear, nipples and genitals, and threatened to burn him alive. He and his family say he was subjected to a coerced confession before being confronted with further charges.
Mr Johal is principally accused of funding the purchase of weapons used to assassinate Hindu leaders – allegations he has repeatedly denied. He was told last month that his trial is due to start on November 28.
Mr Ratcliffe addressed the issue during his speech, stating he was "sorry" about the potential collusion by MI5 and MI6. "There was collusion from the British state in Jaggi's arrest and experience," he said.
Mr Johal's brother, Gurpreet Singh Johal, a councillor in West Dunbartonshire, also attended the demonstration.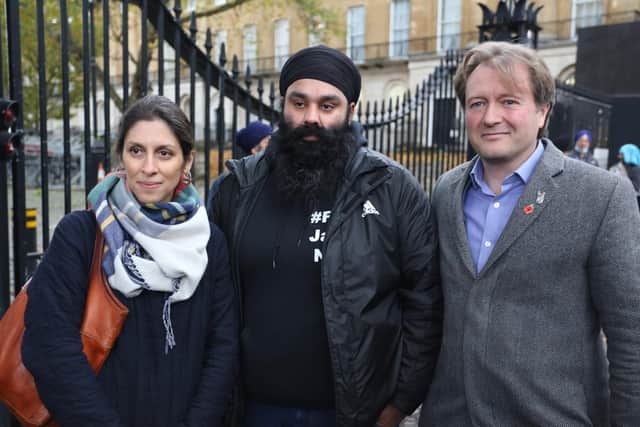 He said: "It has been now five years since my brother was snatched off the streets of Punjab and tortured. We have a right to know who was responsible. We demand answers and accountability from both the Indian government and the UK government.
"Our family's nightmare must end. The UK Government need to right their wrong and bring my brother home."
Martin Docherty-Hughes, the SNP MP for Mr Johal's constituency, told the protesters: "We have seen so many prime ministers, foreign secretaries that even I actually start to lose count. It is a horrendous, and quite frankly, a pathetic scenario in which the British government finds itself when it deals with my constituent's case."
In May, the United Nations working group on arbitrary detention said there was no legal basis for Mr Johal's continued detention. Its report identified multiple violations of his human rights, and states he was targeted because of his activities as a Sikh practitioner.
Dan Dolan, director of policy and advocacy at Reprieve, said: "UN legal experts have found that he was targeted because of his human rights activism, that his detention is arbitrary and that he should be set free. It is shameful that the UK government has stood by for so long while this British blogger languishes in an Indian jail."
A spokesman for the Foreign, Commonwealth & Development Office said: "We have consistently raised our concerns about Mr Johal's case directly with the government of India, including his allegations of torture and his right to a fair trial and we are committed to doing what we can to assist him.
"The foreign secretary visited India and raised his case with external affairs minister Jaishankar on 29 October. The UK strongly opposes the death penalty in all circumstances as a matter of principle and we will continue to make this clear to the government of India."