Barbie is the blockbuster film of summer 2023, and it's 40 years since the doll came into my life - Gaby Soutar
I've already watched the Barbie trailer three times. The summer comedy is directed by Greta Gerwig and lands in cinemas on July 21. It's already inspired a fashion trend, named Barbiecore, which, naturally, involves dressing in bright pink.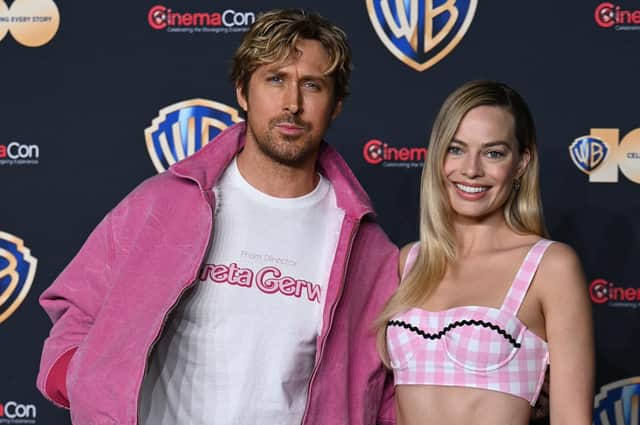 The film's silly premise is that the doll, played by Margot Robbie, enters the human world. I would pay the ticket price wholly on the basis of the teaser scene, when Barbie's permanently pointed high-heel-ready feet become flat – a horror that makes another doll retch.
Also, Ken, played by Ryan Gosling, insists that he's able to perform an appendectomy, just because he's a man.
According to the trailer, the film is for those who love Barbie, and those who hate her, too.
I have very mixed feelings. She sashayed into my life almost exactly 40 years ago.
It was my eighth birthday. and, before her, I wasn't really into dolls.
I had been given a Tiny Tears a few years previously, but her head came flying off while I was bouncing too enthusiastically at the trampoline centre.
It rolled underneath the contraption, and had to be fished out by a grown-up.
My birthday was ruined and I cried all day, after experiencing something akin to the decapitation scene in the horror film Hereditary. We took her to the doll's hospital that was once on Dalry Road in Edinburgh, but nothing could be done. I made her a skin graft from Band-Aids, though her head still lolled. There were no more tears. She was beyond that.
Maybe that's what put me off dolls for a while. That along with all the weirdly unblinking eyes in the packed cabinets upstairs at the Museum of Childhood on the Royal Mile.
Up until the early Eighties, my favourite toys were my talking car from Knight Rider, an Incredible Hulk that you could inflate until he smashed out of his cage, Chicaboo and a taxidermy studio's worth of other stuffed critters.
When I started to want a Barbie, it was part of the US trend. ET and MTV had come out, as had Michael Jackson's Thriller, and we all wanted to try M&Ms to see if they really did melt in your mouth, not your hand. Spoiler: They do eventually dissolve in your hot paw, if you roll them about a bit.
Crystal Barbie was released in 1983 and I got her for my birthday.
I have a core memory of my plastic debutante's official unboxing.
She was wearing an iridescent floor-length Liberace-esque dress, with a ruffled stole thrown round her shoulders, a tiny necklace and earrings, and miniscule Perspex high-heels. The Eighties influence of Dallas and Dynasty was strong, though she also resembled a member of Bucks Fizz.
Whatever. She was utterly mesmerising. I just wanted her to stay looking perfect.
I think about my nieces now, and how they've butchered their old Bratz, which are legion. They've had reverse makeovers, been stripped of glitzy designer clothes and experienced never-to-grow-back buzz cuts, nail varnish facials and brutal amputations.
Those girls didn't stand a chance.
I would never have done that to my single Barbie, even if I do wish I'd kept her in her box as she's now selling for £120 on eBay.
However, I do wonder what my other original guys – you know, the ones in the toy box, who come alive at night – thought at her arrival. I bet they were scandalised. Apart from the cars and the guns (yes, I had one rattling mini AK47), they were soft, some furry and mostly pastel hued. They included my beloved lilac My Little Pony, with its plump curves, pleated mane and gentle expression.
I loved them, but I felt differently about Barbie.
She was angular and designed to make you think about womanhood, even if you were intent on Peter Pan-ing it into old age, as I was, and still am.
She made you worry about the way you looked and when it'd be time to stop wearing dungarees and get yourself a ball gown. She prompted me to write to Jimmy Savile to ask if he could fix it for me to have a dress like that, and go on a hot air balloon ride to a castle. I was gutted that he didn't reply. Now, not so much.
I don't think she was entirely to be trusted, unlike the more benign Sindy and Pippa dolls, who were small girls, too, rather than a grown-up interloper.
Mind you, I'm thankful that Barbie's spikeyness made her an ideal weapon, like an eyeball-bothering nunchuck to be used against my little sister. That's until she got her own equally hard and pointy Peaches and Cream version, who was dressed like Barbara Cartland, a year later.
Although I wouldn't have minded the Palomino horse, the poodle, or Barbie's younger sibling, Skipper, I was never interested in owning a boring Ken. Though she had a few dates with an Eagle Eyes Action Man, my Barbie remained resolutely single.
Incidentally, while on the bus this week, I overheard a disagreement about Ken.
A little girl, who was getting a Dreamhouse for her birthday – "with a toilet that makes flushing noises" – was adamant about him being Barbie's dad.
"I think he's actually her boyfriend," said the patient adult.
"Well, we'll just have to agree to disagree."
Still, it doesn't matter. Ken is just an incidental character. I'll definitely be watching the film to see Barbie, because I love and hate her.
Roll on the Tiny Tears horror biopic.
Comments
 0 comments
Want to join the conversation? Please or to comment on this article.