Social media is awash with individuals desperate to position themselves as the reason for her demise. Aside from that being gobsmackingly egotistical, it is devoid of any context of the crowded landscape of issues facing Scotland as well as the future of the SNP and their fight for independence.
The SNP have been leading Scotland for almost 16 years – in charge for the vast majority of devolution – but they were never going to maintain that popularity, especially with the array of deep-rooted problems in Scotland. They rose on a promise of change when the public was frustrated with more of the same. But change for those who need it most cannot be delivered without change to the system itself.
Despite this, Nicola Sturgeon remained the most popular political leader in the UK. I know a capable politician when I see one, and Sturgeon is hugely capable. So much so that people from across the political spectrum, some more surprising than others, have taken to social media to say so. To add a little nuance, I have never been a member of the SNP, I disagree with positions the party has taken, and I desperately want a more radical, socially progressive and wealth-redistributing Scotland than was ever on the cards with the current or recent Scottish Governments.
The next leader of the SNP and First Minister of Scotland will be met with crumbling public services, increasing poverty and a cost-of-living crisis. Whilst this is not unique to Scotland – similar issues persist across the UK and beyond – how we tackle it, and the issues that we prioritise, can be decidedly different to the current direction of much of the UK. However, this requires leadership that puts communities before profit-making capitalism. Commentary has, rightly, centred on the state of Scotland's public services and the economy, but it has also often put social justice against economic progress. It has positioned the economy as separate from social causes and delivering for marginalised communities. They are one and the same.
Only those who do not feel the consequences of inequality on a regular basis would ever contemplate separating the two. The future First Minister of Scotland must be well informed on this, otherwise any nominal progress made will only be a superficial veneer over deepening inequality. You cannot talk about public services in crisis and not also talk about who works in the public services with the worst conditions and pay, who needs those services the most, and who is harmed by austerity, the increasing cost of living and cuts to local services. The economy is not separate from the people; our decisions on what to spend and what to cut are the same as the decisions we make about human rights and equality.
Some progress has been made, or rather is in the process of being made, for Scotland's marginalised communities, largely due to the efforts of campaigners, advocacy groups and communities. Scotland is in the process of implanting buffer zones to ensure access to reproductive healthcare without intimidation; it is setting up an observatory focused on implementing anti-racist policy; it is incorporating international human rights legislation into Scots law; it is developing a minimum income guarantee to tackle poverty; it is creating a fairer criminal justice system for rape survivors, and yes, a fairer Scotland for the trans community.
All of this is interlinked. It is about creating a more just Scotland, a nation where there is social and economic justice. This barely scratches the surface of what needs to be done, but it is some of what needs to be done. None of this can be compromised on the whim of the personal interests of an individual with the centralised power of a First Minister.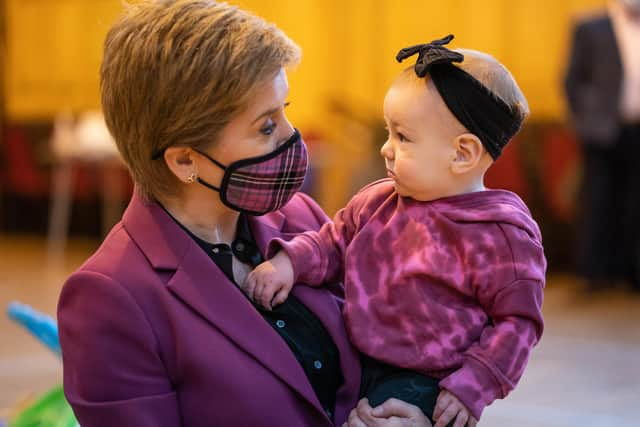 It has suited some commentators to align the end of Sturgeon's term with her pursuit of some social progress. Others have, for some time now, been misusing words like "woke" or "identity politics" when discussing these policy areas, leaning into right-wing manipulation and division to try to scupper any interventions which deliver some power redistribution or equality. Let's be honest, efforts thus far have hardly been radical in Scotland, they have been tiny steps towards change, all too slow for many of us interested in changing the system altogether, but even these tiny steps have been too threatening for some of those who maintain a grip on power.
There are people who hope the next First Minister of Scotland scales back even these small steps. They see this as an opportunity to create a narrow and exclusionary definition of progress which is more about maintaining the status quo than advancing the rights of those who are marginalised by it – women, the LGBT community, communities of colour, migrants, disabled people and those who intersect all of these groups.
The next First Minister of Scotland needs to be unapologetic about advancing rights, tackling poverty and inequality. They need to understand that making policy in siloes, without marginalised communities at the centre of decision-making, only leads to ineffective decisions and an unequal Scotland. This is not the time for timidity but instead time for a bolder approach to a progressive society. The lives of so many depend on a First Minister with social justice as their priority.
Scotland's future leaders need to prove their credentials on this to communities and campaign groups across Scotland. Many are hoping this moment in Scottish politics is used to pursue transformation for those who are too often ignored. Anything less is simply an injustice.