After turmoil of Brexit, is Scotland really ready for bitterness of a second independence referendum? – John McLellan
Retailers are stockpiling, tailbacks of trucks are already snaking towards Channel ports, British-based car manufacturers are downing tools because they have run out of parts from European suppliers.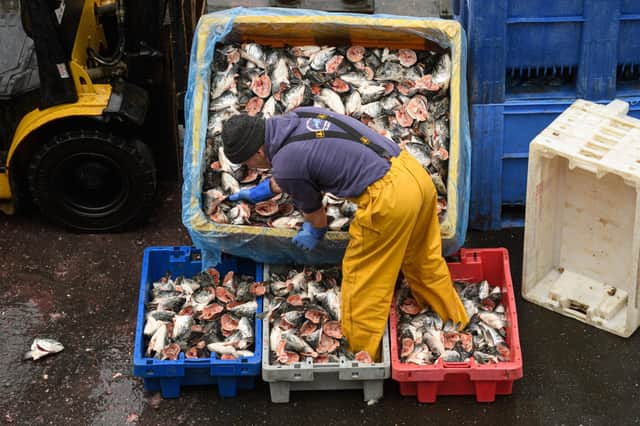 This isn't the widely predicted Brexit chaos because the transition period has yet to end, but what will it be like when the UK finally says goodbye to all that the EU has to offer on December 31?
I wasn't alone last weekend in thinking the usual brinkmanship would produce a deal, but it turned out, as Danish prime minister Mette Frederiksen put it, the EU could "offer many things, but not flexibility".
Perhaps it was always naïve to think compromise could be found when, after all the movable parts were moved and the negotiable parts negotiated, it came down to a disagreement on a pure principle of sovereignty.
Maybe by this time tomorrow some nuance will have been found to break the deadlock, but with the EU's view of Britain as an errant union member negotiating terms of departure, not an independent sovereign state negotiating a deal for the future, the EU's need to force the UK to continue complying with its state aid and trading standards rules is paramount because to do otherwise has implications for all other members.
Fishing might be a tiny part of both the UK and EU economies, and maybe the straightforward answer is just to buy off the EU boats, but when one bloc or country insists on the right to exploit the resources of another's territory – be it on land or at sea – then impasse is all but inevitable.
Impasse today but historically trade disputes between nations usually led to war as European colonial powers vied for control of raw materials and access to markets. Dutch herring fishing off England's east coast was a factor in sparking the Anglo-Dutch Wars of the 17th century and Britain fought the War of Jenkins' Ear in the 1730s, primarily over slave-trading rights in the Spanish Empire.
Rule Britannia was written to mark the 1739 British capture of Portobello, Spain's port in what is now Panama, and if Edinburgh Council's new Colonialism Legacy Review Group is looking for a place to start, then the Portobello district named after the victory would be as good as any.
Even if unlikely, military confrontation is not far-fetched given the Royal Navy's experience of the Icelandic Cod Wars up to 1976 which led to the establishment of 200-mile exclusive economic zones as the international standard which underpins the UK's position.
Concern about violence amongst angry lorry drivers or fishermen is also said to lie at the heart of the EU's decision to publish its contingency proposals to keep transport moving and fishing boats operating if transition ends on January 1 without a deal in place.
Remainers have been out in force bemoaning the "act of national self-harm", still unable to comprehend why millions of people, including a million Scots, voted for this.
Few of them accept the view of former Labour minister and EU commissioner Lord Peter Mandelson that the efforts of ardent Europhiles like him to scupper the compromise deal struck by ex-Prime Minister Theresa May in a vain bid to reverse the 2016 referendum decision has paved the way for a no-deal departure.
The SNP will hope it guarantees an overwhelming victory in next year's Scottish elections, the irony being that its independence argument is based on the principle of Scottish sovereignty, but with the clear intention to hand much of it back to Europe.
While senior SNP figures express public condemnation of the UK government, its strategists will be privately grateful after another week to forget; millions lost in the BiFab collapse, millions more spent on ferries Ferguson Marine still hasn't built, the cancellation of Higher exams, teachers angered by Christmas arrangements, fury at the failure to relax Edinburgh's Covid restrictions, and First Minister Nicola Sturgeon and her husband tied in the knots of their tangled story of the failed prosecution of Alex Salmond. Even the vaccine roll-out has been attacked, but Brexit trumps all.
It's easy to forget that although the SNP enjoyed a "buyer's remorse" bounce at the 2015 General Election after disappointment in the independence referendum, at the 2016 Scottish elections seven weeks before the EU referendum the Nationalists lost their overall majority. It looked like the following five years would be characterised by the grind of daily governance with the SNP dealing with the new taxation powers coming its way from the Smith Commission. Brexit saved them.
For all the talk of a Brexit/Boris-driven Conservative collapse in Scotland, the truth is that although the advance of 2017 was not sustained, the Tory 25.1 per cent vote share last December was way ahead of the 14.9 per cent recorded in 2015.
The most recent Ipsos/Mori poll projections for next May's Scottish Parliament constituency vote puts the Conservatives on 22 per cent, the same as 2016.
While the SNP advance is undoubted – from 46.5 per cent of the constituency vote in 2016 to currently polling 55 – the story is not so much Tory failure but Labour's unstoppable decline, down from 22.6 to 18.
Sir Keir Starmer's launch of a new constitutional convention chaired by ex-Prime Minister Gordon Brown was postponed this week because of Brexit, but interesting though it is, will a talking shop run by a figure from the past change anything? Unlikely, unless the virtually anonymous Scottish leader Richard Leonard undergoes a miraculous transformation.
By May, millions of people should have received the Covid vaccination and the end of the greatest emergency since the war will be in sight, and whatever post-Brexit arrangements unfold they will be four months old. Undecided voters must choose whether First Minister Nicola Sturgeon's clear intention to hold an early independence referendum, and the potential for years of bitter secession arguments, is really something for which they are ready.
A message from the Editor:
Thank you for reading this article. We're more reliant on your support than ever as the shift in consumer habits brought about by coronavirus impacts our advertisers.
If you haven't already, please consider supporting our trusted, fact-checked journalism by taking out a digital subscription.
Comments
 0 comments
Want to join the conversation? Please or to comment on this article.