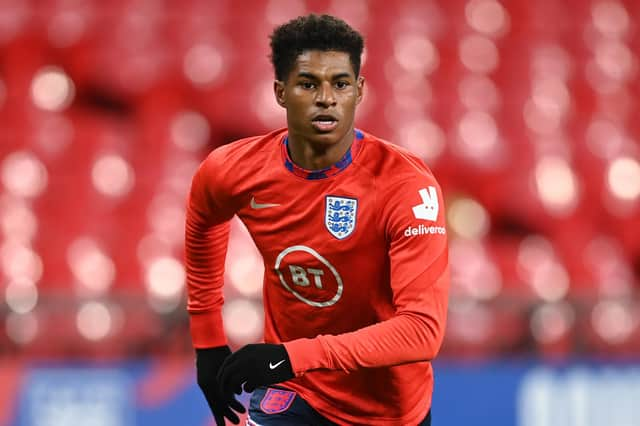 The Manchester United footballer has been making the Prime Minister's life this uncomfortable for a while over the issue of free school meals. So uncomfortable, indeed, that when Johnson realised he could no longer act out the role of Victorian workhouse gruel monitor, ensuring no rags-draped urchin received "more", he picked the moment to make the call very carefully.
What's going on in the world? Ah yes, the US presidential election, nothing bigger. That'll keep everyone busy, deflecting attention. Thus, at the very moment we were intrigued by Trump having bunked off to the bunkers of his favourite golf course – which happened to be the very moment we were flat-out flummoxed by his camp followers inviting the media to the rear parking lot of a landscaping business to rant about alleged vote fraud – Johnson informed Rashford that the government could after all find some money to support poor children and their families.
Johnson was trying a striker's trick: "ghosting" into the opposition penalty box unseen. But there's no way his climbdown should go unrecognised. The narrative is too seductive and the hero – in the eyes of many – too unlikely.
Down with the serfs
A footballer doing good? A footballer with a social conscience? Who would have thought it? Not those who reckon players are over-indulged, thick millionaires and there were no shortage of them in the early days of the pandemic.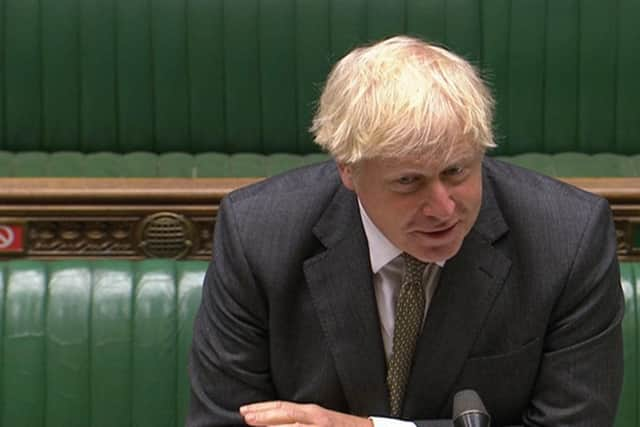 It wasn't long into lockdown that splash headlines appeared about these elite sportsmen but dim-witted human beings flouting the rules to crash cars on their way home from house parties and alleviate Pictionary and cake-baking boredom by getting the escort girls round.
It was about this time that wash-hands guru Matt Hancock, who'd already attempted to illustrate his down-with-the-serfs credentials by ensuring a Newcastle United shirt was always in shot during the regular pronouncements from his study, rounded on the football community for failing to instantly give away some of their wealth to help the soon-to-be-banjaxed nation.
Then, having herded everyone indoors far too late while failing to spot the risks of 5,000 fans from already-afflicted Spain attending a match in Liverpool, the government was suddenly in a tearing hurry to allow football to start up again as a means of boosting morale but, more importantly, getting an increasingly demented populace off their backs. Thus, football became a political football.
Awkward, those 'ordinary' people
With the games able to resume, Johnson probably thought he wouldn't hear any more from selfish, self-obsessed footballers. But he hadn't reckoned on Rashford: black, smart, caring, just 22 at the time the controversy broke and someone who knew what it was like to grow up hungry. To compound this, Hancock, the alleged football fan, hadn't reckoned on Rashford's first name being Marcus, initially calling him Daniel.
Prime Ministers are accustomed to the Punch & Judy rammies of the House of Commons. If they're getting a hard time from the Leader of the Opposition they can always rely on their backbenches to bellow and break wind in unison to drown out the accuser. What can be properly unnerving, if not downright scary, is when a PM gets into a confrontation with someone who's not a politician, maybe quite literally the man in the street.
These ordinary people may be remarkably well-informed, as Diana Gould was when she challenged Margaret Thatcher on the BBC's Nationwide programme in 1983 over why Argentine warship the Belgrano was sunk during the Falklands War. They may not appear to be well-informed at all and indeed may seem exasperating, as Gillian Duffy was to Gordon Brown on a Rochdale walkabout in 2010, but PMs are never going to be allowed to win such contests. Premiers being cornered and left flustered outwith their comfort zone and indeed their wartime exclusion zone is a sport we all love, and Brown had lost the moment he thought he was off-mic and called Duffy a "bigoted woman".
Johnson's dummy fooling no one
Now, Rashford may not be your idea of an ordinary person, not least because his club are the mighty Man U, but as a footballer and therefore assumed to be unaware and uninterested in the world beyond the back pages, his intervention in the row over the government's unwillingness to extend free meals to kids from low-income families into the school holidays rates was as stunning as that made by Gould.
Johnson has been fortunate in one sense: Covid has meant he's been spared having to grin and bear an encounter with Rashford face-to-face. Thus, unless the PM organises a get-together with him later – and, who knows, Johnson may need the PR boost by that stage – there is no footage of him squirming like Thatcher or holding his head in his hands like Brown.
But, as I say, Johnson doesn't get away with it; he has not sold us a dummy by calling up Rashford at a time when he might have hoped the U-turn would disappear down the news agenda's U-bend.
As the headlines have gleefully had it, the score is Rashford 2, Johnson 0. First, the striker forced a cave-in from the Government over £15-a-week food vouchers, ensuring they'd still go to poor families during the summer. Now he's won a £170 million Covid winter grant scheme.
What was Johnson doing, thinking he could take him on? England fans will be glad he's not the national team's manager. Meanwhile, sorry, Capt Sir Tom Moore but Marcus – not Daniel – Rashford is my Man of the Year.
A message from the Editor:
Thank you for reading this article. We're more reliant on your support than ever as the shift in consumer habits brought about by coronavirus impacts our advertisers.
If you haven't already, please consider supporting our trusted, fact-checked journalism by taking out a digital subscription.