Boris Johnson's obesity drive smacks of blame-shifting for high coronavirus death rate – Joyce McMillan
People with poor diets cannot be made the scapegoats for England and Scotland having some of the highest excess death rates in Europe since Covid arrived, writes Joyce McMillan.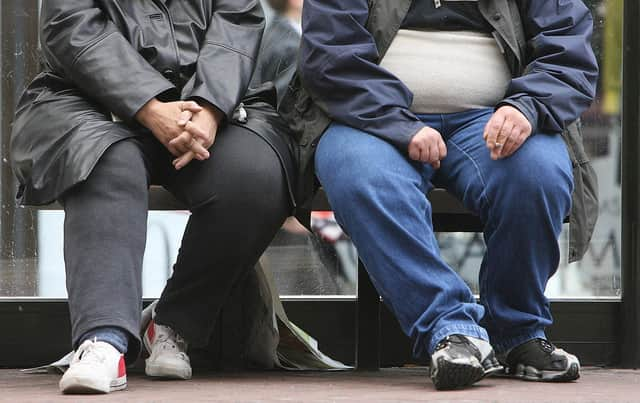 It takes some cheek, for a Prime Minister with Boris Johnson's track-record, to launch an anti-obesity public health campaign in the middle of a global pandemic; and not only because the Prime Minister was, as he freely admits, heavily overweight himself when he contracted Covid-19, four months ago. The reasons why any government might want to tackle Britain's growing obesity problem are obvious. With something like two-thirds of British adults now reckoned to be overweight, and almost a quarter clinically obese, the health and costs of a condition that increases the risk of a whole range of life-threatening and life-limiting diseases are huge, and growing.
And in normal times, it might be possible to give a wholehearted welcome to the government's modest package of measures, which involve bans on pre-watershed television adverts for unhealthy foods, on buy-one-get-one-free supermarket deals for foods with high fat and sugar content, and on the traditional placing of sweets and treats near supermarket checkouts, as well as encouragement for people to walk, cycle and exercise more.
What makes the launch of this campaign now so jarring, though, is the close nexus of cause and effect that exists between poverty, ill health, obesity, and high rates of death in the Covid-19 crisis, which is continuing to impose huge new stresses on the lives of families across the UK. During the height of the UK epidemic, we were able to catch a glimpse of the stark correlation between severe illness and death from Covid-19, and various indices of discrimination and deprivation, including poverty, poor nutrition, poor or overcrowded housing, and pressure to work long hours in low-paid service jobs, with Britain's black and Asian communities particularly vulnerable. As the Prime Minister points out, obesity loomed large among those "pre-existing" conditions that predisposed to serious illness with Covid; but for thousands of sufferers, that weight problem came as part of a package of stress and deprivation which can be desperately difficult to disentangle, without structural social change.
Heartlessness of Annunziata Rees-Mogg
And this is why the decision to highlight an obesity campaign at this time, and in such a relatively light-touch way, seems so painfully insensitive. When it comes to the debate around poverty in the UK, there is of course a time-honoured tradition of the well-heeled and right-wing lecturing the poor about their improvident ways. Annunziata Rees-Mogg, sister of the more famous Jacob, was at it on Twitter this week, pointing out that a kilogram of potatoes from Tesco is only two-thirds of the price of a bag of oven chips; her argument is precisely the same as that of the high-handed ladies who investigated the diets of the London poor 120 years ago, and lamented their tendency to spend too much of their budgets on tasty bacon, for weekend breakfasts.
It is therefore painful, a whole century on, to be facing a situation where there is not only once again serious food poverty in the UK, but where it still attracts exactly the same heartless and patronising reaction from those more fortunate. To Ms Rees-Mogg and her friends, the 52p cost difference between the potatoes and the oven chips is all gain. To someone living in poverty, though, the difference involves layer after layer of social and financial capital they often lack; oven chips can be heated in seconds in a bedsit microwave, whereas cooking potatoes from scratch requires a list of assets – access to your own kitchen, a working hob, a range of pots and pans, a reliable power supply, and above all the time to stand around peeling and preparing potatoes after you get in from work – that are often simply beyond the reach of those working long hours in low-paid jobs.
The fact is that our society is set up to make unhealthy, over-processed food cheap and easy to get and serve, whereas healthy food is more difficult, and often more expensive, to find and prepare. And although some exceptional individuals will always be able to overcome those obstacles, to suggest that everyone should do so, on pain of being made to feel responsible for their own ill health and vulnerability to diseases like Covid, is simply a cruel piece of blame-shifting; particularly when, largely thanks to poor government decision-making, England has suffered the highest excess death rate from Covid-19 in Europe so far, with Scotland not far behind.
The truth is that if governments want to tackle systemic health problems like obesity – now endemic in the UK and US – there are two serious policy routes open to them. The first is to ban the sky-high salt, sugar and fat levels which effectively make food toxic, and so incapable of really assuaging hunger that they contribute to insidious types of hidden malnutrition; not urge, not nudge, not nanny, not nag, just ban, as we ban toxic tap water and poisonous pies.
And the other policy path, of course, is the one that leads away from the kind of poverty-scarred, deeply unequal society that incubates all the public health problems exposed by Covid. At this moment – after decades of gradual corrosion of real wages and job security, ten years of austerity, and Europe's worst Covid epidemic – the working people of Britain, and particularly those in low-paid essential jobs, are in urgent need of some tender loving care, and of more security, respect, and hope. They need decent affordable homes, steady wages on which they can live, and some relief from the constant pressure under which they live. Give them those, and their health will improve.
Keep haranguing them to improve themselves, though, and to shoulder individual responsibility for all the ills visited on them by a cruel labour market and a greedy food industry, and you do nothing but increase the stress that helped create the problem in the first place; although that, I suppose, is something that the Johnsons and Rees-Moggs of this world will always struggle to understand, since the stress of poverty and chronic low pay is something of which, by definition, they know nothing, and never will, for as long as they live.
A message from the Editor:
Thank you for reading this article on our website. While I have your attention, I also have an important request to make of you.
With the coronavirus lockdown having a major impact on many of our advertisers - and consequently the revenue we receive - we are more reliant than ever on you taking out a digital subscription.
Subscribe to scotsman.com and enjoy unlimited access to Scottish news and information online and on our app. With a digital subscription, you can read more than 5 articles, see fewer ads, enjoy faster load times, and get access to exclusive newsletters and content. Visit www.scotsman.com/subscriptions now to sign up.
Our journalism costs money and we rely on advertising, print and digital revenues to help to support them. By supporting us, we are able to support you in providing trusted, fact-checked content for this website.
Comments
 0 comments
Want to join the conversation? Please or to comment on this article.