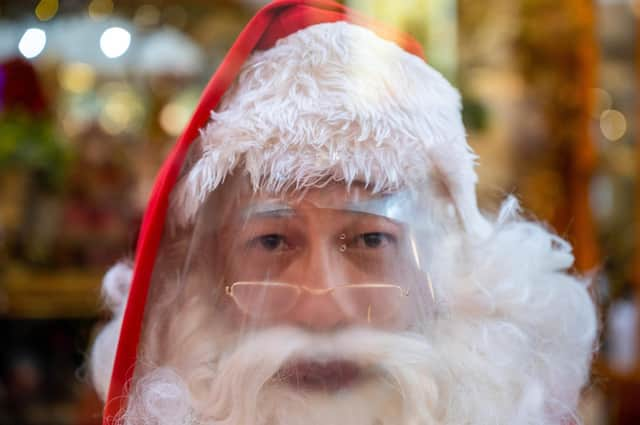 On top of all that, you get to keep your Christmas decorations up for ages without anyone referring to you as "that weirdo at the end of the street".
This year it seems we are learning from royal example. Just as the Queen likes to keep the Christmas decorations at Sandringham up for an extra month, more of us than ever before have watched Twelfth Night approach and pass and thought "so what?"
The first intimations of what was to come arrived at the start of November when Christmas trees started to appear in homes across the country. Many people had simply decided it was time to shed a little light amidst the darkness and welcome the sparkle and cheer of the festive season a little early.
Listening to the lyrics of my favourite Christmas song, Joy by Tracey Thorn, the words had never seemed more pertinent. "When someone very dear, calls you with the words that everything's all clear. That's what you want to hear but you know it might be different in the New Year. That's why, that's why we hang the lights so high, Joy."
That sentiment normally sustains us until around January 5 when most of us have usually had enough of picking up pine needles or searching for yet more batteries for the fairy lights… but not this year. The announcement of new tight lockdown restrictions at the darkest and most depressing time of the year made us look for some flickers of encouragement.
In streets up and down the land, trees may be down but lights keep on twinkling and candles are still burning as we look through the gloom for an end to all this.
So much is out of our control at the moment. The UK government is still dithering about closing our borders when the one thing we had going for us from the very beginning was the protection afforded by our island status.
That was ignored and we are now in one of the worst periods since the pandemic started, again being told to stay at home as much as possible. Within our homes we do have control so if we want to keep up the decorations and bake banana bread until there is a banana shortage, we will because we can.
History is on our side in all this. Traditionally, Candlemas Day on February 2 marked the official end of Christmas. In Scotland, it was when agricultural rents were paid, heralding the end of winter and the start of spring.
Down the year, Candlemas has disappeared from most calendars but it is ripe for a revival this year. So let's banish all talk of Dry January or even Veganuary and concentrate instead on sustaining ourselves through this month in the best way possible.
In Scotland, we have Burns Night to look forward to and then eight days after that I'll be celebrating Candlemas with good things to eat and drink. The fairy lights will come down because January will be over and hopefully by then better times will lie ahead for us all.
A message from the Editor:
Thank you for reading this article. We're more reliant on your support than ever as the shift in consumer habits brought about by coronavirus impacts our advertisers.
If you haven't already, please consider supporting our trusted, fact-checked journalism by taking out a digital subscription.