The most recent findings suggest they store an estimated 1.7 billion tonnes of carbon, equivalent to about 140 years of Scotland's annual greenhouse gas emissions. But what's less understood about these vital natural resources is how their nutrient levels, their 'fertility', could be even better optimised to combat the effects of rising global temperatures.
Many people know the importance of soil fertility in promoting plant growth; however, peat is in many ways a paradox. Plants that grow on peatlands thrive in low-nutrient conditions, yet the peat itself can be used as compost. This is because the nutrients are locked away in dead plant material within the peat.
Scotland's peatlands are among the world's most nutrient-poor, and that's important when you consider that low nutrient levels are one of the keys to storing unwanted carbon. Optimal carbon storage only happens in peat when there is sufficient nutrient content for plants to grow well, but not enough that they are released into the soil, which in turn would promote decomposition and a loss of CO2 through microbial decay.
Our research, supported by funding from the Royal Society of Edinburgh, is looking specifically at the effects of nutrients that have been deposited in Scottish peat in the form of ash from volcanic eruptions in Iceland, peat fires or pollen generated from trees. We've found Scotland's peatlands have the potential to store much larger amounts of carbon, even with small intermittent bursts of added nutrients. But this only occurs if the peatland is very nutrient-poor in the first place.
Peat has traditionally been used for cooking and domestic heating, strengthening people's historic connection to the peatlands themselves; the domestic peat cutting we still have today is not widely viewed as an environmental problem. Controlled burning with other vegetation in moorland has long been seen as typically promoting new vegetation growth. Yet we have found evidence this continued routine burning causes most nutrients released from fires to be lost from the ecosystem altogether.
What remains in the soil is likely to promote unwanted microbial decay and loss of CO2 for several years after a burn. The result is that only a small portion of the nutrients released by burning is going into new plant growth and 'carbon fixation', the vital incorporation of carbon into organic compounds.
Overall, our research has shown that peatlands in Scotland respond positively to adding even the tiniest, microscopic amounts of nutrients. If carefully managed, nutrient input can have a huge positive effect on their much-needed carbon balance.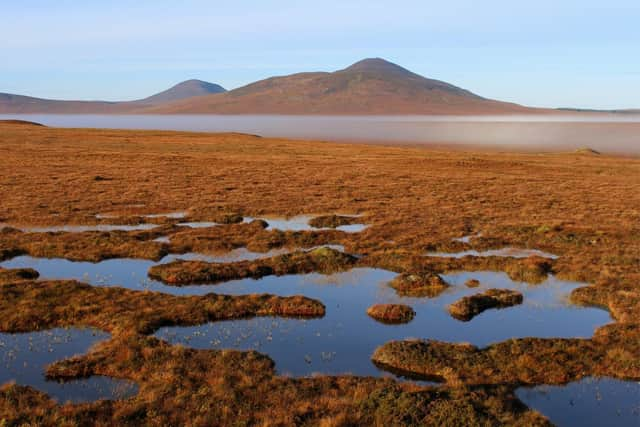 If we're to successfully manage them to best effect, we need to understand exactly what optimum amounts of nutrients are needed to achieve maximum carbon storage, and identify where the effects of nutrient enrichment may be benign or even positive, and where nutrient destruction has and will continue to have negative effects on carbon storage.
Joshua Ratcliffe is a postdoctoral researcher at the Swedish University of Agricultural Sciences, and a recipient of the Royal Society of Edinburgh's Saltire Early Career Fellowship. This article expresses his own views. The RSE, Scotland's national academy, is on Twitter at @RoyalSocEd