'Cowardly and confusing' - we have reached peak Boris says Lesley Riddoch
It was the gamble of his political life. So, Boris Johnson bravely ducked.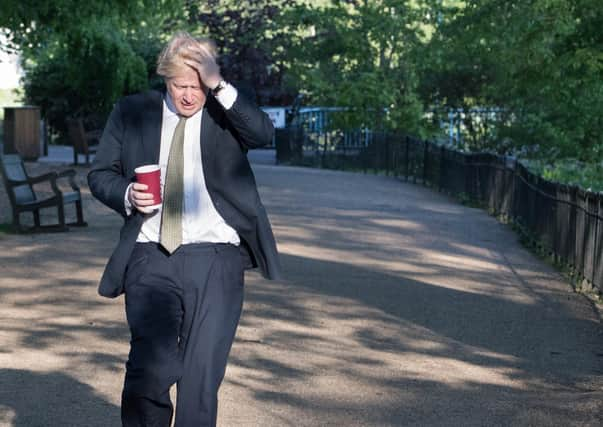 Yes, there was a Prime Ministerial TV address – but no, it wasn't delivered live, there was no chance for questions and the slogan unveiled was already so ineffective that Downing Street had been forced to issue a two-page explanation. Like any joke that needs an explanation, it confirmed that 'Stay Alert' had fallen at the first hurdle – as a slogan and a strategy. Perhaps intentionally.
Jolyon Maugham, QC, from the Good Law Project, tweeted; "Stay alert" is the pandemic's 'Take back control. Its meaninglessness is its very point. It permits each of us to act as we desire. And allows Government later (i) to deny permitting that which turns out to be bad and (ii) assert that it urged that which turns out to be good."
Let's be generous though.
Perhaps in light of the anger that followed midweek headlines like 'Magic Monday' and 'Lockdown freedom beckons', more ambitious plans for ending lockdown had been pulled. A bit. To produce a fudge – the now familiar substance that stands in place of clarity and honesty in every communication by the British Government.
So now it's Stay Alert. Not Stay at Home. Not in England, anyway. As Jeanne Freeman said yesterday, there was no consultation with the Scottish Government on the new messaging. And she has no idea what it means.
She's in good company. But this is different from a bad Brexit slogan. Lives depend on what happens next. Less importantly, so does the Prime Minister's career.
Loose talk costs lives. Especially loose talk at the top. There is now no escaping responsibility for a reckless but highly visible PM.
If there's a second Covid peak as a result of the calamitous newspaper briefing fiasco or the clumsy rebadging of England's Covid status last night, one man will be held responsible.
So, has the Prime Minister just given the green light to street parties, mass sunbathing and a chaotic return to work or might he actually succeed in easing lockdown gradually without triggering a second wave of infection?
Time will tell and the stakes are high, because England's unaccountable love affair with the tousled-haired one is unravelling fast.
Look at the headlines – tales of failure, incompetence and opposition on every front; 50,000 coronavirus swabs were sent to the US following "operational issues" at English labs. Unions say workers must stay home unless safety demands are met. Scientists warn the UK could suffer 100,000 deaths if lockdown is lifted too quickly. The Transport Secretary might now quarantine all UK arrivals – many weeks too late. Not a single one of Matt Hancock's coronavirus 'Care' badges has been issued. And Boris Johnson's cheerleader, the Sun on Sunday, has found that 90 per cent of Brits don't want restrictions eased, even though eight in ten believe lockdown will cost them their jobs.
Look at the scientists, unbowed by the curiously timed personal revelations that led to the resignation of their outspoken colleague Prof Neil Ferguson. On the BBC's Marr programme, leading statistician Sir David Spiegelhalter called the UK Government's daily press briefings "frankly embarrassing", and a "theatre of numbers".
Look at the Tory-supporting Sunday newspapers willing to dish the dirt. One revealed yesterday that government advisers believe the public must be cattle-prodded out to work again because we "bought" the stay at home line too well. Another reveals Johnson's worry that voters who forgave mistakes made heading into lockdown won't forgive mistakes made heading out of it. And Tories like Matthew Parris are finally daring to say what voters north of the Border have wondered since the UK election.
"It's time to ask whether Boris Johnson is up to the job. A nation has a profound need to believe that, whether or not we know what's going on, somebody does, and that would normally be the Prime Minister."
Commenting on "the bouncy sense of optimism that is his singular gift," Parris wonders if "singular" should be replaced with "single", and whether even this gift is wearing thin. "Can you remember any big dilemma of government he ever tackled and sorted? Any unpopular policy he ever won us over to?"
It could be the start of an "Emperor's Clothes Moment".
Look by contrast at the growing murmur of approval for the Opposition.
Last week Johnson's old employer, the Telegraph, carried a front-page article by Keir Starmer drawing a powerful parallel between the forgotten victims of Covid-19 in care homes and the heroes of yesteryear being celebrated on VE Day – in many cases the self-same people.
According to Times columnist Philip Collins; "Nervous Blairites compare the new leader to Ed Miliband but so far he most resembles the man who should have been PM. In Starmer, Labour has an heir to John Smith." Finally, look at Brexit running into the sand and look across the Atlantic, to the man who must be Britain's new trade deal partner if Boris Johnson is to survive – Donald Trump.
A new poll finds Americans believe their own state governors have responded better to the pandemic (64 per cent) than their disinfectant-loving commander-in-chief. (32 per cent). The latest death toll estimates are more than double Trump's previous predictions and polls show the US public is not ready to restore normal life. But realising he's made an irretrievable mess of handling the cornoavirus pandemic, Trump's moved on to restarting the economy.
Boris Johnson jumped on the back of a populist wave that began with Trump's election. But now is not the time to be playing "follow my leader".
Trump's credibility amongst British voters has crashed, according to a new study by the British Foreign Policy Group. Only 20 per cent trust Washington to act responsibly, a fall of 13 points since January, and the biggest drop was amongst British Conservative voters.
So, there's trouble everywhere he looks. It's too soon to write off Trump or Johnson. Far too soon. But with last night's cowardly and confusing broadcast, we may have witnessed peak Boris.
Comments
 0 comments
Want to join the conversation? Please or to comment on this article.