Dominic Raab, the Tory Joe Pesci, is a snowflake compared to some of my old editors – Aidan Smith
The headline confirming the Deputy Prime Minister's departure from government was a good one – "Raab C. Exit". And full marks to the Westminster wit who quipped that in ending their professional relationship, Rishi Sunak had, like his wife had previously, "adopted a non-Dom status".
In the spirit of these gags, then, I'm wondering if Dominic Raab, now with time on his hands, will seek solace, quiet contemplation and perhaps some pretty essential self-scrutiny by taking to his paddleboard. You'll remember, I'm sure, when Kabul fell to the Taliban and Raab, in the post of Foreign Secretary, attempted to supervise the emergency evacuation from his Crete hotel.
Resisting demands for his immediate return from holiday, he wangled an extra few days in the sun from Boris Johnson. Allegedly, Raab delegated vital phonecalls and refused to read documents sent over in formats he didn't like. On mercy flights, dogs were prioritised over people.
Unsurprisingly there were calls for him to be sacked. But while the image painted by his enemies was of Raab refusing to budge from the sunlounger, I preferred to think of him on that paddleboard, no matter that this man of action – karate black belt, boxing fanatic – had suddenly become one of inaction. He certainly had to defend himself on this charge. Paddleboarding? Absolutely not, he stressed, because "the sea was closed". There was a red flag.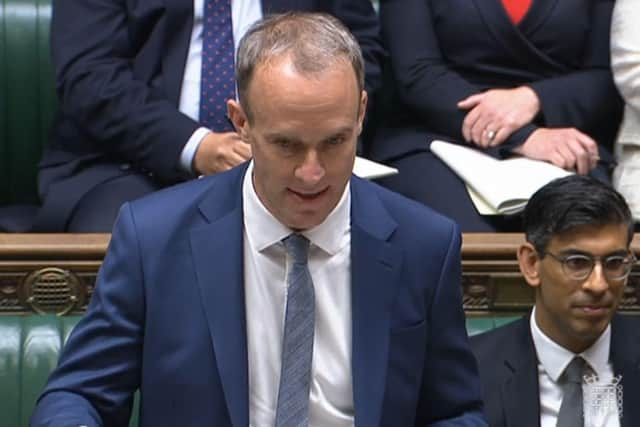 And so, to be serious, we come to the red flag raised over his treatment of civil servants which, two years on from Afghanistan, has brought about his demise. What is bullying in the workplace? What was it back in the day and what constitutes it now? How long, based on our experiences, in minutes if not seconds, would the most extreme example of the tyrant boss survive in post today? Many of us have been asking these questions over the past few days.
You and I don't really know Raab. We've seen him on TV being interviewed when he was invariably unsmiling, impatient, almost snarling. If lunch is for wimps, to recall an office-culture mantra from the 1980s, then in Raab's book ingratiation was for saps.
In the Commons, while everyone else was content to boo and hiss, Raab gave the impression that at any moment he might leap over the despatch box, point to the big throbbing vein in his right temple and challenge the entire opposition front bench to a square go. In a blockbuster Martin Scorsese movie about these Tory years in power – Goodfellows, perhaps, or Raging Bullingdonor Gangs of Chipping Norton – Raab would be played by Joe Pesci.
We don't really know the man but how he is, or was, in his dealings with staff is out in the open following the inquiry into alleged bullying. There is not the faintest suggestion that the paddleboarder favoured waterboarding but in department meetings he used terms such as "woeful" and "utterly useless". To emphasise his views he would slam his fist on tables. The inquiry found that his behaviour had "involved an abuse or misuse of power in a way that undermines or humiliates" and, having previously stated he would go if the findings went against him, Raab resigned.
It's safe to say, I think, that he didn't try and emulate David Brent: "I suppose I've created an atmosphere where I'm a friend first and a boss second. [Brilliant comedic pause…] Probably an entertainer third." But then none of my editors have either.
I don't know whether journalism is rougher than politics. Possibly it is now, with the latter in recent years being dogged by accusations of bullying, highlighted in reports and the charges variously levelled at John Bercow, Gavin Williamson and Priti Patel. Here in the ink trade, I can't remember the last time a fist thumped down onto a table – currently that seems as rare a sighting as the great crested grebe which so obsessed William Boot in Evelyn Waugh's newspaper classic Scoop – but this used to happen a lot.
Of my 19 editors to date, the first would crash into furniture and other inanimate objects but this was because he had the gait of Basil Fawlty. For the second, the pen was mightier than the paper spike though the words didn't always come out right and metaphors would be mangled, eg: "It's the thin end of the slippery slope!" But the seventh could spontaneously combust before the first conference of the day.
"You're a f****** idiot!" he roared across the newsroom at a hack who'd incurred his displeasure. "Go on, admit it: you're a f****** idiot!" He continued on this theme for a while before the poor wretch piped up: "Okay, I'm a f****** idiot." "See, I told you!"
A picture editor was berated: "Where are these f****** shots of Mars?" "The probe's not landed yet," came the reply. "Tell it to f****** hurry up then." Another poor wretch ended up on the carpet tiles. Did he fall from his chair or was he pushed? And truly it was a bad day at black rock if the entire detail was informed: "You're all a bunch of monkey c***s!" These days editors wouldn't even get away with bad-mouthing a chimp.
But the colleague who went for a tumble wouldn't take it lying down and ended up with a pay rise. Of all my eds, that one was the maddest and baddest – also though, as long as you were on your game, he brought excitement to the job.
We were pushed by him and became better journalists. Somewhere underneath that bulging vein, Dominic Raab's impulse might have been in seeking similar improvement. But – and this might even amount to sympathy for the forlorn paddleboarder – in the modern workplace you simply can't go about this the way he did.
Comments
 0 comments
Want to join the conversation? Please or to comment on this article.