"This" was Goldfinger. My mother had tried before with King Solomon's Mines but I couldn't get into Rider Haggard's classic deepest, darkest Africa-set adventure yarn, published in 1885, so here was Ian Fleming's James Bond, more contemporary and hopefully more accessible as I'd already seen the movie.
The clincher, which turned me into a bookworm, was the golf match between 007 and Auric Goldfinger. While it is rather thrown away by the film, it was incredibly tense on the page, and it still thrills all those years later. If the publishers have any sense they'll make a big thing of it come the spring and the 70th anniversary of Bond's first appearance in print.
But, with all the titles set for re-issue, just how much sense exists in the book world right now? Last week, Roald Dahl was cancelled, this week it's Fleming. Only in the case of Dahl such was the outcry, led by a deputation of literary titans backed by the Prime Minister and even the Queen, that the children's author will not after all lose problem words such as "fat" and "ugly".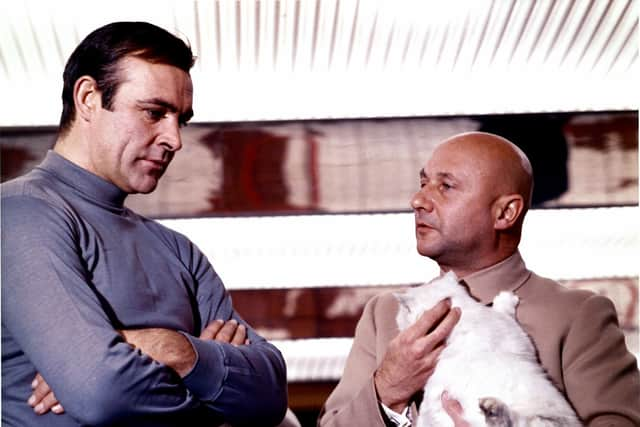 The proposed red-penning of the much-loved Charlie and the Chocolate Factory and others brought Puffin huge publicity, so as the company prepares to re-publish two versions of Dahl – the unexpurgated originals and Diet Coke options more in tune with "modern sensibilities" – maybe they're not daft, after all. Just commercially sharp. Or, if you like, cynical.
Few were more cynical about the age they inhabited than Fleming and Bond. Here, from Goldfinger, is our oversexed undercover agent mixing up a typically provocative cocktail, namely the sex wars with a splash of gender confusion: "Bond came to the conclusion that Tilly Masterton was one of those girls whose hormones had got mixed up. He knew the type well and thought that their male counterparts were a direct consequence of giving votes to women and 'sex equality'. As a result of 50 years of emancipation, feminine qualities were dying out or being transferred to the males. Pansies of both sexes were everywhere…"
I've no idea whether these sentences will survive the 2023 edit. What a challenge he presents for "sensitivity readers", the book industry's near-cousins of film and TV's intimacy coaches. Their ruling as regards "the sweet tang of rape" is that it can remain as part of the author's oeuvre but in a description of a striptease act in a Harlem nightclub it's now not just clothes which are removed.
The passage originally read: "Bond could hear the audience panting and grunting like pigs in the trough. He felt his own hands gripping the tablecloth. His mouth was dry." The rewrite replaces the 'pigs' reference with: "He could sense the electric tension in the room."
Sorry, but that ruins the scene. Tension is unplugged. What's with the concern for porcine mental health? Either we have the author, warts (and whip lesions) and all, or we don't. Fleming-lite and bland Bond are no good to anyone, not the diehard devotees or the cultural historians or those interested in how social mores change and why, which should be all of us.
An exception can be made for the n-word and racial references have been excised. But the sensitivity readers poring over Dahl got themselves into a proper fankle over "black" in any context, decreeing that The BFG's coat could no longer be described as such. They had similar issues with "white" and the line "Mary was as white as a sheet" was changed to "as still as a statue".
No wonder the stooshie has been dubbed "Dahl-inism" and it's impressive how many people who, told they should be offended, find the very idea downright offensive. On the BBC's Question Time before Puffin's climbdown, a member of the audience said modifications such as changing "fat" to "enormous" were a bowdlerisation of the author's subversive vision. A portly fellow, he insisted that, not dissimilar in build to Augustus Gloop, he was content being called fat but would bristle at enormous.
A panelist on the show insisted it would be difficult, while reading Dahl to a child, to pause at contentious descriptions and actions for discussion about why they might no longer be appropriate. Rubbish, said my wife who remembered a Famous Five bedtime story for our youngest daughter prompted incredulous laughter from the most right-on member of the family over the fact that while the boys were all off adventuring, Jane would stay behind to ensure the cave or caravan was spic and span for their return.
From the perspective of 2023 I might wonder, regarding Goldfinger being placed by my bed: "What on earth was Dad thinking?" After all, Fleming was extremely rude about Odd-Job and his odd Korean ways, such as eating cats. But, after everything, what a ripping yarn!
After Goldfinger, I read Biggles who these days gets called racist and sexist. For my English O-grade, I read John Steinbeck's Of Mice and Men (racist and intolerant of disabilities). Meanwhile, King Solomon's Mines remains on the shelf, still awaiting its chance, with the promise in the opening paragraphs of "not a petticoat in the whole history"…