Euan McColm: Andrew Miller is the embodiment of the problem many feminist campaigners have highlighted
As MSPs debated plans to reform the Gender Recognition Act last year, Shona Robison had no time for opponents who suggested a policy of self-ID for trans people was open to abuse by men wishing to gain access to women's single-sex spaces.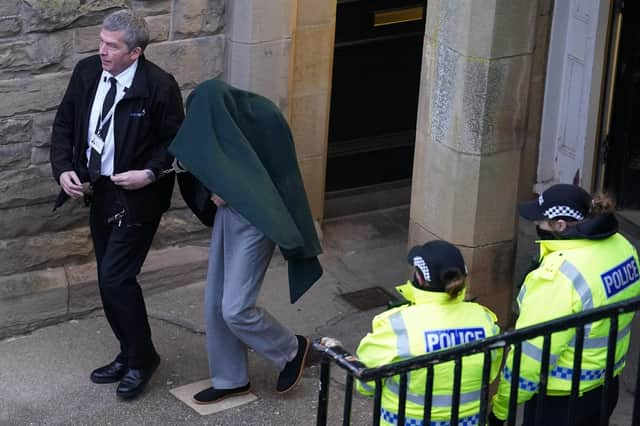 There was, she said, "no evidence that predatory and abusive men have ever had to pretend to be anything else to carry out predatory and abusive behaviour."
To Robison and, indeed, a majority of MSPs, the concerns of campaigners, of lifelong feminists who'd worked for women's safety, were not worthy of consideration. Nor was the fact that a majority of voters were opposed to the introduction of self-ID enough to shake Robison and Co's certainty that they were doing the right thing.
Robison – now deputy First Minister – can no longer claim ignorance of circumstances where a man has pretended to be something else in order to carry out predatory and abusive behaviour,
Andrew Miller – also known as Amy George – admitted on Thursday to abducting a primary school girl, while dressed as a woman, before subjecting her to a series of sexual assaults over a 27-hour period at his home in the Borders. The child told police she got into Miller's car because she believed "the lady" was non-threatening.
Asked whether she stood by her previous position, Robison changed the rules of engagement. The bromides flowed: what we were talking about were people who have committed very serious crimes; she didn't want to talk about the case because it was still ongoing; anybody who has committed an offence is an offender.
Clearly unhappy about being asked to comment, Robison added that we should not – "because we wouldn't do this with any other community" – take the cases of offenders and imply that this is somehow an issue for the rest of the trans community.
This is where Robison's position runs into problems. We do – quite correctly – take the cases of some offenders into consideration when ordering society. Single-sex spaces for women exist because some – not all – men present a danger.
Those who dismiss as "transphobic" anyone who believes self-ID undermines the law enabling the creation of single-sex spaces are wilfully misrepresenting those people's views. The feminists who oppose the introduction of self-ID are not suggesting trans-women present a particular threat, they are suggesting that allowing some men – on their own say so – to remove themselves from the safeguarding restrictions put in place to protect women and girls is a dangerous step.
Andrew Miller is not representative of all trans-women but he is the living embodiment of the problem many feminist campaigners have highlighted. The same applies to Adam Graham who, after raping two women, decided he was a woman and, as Isla Bryson, was sent a female prison until public outrage forced ministers to intervene.
Robison is not the only MSP to have got herself into difficulty on this issue. After Miller confessed to his disturbing crimes, former Liberal Democrat leader Willie Rennie made a fool of himself in an interview with radio station LBC. His view was that we need a proper, calm, measured debate about this issue and how it is handled in schools, the justice system, and the NHS.
This was all well and good but Rennie voted, last December, in favour of reforming the GRA while those calling for a proper, calm, and measured debate were being defamed as bigots by senior politicians from across the spectrum. Rennie's concern over this matter would be a damned sight more credible had he spoken up in favour of those who felt a debate necessary.
Of course, reform of the GRA has not yet taken place. Although a majority of MSPs voted in favour of the introduction of self-ID, Scottish Secretary Alister Jack blocked the legislation on the grounds that it would impact on the UK-wide Equality Act which allows for the creation of single-sex spaces.
The SNP and their government partners, the Scottish Greens, would like us to see this as an assault on democracy by a Tory Party determined to undermine devolution. This is First Minister Humza Yousaf's justification for launching a legal challenge against Jack's decision. If he doesn't fight to undo the Secretary of State's block on reform of the GRA, why, it'll be open season on every piece of legislation that passes through Holyrood. Cartoonishly evil Tories will, on a whim, scupper this law and that.
That nonsense may play with the most excitable sector of the SNP's support but I think Yousaf is optimistic if he truly believes the Scottish voting public itches to unite behind his crusade.
More than two thirds of Scots are opposed to reform of the GRA. The case of Andrew Miller is not, I think, likely to shift the balance in favour of those who wish to see self-ID introduced.
The First Minister is committed to legal challenge which is likely to stretch on for months. He has chosen a costly fight which risks bumping up against the next general election. And, sure, I suppose it's possible that voters will think Yousaf's "principled" battle justification for giving him their support. Lots of things are possible, after all.
But likely is another thing, entirely.
Many of those opposed to the introduction of self-ID are in favour of making the process of changing gender less stressful for trans people. There is a way through this difficult issue.
But the refusal of politicians such as Shona Robison even to accept that legitimate concerns exist will prevent progress.
Instead, Humza Yousaf is about to spend hundreds of thousands of pounds defending a piece of legislation that's becoming more discredited by the day.
Comments
 0 comments
Want to join the conversation? Please or to comment on this article.