Euan McColm: Taint of Cummings spreads from cabinet to its scientists
I wonder what they dreamed of when they started out in politics, the Matt Hancocks and the Rishi Sunaks. I wonder how they imagined their careers might play out and what great things they might achieve.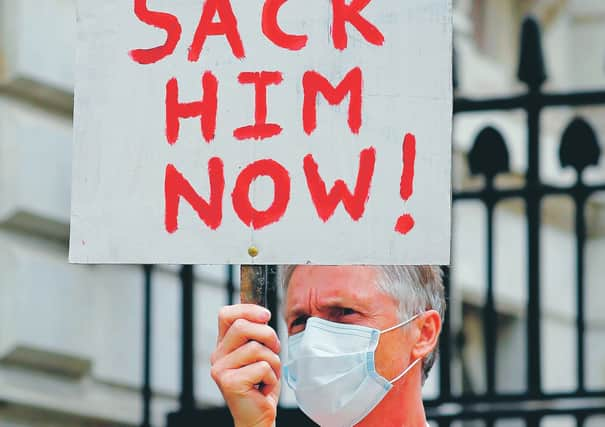 Do you think they were once sincere, driven by the desire to serve? Surely there was some spark of decency there, once upon a time?
I don't suppose that matters now. It's not, after all, where you're from, it's where you're at, and where the Health Secretary, the Chancellor and every other senior politician to debase themselves in the protection of Dominic Cummings are at is the sewer.
Over the past week, the United Kingdom government has not only lied to the British people (Cummings' defenders, led by Prime Minster Boris Johnson may continue to insist he did nothing wrong when he broke lockdown to drive north from London to Durham, from where he later took a day trip to Barnard Castle, but the police have been perfectly clear that had they seen him on the road, they'd have ordered him to turn around), it has changed policy on the hoof in a pitiful attempt to make this scandal go away.
But it will not go away. Johnson may tell us he considers the matter closed, ministers may say it's time to move on, but this is a scandal like few others. The damage it has inflicted on Johnson and his government will last a very long time indeed. If his premiership never recovers, I shall not be surprised.
Johnson dreams of being seen as a Churchillian figure, a great statesman with an indelible legacy. Instead, we are reminded how weak he truly is.
Having rid the cabinet (and the wider parliamentary group) of a number of competent – and, therefore, potentially problematic – alpha figures, the Prime Minister is left with the dregs from the bottom of the beta barrel.
These lickspittles trampled over government advice and sneered at public anger in defending a man that the vast majority had – perfectly understandably – already decided hadn't played by the rules.
Every time Hancock or Sunak or Grant Shapps – or even the Prime Minister in one of his rare public appearances – said there was nothing to see, they were spitting on the horrific experiences endured by so many who have played by the rules since lockdown was introduced.
So weak is Johnson, that he cannot do his job without Cummings by his side. Even when Newsnight's Nick Watt reports fears in the cabinet that the aide's actions might lead to more deaths, Johnson clings to Cummings, terrified to let go.
It is not just politicians who have disgraced themselves in defence of the Prime Minister's aide. The UK government's most senior scientific officers should consider their positions after their behaviour during Thursday's daily press briefing.
Chief Medical Officer Chris Whitty and Chief Scientific Adviser Professor Patrick Vallance appeared alongside the PM but were prevented by Johnson from answering a question about the Cummings scandal. It would be unfair to drag these men into what was a political row. Whitty later confirmed he and Vallance had no desire to get involved in politics.
At that moment, Whitty involved himself and Vallance in politics. It is the political narrative of Downing Street that the Cummings scandal is about politics. Others can see that as the smokescreen it is.
There is nothing "political" about asking Whitty and Vallance whether they would advise people suffering from coronavirus symptoms to, as Cummings did, pack the family into the car and set off on a 260-mile road trip. If Whitty and Vallance can't see that they are now complicit in the operation to protect Cummings at all costs then I despair.
During the EU referendum campaign of 2016, the oleaginous Michael Gove said people in this country had had enough of experts. I'd argue that what we need right now, more than anything, is to listen to experts. And the sort of experts we need are the sort who won't be silenced by a self-serving buffoon of a Prime Minister.
Be in no doubt, the only reason Johnson prevented the advisers from answering questions was that he feared what they would say. If Whitty and Vallance's answers would have helped the Johnson case, he'd have had them lead the press conference.
Denied the expertise of the likes of Whitty and Vallance, we were left to depend on the likes of Gove for advice.
There is, it seems, nothing Gove will not say or do in defence of a Prime Minister he once declared wholly unfit to run the country. After Cummings offered the preposterous excuse for his 60-mile round trip from Durham to Barnard Castle, that he was testing that his eyesight was good enough for him to later make the longer trip to London, Gove said that, yes, he too had used this method to ensure his safety to drive.
Over more than three decades in journalism, I have met countless ambitious incipient politicians, bright young things starting out on careers which, in some cases, have taken them to the top.
I don't remember in any of my dealings with any of these future leaders that it was their burning desire to seize power and then use it to gaslight a nation in the defence of a political adviser.
All of those Tory MPs currently deluding themselves that the Cummings scandal will go away should remember something. One day, maybe sooner rather than later if lockdown measures continue to ease, they are going to have to look people in the eye and account for their actions.
Matt Hancock is going to have to persuade the parents whose child died alone in isolation, the children of parents sent into the supposed sanctuary of nursing homes only for them to be infected and die, that what Dominic Cummings did was okay. He and Rishi Sunak and all the other little men who enable Boris Johnson have seen British people unite to play by the rules. None of them should be surprised to find people equally united in their loathing of those who've made a mockery of their sacrifices.
Comments
 0 comments
Want to join the conversation? Please or to comment on this article.