Glastonbury festival is a blokefest again, but women don't want tokenistic quotas – Aidan Smith
My wife is taking our two daughters, aged 14 and 11, to Harry Styles' big Murrayfield show in May and I'm not sure who's more excited.
It's the girls' first outdoor pop spectacular but I know that Lucy, ostensibly on chaperone duties for which she claims she must learn all the songs in advance and therefore is currently singing them around the house non-stop, secretly fancies the boy wonder. Not fancy as in a "I would probably leave you for Gary Barlow whose sweet smile is on my coffee cup and my tote bag and yes I've a ticket for his Hyde Park show in the summer but honestly don't know why the cost hasn't appeared in the joint account" kind of way, but still, she's fairly wild about Harry and I'm looking forward to the girls' testimonies post-gig of how she embarrassed them.
Nothing wrong with any of this. I've had tons of musical crushes in my time, starting with Judith Durham of the Seekers, the girl-next-door from 10,000 miles away, and moving on quickly to Stacia who danced naked with Hawkwind (give me a break, I was 15 by then). Then there was Francoise Hardy, a pleasant aid to French O-grade swotting, and loads more including Curved Air's Sonja Kristina, Mazzy Star's Hope Sandoval, Elastica's Justine Frischmann and currently Georgia Ellery from Jockstrap – but first and foremost I had to love the songs. That, ultimately, was why there could never have been anything between Kylie and me.
There really is nothing wrong – or prehistoric or sexist – about being smitten by a pop star. My sister has been able to call herself a professor and there's now "OBE" after her name but neither title, nor any considered and clear-sighted judgment, was needed when she swooned at Woody from the Bay City Rollers. And probably all the men of a certain age who fill Glasgow Royal Concert Hall whenever Joanna Newsom comes to town did not know they were going to become aficionados of high-pitched singing and a delicately strummed harp until they saw how winsome and vulnerable-looking she was.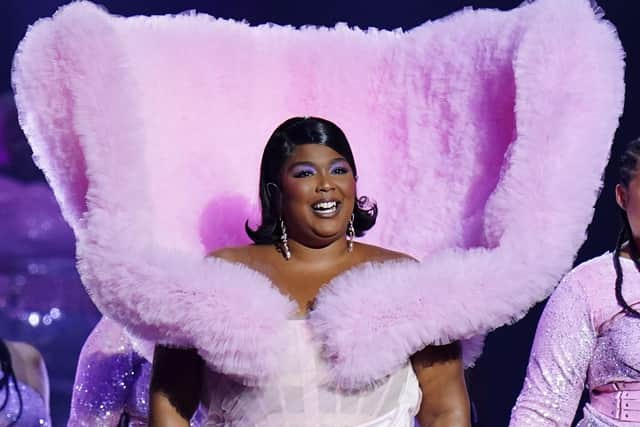 There are a lot of base impulses at play here and pop Svengalis who manufacture groups – both Styles and Barlow began in boybands – would like to think they've trademarked the magical chemical formula which results in obsessive worship and monster sales. But can we be persuaded to like more lads who bash guitars than natural instinct and preference dictates? Or jollied along to arrive at the conclusion: "You know, there aren't nearly enough female singer-songwriters on my Spotify so I'm going to do something about it"?
There weren't nearly enough female singer-songwriters in the nominations for Best Artist at the Brit Awards in February – indeed none at all. No women from any genre. The switch to a gender-neutral category, designed to make them feel the equal of men, brought zero recognition. That sparked an outcry and now there's another: the headline acts at this year's Glastonbury make up an exclusive boys' club.
Arctic Monkeys, Sir Elton John, Guns N' Roses. Giants of indie; a septuagenarian troubadour winding up his farewell world tour (at least until the next one); heavy-metal monsters one of whose number declared a former bandmate a "cancer [who] better be removed" but of course they were made an offer to reform that couldn't be refused. How very Glasto, you might think, and how very rockfest: last year only 13 per cent of the headliners at the UK's top 50 festivals were female.
Do we want to see more women on the Pyramid Stage like Beyonce and, from last year, Billie Eilish? Yes, of course, although the fans who sell out the event in mere minutes never wait for the bill to be finalised. Maybe they're not so hung up on gender. Perhaps they know there will be plenty of women at other times during the weekend and on other stages – indeed they make up 48 per cent of the performers announced thus far. The fans would tell you: wander around and you will find them, alluring and vivacious. Stop obsessing about the names with the biggest typeface; they're never always the best, anyway.
Do women want more headline slots if these end up appearing tokenistic, quota-filling and, truthfully, beyond the reach of their appeal? I very much doubt that. Glastonbury organiser Emily Eavis says the struggle to book female performers is a "pipeline" issue, blaming record company sluggishness in signing and promoting them which is borne out in another puny stat: in 2019 women accounted for only 14 per cent of acts and songwriters signed to more than 100 UK music publishers.
Lizzo, an American who stole the show at the Brits and is playing Glastonbury, could "totally headline", says Eavis, which makes you wonder why she isn't. Guns N' Roses have got in ahead of her, however, and, whatever you think of this debate, what an unfortunate look for the festival given the misogyny of songs like "Back Off Bitch". An armchair fan of festivals since the demise of the – very blokey – T in the Park, I will almost certainly be in bed by the time they lurch onto the stage.
We all have our infatuations. For some it's Stacia and Sonja. For others, Gary and Harry. Gender equality in pop may be admirable but it is tricky to pull off. As one eminent professor puts it: "No one could ever have forced me to listen to Marie Osmond, Lynsey de Paul or the bloody Nolan Sisters. Woody, I still love you!"
Comments
 0 comments
Want to join the conversation? Please or to comment on this article.