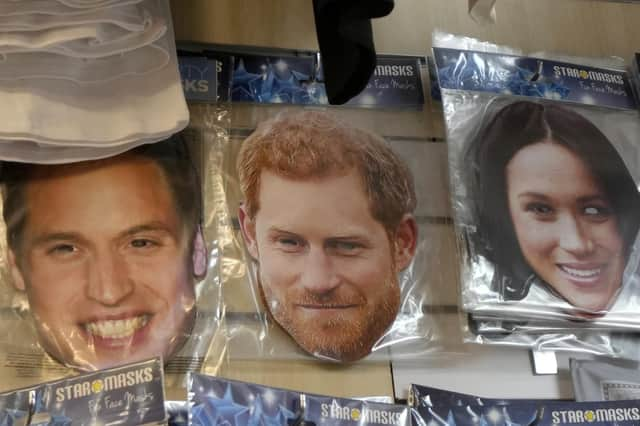 The difference is most of us don't possess the inclination, never mind the means, to drag their relatives through the muck in the global press. Fewer still embark on a vendetta that seems, on closer inspection, to be not about freedom from a suffocating institution, but getting back at your big brother.
Reduce the entire charade around Megxit, the Oprah interview, the Netflix documentary, and now Prince Harry's memoir, Spare, to their fundamental parts. The Sussexes have publicly blethered instead about eccentric relatives and aired everyone's dirty linen. Bad form for the best of brothers and sons. That they happen to include a Monarch and future King almost seems by the by.
The Duke of Sussex seems to be on a singular mission to cripple his family's reputation. How do Harry and Meghan achieve the catharsis or justice they so clearly want? "To what end?" is the most unresolved question of this whole business. It is quickly followed by speculation that the Windsors will need to respond. More interviews will come, and undoubtedly more revelations in this sordid affair.
Harry and Meghan's criticisms and revelations fall into institutional critiques or personal enmity with a profound feeling of being wronged and gagged. By the very nature of the Royal Family, those categories are blurred, something most people acknowledge - except the Sussexes.
The general response from the British public and media is tied to the undemocratic nature of the institution itself. You cannot remove King Charles at the ballot box; you cannot embarrass and banish William back to his constituency, and you cannot take posthumous punitive measures against his deceased relatives.
And you most certainly cannot do anything about Harry and his wife. "#ShutUpHarry" has repeatedly been trending on Twitter since excerpts of 'Spare' were leaked, with the more astonishing revelations likely reverberating for weeks.
Stunning the British public into a republican furore is not working. The visceral reaction to Harry, the hatred and backlash and the dismissals showcase the binary and conflicting feelings towards the Monarchy in British public life.
If you know too much about them, the mystery, the clout, the power, and the expense become an unsustainable exercise in mental gymnastics for the excess, the hypocrisy, and the disconnect between power and privilege and democratic consent.
If you know too little, all of us can operate on the dated (but oddly functional) belief that they are a banal nationalism, predisposed to the nation's good, generally harmless, good value for money, free of political intrigue, and an ideal family whose members are a living, breathing expression of the British state and its history.
It is impossible to explain that duality to people who do not have a hereditary monarch; to them, it is an inextricable circus. But there is a logic to it, even if it makes little sense. To attack the Royal Family is to attack the country, so everyone's collective back goes up in a way it never would with a politician or regular celebrity. Harry's tirade is hitting the blindspots we would prefer not to look at for fear of realising that the whole system, while well-meaning, is predicated on pretending people with power are not people at all.
The late Queen Elizabeth II handled her position, duty, and this reality with aplomb. That few knew what she thought, her habits, and that she could continually interest the public with peaks into her life is a testament to a responsibility fulfilled.
If some speculated it might be the now-King Charles III's indulgence of speaking his mind that would land the whole thing in trouble, they might be surprised that it is likely to be the now Prince of Wales.
The allegation that William grabbed his brother hard enough to knock him down and break a dog bowl leaving him wounded, is assault. If Harry wanted to lodge a police complaint, they would be obliged to investigate.
The name-calling, the feuds, and the petty bickering have devolved from general family stuff into global vendettas. This is no way to run a family, let alone the one symbolic of the British system.
If there was ever evidence of a real-world detachment, Harry's crusade suggests he thinks he is the only one ever to have domestic squabbles and falling outs. The Duke of Sussex owes his family everything or nothing. Moving to the United States should give him the purview to do and say as he wishes but keep quiet on the domestic front and not turn his family animus into a going concern.
All of this implies a specific calculation. This is an emotional subject. But as sure as Harry absconded from a birthright burden, it is also one shared by his father and brother, who cannot so easily unshackle themselves or speak out.
The failure and the tragedy in this circumstance belong to the advisors Harry has retained to replace the courtiers he so readily accuses and dismisses. Who but only those troubled souls committed to a Pyrrhic Victory would advise him, or anyone, to showcase his family problems so shamelessly?
The "why" can only be known to Harry. But in the meantime, as his book sales soar and he stands with a can of gasoline over his familial relationships, we all have to grin and bear it. There is no recourse to stop it, no democratic way to silence him. That is the price of our system.
Alastair Stewart is a freelance writer and public affairs consultant. You can follow him on Twitter @agjstewart.