Hate crimes bill will give police headaches – John McLellan
Just as lockdown was kicking in a man I know in his 70s received a call from the police. To his astonishment the officer told him he was investigating an allegation of a hate crime on social media to which he had been linked.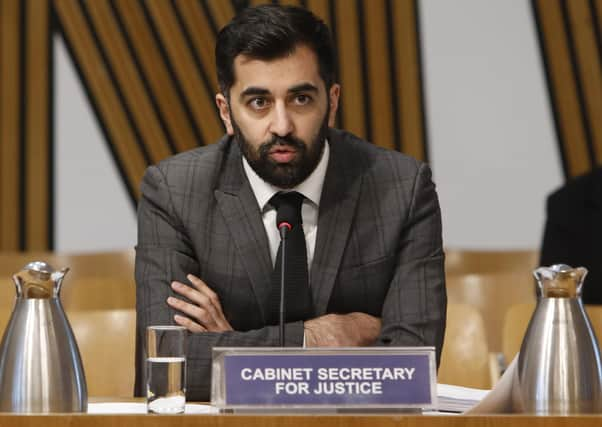 As if that wasn't bad enough, the officer asked if he would come to the station the following day for interview about the allegations. This is a man with an unblemished record, who after a long career in which he worked at a high level in public service was enjoying a happy retirement, filling his time by being active in his community.
After contacting his solicitor he refused to attend for interview, not least because of his age and the lockdown restrictions. The police agreed and although nothing has moved on the officer promised to keep in touch with him and the investigation is still live. Never mind a conviction, I would be amazed if there was a prosecution, but you never know and the threat of investigation is still hanging over a pensioner because the police are duty bound to follow up the complaint, whatever the motivation behind it. For him, it has been a crushing experience.
Why this is important is because the Scottish Government's new Hate Crime and Public Order (Scotland) Bill laid before the Scottish Parliament at the end of last month ramps up existing laws against hate crime and discriminatory behaviour to include stirring up hatred; effectively language deemed to be offensive would no longer have to be directed at an individual, but anything written, broadcast or performed would just need to be deemed to have the potential to inflame.
The legislation clearly states that it would be an offence if "the person intends to stir up hatred", and, going further, if "it is likely that hatred will be stirred up". It is therefore possible that even if it wasn't the intention, a subjective judgement of likelihood could lead to charges.
Justice minister Humza Yousaf's liberal aim is to finally abolish the common law of blasphemy, the last conviction for which was in 1843. But in the circumstances described above it would inevitably intensify the investigation because it would be more difficult for the officers to dismiss the complaint and therefore increase the chances of a report being sent to the Procurator Fiscal, so lengthening the anguish for the individual.
As with all new laws, if passed the pressure would immediately be on the police and courts to show its worth, whether they think it is necessary or not. For example, when Edinburgh Council rolled out its 20mph speed limit, it was not treated as a priority until Police Scotland came under political pressure to make sure the new regulations were being enforced.
But with this legislation police are unlikely to have to go looking for cases because it opens up a whole new avenue for complaints and is a golden opportunity for political activists to use its terms to close down opponents. Even though it contains clear exemptions to protect freedom of expression, it is inevitable that the legal system will be expected to investigate allegations thoroughly, and equally likely that any failure to secure convictions will be characterised as the fault of the system, not the absence of the problem in the first place.
It is very easy to use the old line of "if you've done nothing wrong, you've nothing to fear", but the very process of proving there has been no wrong-doing or justifying what has been written or said is in itself an infringement of freedom of expression. It is one of the most common criticisms of the UK's Press regulation system that hundreds of third party complaints from pressure groups and campaigns about the views of columnists are dismissed every year because the regulator regards adjudicating on taste and decency as counter to freedom of expression, yet the legislation would take these complaints out of the hands of a non-statutory regulator into those of the police.
The infamous 2009 Jan Moir column about the death of gay singer Stephen Gately in the Daily Mail, for example, resulted in 22,000 complaints to the old Press Complaints Commission but also one to the Metropolitan Police, and had similar legislation been in place then the police would have had to investigate fully. There will be plenty of people who would love to have seen Ms Moir and then Mail editor Paul Dacre banged up and even just the threat of investigation would be enough for many commentators to think twice about what they might say.
Despite the freedom of expression caveats in the bill, it is not difficult to see political activists making formal complaints against writers like Rod Liddle, whose stock-in-trade is winding up the politically correct and, worse, it also criminalises the publication and distribution of offending material. Would Spectator editor Fraser Nelson therefore expect a call from the police every time he published a Liddle column?
It does not take much for an editor to receive a court summons, just the whim of a senior legal figure can be enough, as I have found out on more than one occasion. Not me, but not so long ago the editor of this newspaper was given less that a day's notice to appear before a sheriff who was concerned that an article on a case he was trying could be in contempt of court. A QC was duly briefed and attended court, where he was quickly able to persuade the sheriff there was no case to answer. No problem then, except the legal bill ran well into four figures.
Nor should the potential for abuse by political activists against other politicians be underestimated, and the Hate Crime Bill could easily be used to attack election leaflets. In debates it is far from uncommon to hear criticism of something a female politician has said by a male politician characterised as misogyny and an offence of stirring up hatred on grounds of gender would provide a criminal law route to unsettle opponents.
Be it mainstream publications, social media, pamphleteering, theatre or political debate, it's not so much the chances of convictions but the opportunity for targeted disruption through the legal process which is the problem .
The irony is that the Scottish Government has brought forward the Defamation and Malicious Publications Bill which is designed to remove the chilling effect of potentially ruinous defamation action against publications large and small, so as one illiberal legal door is closing another potentially more dangerous one is opening.
Comments
 0 comments
Want to join the conversation? Please or to comment on this article.