I would certainly never have expected it to be a mention of a Winter Olympics almost 40 years ago that heightened my awareness of the fragility of society and the danger of genocide. But listening to Smajo Beso, a Bosnian Muslim, share his experience of surviving the genocide in his country as a child, that was exactly what happened.
He reminded us that less than a decade before war engulfed the collapsing Yugoslavia, Bosnia had been the centre of the world's attention for the Sarajevo Winter Olympics. I immediately recalled being captivated by pictures of the city with its breathtaking mountain scenery, pretty buildings and charming people amid the anticipation of what became Torvill and Dean's gold medal-winning performance.
There was pride in Smajo's voice as he described that time before the sorrow returned as he recounted coming in from playing to find his mother in tears watching the television news. It was years, he said, before he realised that his mother had already known that the hatred she was seeing unfolding across Yugoslavia would inevitably destroy their comfortable life.
There were other pictures I remembered too as I listened. The empty faces of gaunt, starving men and boys gazing out from behind the wire of the camps where they were being held by their own countrymen. The horror of Srebrenica.
I was a reporter then in Glasgow, often reciting the latest outrage from that war on local news bulletins. Yet here I was three decades later sitting in a room with someone for whom those news stories had been their reality. Smajo was in Westminster to share his experience with MPs as part of the Holocaust Memorial Day commemorations.
This year its theme was Ordinary People. How those ordinary people can let genocide happen, are persecuted through it and yet are also the ones who ultimately become the rescuers.
Holocaust Memorial Day on January 27 is, of course, the day set aside to remember the six million Jews murdered during the Holocaust and the millions of others who died under Nazi persecution. The Holocaust Memorial Trust also works with survivors of more recent genocides in Bosnia, Cambodia, Rwanda and Darfur to ensure their testimonies are remembered. But this year there seemed a particular resonance knowing that the suffering they have endured is still being visited on people across the globe. Bitterness and division is growing.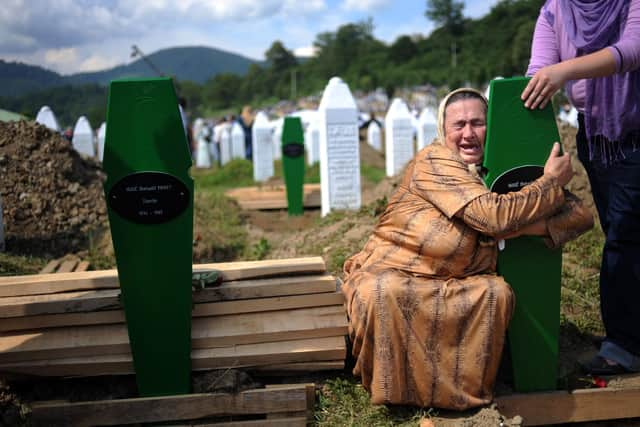 The destruction of Smajo's and his family's comfortable life in a previously diverse Bosnia torn apart and destroyed brought to mind, for me, the pictures we are seeing of Ukraine every day. And while there is no suggestion there of the genocide that Bosnia experienced, the lives of Ukrainian children are being torn apart by that war. Sadly, the stories of persecution in Cambodia and Darfur that we heard too from their survivors are starkly reminiscent of what we are discovering is happening to Muslims in China and Myanmar.
But while we are aware of horrors abroad, I worry that we will overlook the danger of racism, anti-semitism and anti-Muslim rhetoric here at home. Just recently I saw first-hand the work of the brilliant charity Community Security Trust (CST) which records and works to combat anti-semitism. Their mission is to protect British Jews from anti-semitism and related threats. In the first six months of last year, they recorded 786 incidents across the United Kingdom.
At the end of last year, I had the privilege of spending time with them, and was told during my visit that anti-gypsy, Roma and traveller attitudes are also growing. We have all seen recently how close to the surface hostile feelings are towards the LGBTQI+ community and sexism, ageism, racism and disability discrimination all still present challenges in our society.
But perhaps the moment which I found almost too much to bear in that visit with the CST was when I came face to face with the anti-semitism with which Jewish children in London have to cope. I cannot imagine how affecting it must be.
On a visit to a primary school we were warned that the daily security alert would take place while we were there. It broke my heart to see the children routinely follow the drill and then calmly explain to us that this exercise was in case of an intruder in the building. It was part one of a series of things they learn which also involve going into lockdown because of someone suspicious on the grounds, or if there is a fire.
Then we heard of their experience of suffering verbal, sometimes physical, abuse in the park or playing with their friends. And when one boy's mother had to lock all the doors in the car at traffic lights as a pedestrian yelled abuse at them after spotting he and his brother were wearing their kippahs or caps. It was a stark reminder and a painful listen.
In the chamber in Westminster, taking part in this year's Holocaust memorial debate those images, the evidence from Smajo and the stories I have heard from Holocaust survivors were swirling around in my head. That we are still overlooking the potential for this sort of problem to exist and grow in our society is unforgiveable.
And it is the route to allowing it to happen to ordinary people. Again. We do not need to see it to know what is happening every day, but we need to remember it. That is the least we can do.