Humza Yousaf is stuck between a very hard rock and an uncomfortable place with Green deal - John McLellan
Mr Yousaf's Hobson's choice is that it's not enough to just ditch the Greens, but to ditch agreed but unpopular policies too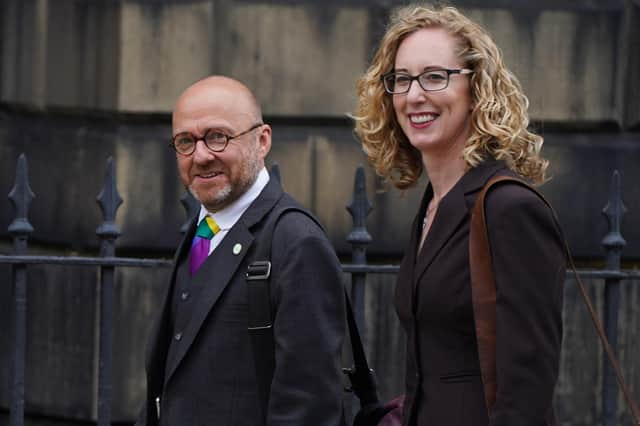 I may be wrong but no political leader in a position of power has ever said, "My policies are bad for the country, but I like them".
Even as the as the Russian shells pummelled Berlin around his bunker and nine million Germans lay dead, Hitler just blamed the collapse of the Third Reich on everyone else for not trying hard enough.
Single-mindedness, at least in public, is a pre-requisite for anyone running an administration. Any admission of self-doubt is pounced upon by the opposition who build a perception of weakness which can be hard to shift. Unless, of course, you are Vladimir Putin, and you can just fix elections and bump off those accusing you of failure.
I would not be so crass as to draw equivalence between Fascist regimes in Germany or Russia and the current Scottish Government, but self-belief in the face of overwhelming evidence is the only reason Greens co-leader Patrick Harvie can claim the power-sharing deal which put him and his party into administration "benefits Scotland". Why would he say anything else?
Despite direct association with a litany of blunders and unpopular moves since joining the government two years ago for which he has not carried the smallest can, power has unquestionably been good for the Greens. Barely a day goes by when either Mr Harvie or the other half of their dirigiste double act, Lorna Slater, are not on television telling us to change our ways, and the latest Survation opinion poll for the True North Consultancy, which has strong links to the SNP, predicts the Greens would increase their seats from eight to ten if Scottish parliament elections were held today. Meanwhile, the can-carrying SNP would fall from 64 to 49 and a General Election would see SNP representation in Westminster halved from 48 to 24.
With support for independence still steady at 48 per cent, it can only represent the independence movement's dissatisfaction with the current SNP leadership and direction, but it also demonstrates that demands from impatient Nationalists like Alex Salmond and ex-SNP MP Angus MacNeil for a more urgent independence campaign would be counterproductive. With Labour resurgent, it's not just because Unionists are switching votes to beat the SNP, but because believers in the principle of independence are prepared to give Sir Keir Starmer and Anas Sarwar a chance, principally to get Rishi Sunak out of Number 10. It is, as ever, the middle ground which is winning.
A natural centrist, Mr Sarwar has a job on his hands to keep prominent left-wingers like Monica Lennon on side with the current national strategy of trying to occupy traditional Conservative economic high-ground, and it's hard to square the Scottish party's 2021 manifesto commitment to higher income tax for earnings over £100,000 with shadow chancellor Rachel Reeves' weekend statement that a promise to increase the 45p top rate of income tax has been dropped and she has no plans for a "wealth tax". But as Mr Sarwar has shown in retreating from previous whipped support for gender recognition reform, he's capable of the Groucho Marx commitment to principles ─ if you don't like them, he has others ─ so square it he no doubt will.
So, what does First Minister Humza Yousaf do? Stick to the belief in the genetically left-wing Scot and keep the Green coalition going while Labour eats his lunch? Or strike out on his own and find a more consensual position that re-pitches the big independence tent back on SNP turf? The numbers suggest he's stuck between a very hard rock and an uncomfortable place, because ending the Bute House agreement and returning to a minority administration potentially puts power in the hands of his internal opponents like Fergus Ewing and Kate Forbes. And in the last parliament they experienced what it was like when the Greens lined up with the other opposition parties and voted for policies the SNP rejected. Ironically, one of those was emergency business rates relief for news publishers which Kate Forbes had blocked, but all parties except the SNP supported. And they lost that vote two years in a row.
Mr Yousaf's Hobson's choice is that it's not enough to just ditch the Greens, but to ditch agreed but unpopular policies too, and having previously backed the partnership with enthusiasm it would look like panic and leave him even more exposed to accusations of a lack of principle as Mr Sarwar, who few really believed was a true left-winger anyway. Banning gas boilers and forcing hundreds of thousands of people to spend money on home insulation and heating systems they can't afford is the next Green-driven disaster on the rank. Or maybe that will be pipped by crippling Council Tax increases on higher band properties. No doubt he will bumble on, with retreats from botched plans, like the deposit return scheme, lamely blamed on Westminster.
Those looking for a dramatic change of direction at the top of the Scottish Government will have to wait until the General Election result which, if as catastrophic for the SNP as repeated polls predict, will almost certainly draw Mr Yousaf's tenure to a close. But in that 48 per cent support for independence and Ms Reeves' weekend commitments there is not just a note of caution for Unionists, but a whole Greek chorus, because economic growth can't be delivered by politicians snapping their fingers if global conditions are unfavourable. Promising to improve services while keeping public spending under control and waiting for the economy to pick up is, as football pundits say, a big ask. Ask Rishi Sunak.
Despite shadow health minister Wes Streeting's new promise to end the "like it or lump it" NHS, New New Labour appears to be more about managing expectations than single-mindedness. If success is avoiding an anti-climax when, as the polls predict, the Conservative era ends, we will be no better off. And the battle for Britain will be rejoined.
Comments
 0 comments
Want to join the conversation? Please or to comment on this article.