Tim Davie, the corporation's director general, may hope that a line has been drawn under the impartiality row over Gary Lineker, but the truth is that the damage is already done – and there is a risk of even more reputational suffering unless he delivers one of the central promises he made when taking up the top job. In his very first week in the role in September 2020, Mr Davie stressed that impartiality would be a central theme of his leadership, warning that while it was a valid choice for people to be an opinionated columnist or a partisan campaigner, those individuals should not be working at the BBC.
A month later, when asked during a Royal Television Society event how he envisaged bringing about change, he replied: "It means that, together, we renew our vows on impartiality." Anyone who has had the misfortune to engage in conversation with senior BBC executives will recognise that Mr Davie was following in a proud tradition: say something forcefully, without imparting much in the way of substance.
There was a new impartiality training module rolled out for staff, and updated social media guidance issued. Fundamentally, however, neither step addressed uncertainty over how that renewal process would play out, or what specific vows would be reaffirmed.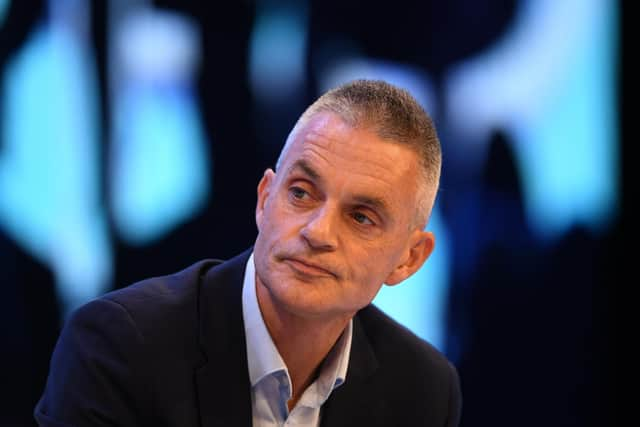 There were hopes that flesh would be put on the bones of Mr Davie's pledges when he spent months working on the impartiality issue alongside David Jordan, the BBC's editorial policy director, and Ken MacQuarrie, the former controller of BBC Scotland. Indeed, by October 2021, Mr Davie unveiled a ten-point action plan, which specified that training around social media would intensify, with freelancers also undergoing impartiality training. For the most part, however, the plan was a masterclass in BBC managerialism, with promises of "thematic reviews."
Mr Davie, at least, seemed pleased. "The changes we have announced not only ensure we learn the lessons from the past but also protect these essential values for the future," he remarked. Fast forward 18 months, and the fallout from the BBC's shambolic handling of Mr Lineker's tweets betrays how hollow such promises were.
In his statement on Monday, Mr Davie accepted the "potential confusion" caused by the "grey areas" of the BBC's latest social media guidance. There was a general apology, but importantly, no acceptance that all the reviews, action plans, and discussions under his directorship had fallen short.
Instead, he doubled down, announcing another review, this one led by an independent expert, and centred on the BBC's existing social media guidance and how it applies to freelancers outside of news and current affairs. There was no indication of how that review will dovetail with another review, announced in May 2020, into how the corporation maintains impartiality in social media. It is unclear whether that evaluation, helmed by Richard Sambrook, the BBC's former director of global news, has been completed, or what recommendations it made.
Frankly, it is staggering that for all the time they spent considering how best to navigate complex and nuanced issues, Mr Davie and other senior executives dealt with the situation so appallingly. They have spent years fudging around the edges of the rules, and their own incompetence has given rise to a full-blown crisis.
It is not just Mr Davie on the hook here. The BBC has an entire editorial policy department tasked with resolving such issues before they become a problem, and its head, Mr Jordan, is paid more than £180,000 a year to ensure the standards and values encapsulated in its editorial guidelines are properly implemented.
It is a situation rendered especially farcical given the BBC has had years to get things right. In 2016, it defended Mr Lineker after he tweeted about the treatment of child migrants, noting that he was a freelance broadcaster using a personal social media account. Two years later, when he backed calls for another EU referendum, the BBC rolled out a similar response, pointing out that the Match of the Day presenter was "not involved in any news or political output", and as such, "any expression of his personal political views does not affect the BBC's impartiality".
Indeed, this distinction is addressed in the BBC's editorial guidelines. They note that while the public expressions of individuals or presenters linked or primarily associated with the BBC have the potential to compromise its impartiality, the risk is lower where an individual is expressing views publicly on an unrelated area. The example it cites? A sports or science presenter expressing views on politics or the arts.
So what changed? Interestingly, one of the BBC's own news stories in the midst of the Lineker fallout suggested that the "rules have been tightened". The article, by David Sillito, its media correspondent, explained: "New guidelines on social media demanded an 'extra responsibility' for presenters with a 'high profile.'" Which is not strictly true. All that changed, in 2020, was an accompanying guidance document which strives to offer "practical tips" around the rules. The guidelines themselves have not been rewritten, even if the advice around how they should be interpreted shifted slightly.
Predictably, such tinkering is an open invitation to ambiguity and inconsistency. Even if Mr Lineker's tweet did fall foul of the guidelines, there are questions over why the BBC has not taken disciplinary action against other high-profile freelance presenters with a track record in making their political views public, such as Lord Sugar.
Those questions will intensify while the latest review is underway and, in all likelihood, they will persist long after its conclusion. In the meantime, the BBC's industrious and talented journalists and programme makers will be the ones left to deal with the fallout from their own director general's ineptitude.