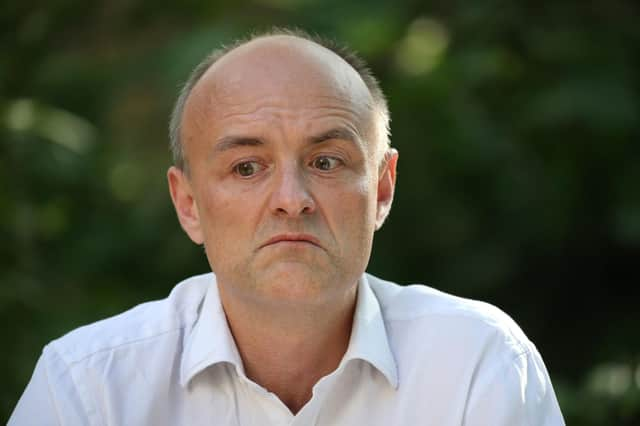 On Wednesday of this week, a couple of resignations took place. One was of Phil Hogan, Ireland's nominated member of the EU Commission, who held the Commission's vital trade portfolio; Mr Hogan had flown back from Brussels without quarantine, and – along with many other Irish establishment figures – travelled to Galway to attend a major golfing dinner that allegedly infringed lockdown rules. The other resignation – framed by most as a sacking – involved the departure of Jonathan Slater, Permanent Secretary at the Department of Education for England, who is to step down following this month's exam results fiasco.
All of resignations are different, of course; one of these represents a classic act of ministerial blame-shifting onto a leading civil servant. The other, though, is a response to traditional rules of political accountability, which suggest that those in leadership positions who fail to comply with the rules set for others, or who are otherwise found guilty of obvious incompetence and/or corruption, should fall on their professional swords without delay; and as such, it has a distinctly old-fashioned look.
For let's be clear; we are living through an age when the whole concept of accountability, in practical policy matters, is – like the Amazon rainforest – being torched at a terrifying rate. Even here in Scotland, the idea seems to be taking hold that governments can "take responsibility" for their errors with no immediate consequences; no-one has resigned over Scotland's recent exams fiasco, despite obvious evidence of serous warnings ignored and disregarded.
In England, meanwhile, the notably unimpressive Education Secretary, Gavin Williamson, has been allowed to remain in post; and all of these unlovely exam shenanigans are taking place, of course, against a backdrop of appalling government mismanagement of Britain's current Covid crisis, which has left the UK with the second highest death rate, and the most profound economic damage, of any country in Europe.
Add to this grim picture the UK Government's bizarre handling of the ongoing Brexit negotiations, the Dominic Cummings scandal, and the avalanche of questionable Covid-related procurement deals with government-friendly companies announced since March, and you have an increasingly alarming picture of a government indulging in daily displays of incompetence, favouritism and unethical behaviour, with more or less complete impunity.
And if we cast our eyes across the Atlantic, we can also catch a glimpse of the firestorm that awaits us, if we fail to catch a grip of this problem. In the Trump world portrayed by Republican Convention speakers, for example, the Covid epidemic has barely happened, almost 180,000 Americans have not died, and even if they have, Donald Trump has been "protecting" them, rather than indulging in deranged ramblings about the virus at his press conferences, while presiding over the nation's worst public health disaster for decades; and it is on this kind of fantastical view of current events that the man currently in the White House is basing a presidential campaign which, despite Trump's current poor poll ratings, still apparently has a substantial chance of success.
So what has gone wrong, in the vital democratic business of holding governments to account? In the first place, the problem seems to lie in the collapse of certain kinds of authority, and of traditional establishment control of the political narrative – not at all a bad thing in itself. The problem, though, is that those elite narratives have been replaced not by a more democratic story, in which ordinary citizens are empowered to reach their own conclusions, but – in essence – by a top-down avalanche of right-wing populist lies, designed to instigate culture wars that divide communities and make practical and powerful consensus impossible. The means by which this avalanche of untruth is disseminated are well known; the major media that are too often owned by billionaire supporters of the same political project, and the social media which can be used by smart operators to invade the minds and hearts of the gullible.
And the result is an electorate – or electorates – bamboozled by a stream of false narratives that are not only untrue in themselves, but that constantly shift their focus. Worried about Britain's dire performance in dealing with Covid? Stage a false immigration panic in the Channel one week, and a fake-outrage row over the singing of Land Of Hope And Glory at the Proms the next. Worried about increasing public recognition of systemic racial injustice in America? Release a load of conspiracy theories linking the "socialist" Democratic Party to everything from organised paedophile rings to the deliberate fomenting of political violence. And always, always, pick political figure-heads who are more comfortable grandstanding about these fabricated culture wars than dealing with the nitty gritty of real policy; it is no coincidence that Boris Johnson looked happier and more confident, this week, dismissing a barely-existent threat to Britain's right to celebrate its imperial past, than he has on any subject for months.
Why all of this is happening, in other words, is clear; it suits those who hold ever greater slices of the world's wealth and power to keep ordinary citizens bewitched, bothered, and terminally confused. And the only answer to this tsunami of well-directed garbage is a patient, well-directed dedication to the search for truth and hard factual information, and to the mission of creating the kind of democracy where people are not just passive recipients of false news, but active participants in community processes both of fact-finding and decision-making. The financial and political powers that be, after all, have not given up on facts; they are accumulating and crunching more real-world data by the day, in the effort to know us, to control us, and to sell us whatever it is they have in stock, whether junk commodities or junk politicians. And if we ourselves succumb to the fashionable myth that the truth is no longer out there, and that everything is only a matter of subjective perception, we simply hand them the power; the power to inflict on us whatever reality happens to suit their interests, along with the myth that nothing could ever have been done to start resisting that narrative, and working towards a more just, more dignified and more hopeful future.
A message from the Editor:
Thank you for reading this article on our website. While I have your attention, I also have an important request to make of you.
With the coronavirus lockdown having a major impact on many of our advertisers - and consequently the revenue we receive - we are more reliant than ever on you taking out a digital subscription.
Subscribe to scotsman.com and enjoy unlimited access to Scottish news and information online and on our app. With a digital subscription, you can read more than 5 articles, see fewer ads, enjoy faster load times, and get access to exclusive newsletters and content. Visit www.scotsman.com/subscriptions now to sign up.
Our journalism costs money and we rely on advertising, print and digital revenues to help to support them. By supporting us, we are able to support you in providing trusted, fact-checked content for this website.