For one thing, I'm unmoved by tactics, high presses, false nines and, most of all, gormless cliches. For another, the interviews are big pieces so there has to be something else. Are my subjects rounded men and not simply round-ball ones? Do they have a hinterland or even a hobby? Ex-footballers are often more fun because they've had time to look around, to wake up and smell something other than Deep Heat muscle stress ointment.
Tony Green, ex-Newcastle United and Scotland, told me about becoming a maths teacher after injury cut short his career and how fulfilling that was. Dave McKinnon, ex-Rangers, showed me the novel he'd just finished, a geopolitical thriller about a spat between America and North Korea putting the planet in peril.
Politicised footballers are rare but always fascinating. Another retired Scotland internationalist, Asa Hartford, explained the part communism played in his young life. Jackie McNamara – Hibernian, Celtic – delivered Soviet Weekly as a boy round Easterhouse. John Colquhoun – Hearts, Celtic – campaigned for Labour in general elections and might have tried for MP. The great Brazilian Socrates was a doctor, a playwright and, most significantly, a key figure in his country's struggle for democracy.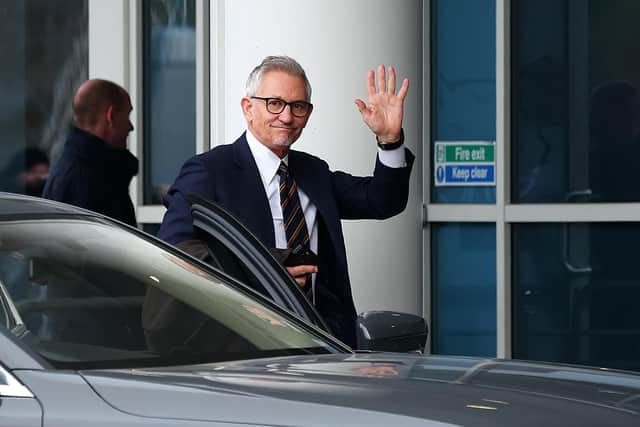 So would I like to interview Gary Lineker? Actually, I have. Twenty years ago, The Scotsman sent me to London to meet him at the BBC, the organisation he's just brought to its knees. He was already the presenter of Match of the Day but our venue was his dressing-room for They Think It's All Over, the knockabout sports quiz where he could flash that winning smile even more.
He flashed it a lot that day. Not at his interrogator but his own reflection. Sitting more or less sideways onto me, he couldn't stop gazing into the giant mirror. It was a disconcerting interview. Front-page issues did not come up. Vain? Plenty in telly are. But at the time he seemed like the last footballer to turn into a political animal.
Just look at him now. "I'll continue to try and speak up for those poor souls that have no voice," he tweeted by way of thanks to those backing his criticisms of the UK Government's "stop the boats" policies. Then yesterday, after his return to Match of the Day was confirmed, he reflected on the rumpus thus: " …However difficult the last few days have been, it simply doesn't compare to having to flee your home from persecution or war to seek refuge in a land far away…"
He's right. Being doorstepped by the paparazzi and then photographed later at a game on the day the BBC's football coverage was obliterated are trifling matters. And "difficult"? Lineker's many critics would claim he seems to have been rather enjoying the notoriety.
I've no doubt the man has an ego but he also has a conscience. Flicking back through the files to 2017 when I interviewed Socrates, I wrote: "When a footballer gets political it's unusual and in Britain at least – viz Gary Lineker's tweets in support of refugees – he's often treated with scorn." So he was doing this back then – not simply jumping from team bus onto bandwagon – and being criticised for it as well.
I don't know when Lineker first got seriously interested in politics – as I say, we didn't discuss weighty matters – but for many it can arrive later and come as a complete surprise. I know because this has happened to me and I don't think I'm alone. Covid brought politicians crashing into our living-rooms nightly. Eventually, they picked up those lecterns plastered with urgent warnings and left. We washed our hands with them but, subsequently, have not washed our hands of them. The shambolic, gruesome events which followed have had the nation hooked. Even if only for the black comedy of Boris Johnson, Matt Hancock and Liz Truss, many are engaged with politics in a way they weren't previously.
So what's wrong with the Match of the Day anchor being engaged? Proving that not all who come from football, with the exception of Marcus Rashford and a few others, are dull, unthinking multi-millionaires? Through a high profile and via social media, engaging others? Nothing wrong with any of that, but in future Lineker – no historian – will have to be more careful with his language. As one leader column the other day smartly advised: "It is a good rule of pub debates that the first person to use the word 'fascist' loses."
Lineker didn't quite use it but this was his inference. Suella Braverman did however say "billions" – the numbers she claims are eager to come to the UK – and this was the reckless high tackle which incensed Lineker. She should watch her mouth as well, unless of course her assertion was meant to incite fear and loathing.
For her government, Garygate has shifted the focus from the unworkability, never mind the inhumanity, of its illegal migration policy and allowed it to indulge some more in a favourite sport – Beeb-bashing. The BBC, timidly brandishing a rulebook hastily drawn up in the face of previous Tory attacks, red-carded Lineker. But the decision has gone to VAR and he's back.
Whatever you think of him, he was simply speaking his mind. Whatever you think of the pundits – loyal to the main man or just virtue-signalling? – they're back as well. Tough luck if you enjoyed the weekend's highlights without their drivel. Tougher still: with football being full of copycats, Lineker may have emboldened these chumps to get political. Alan Shearer on the budget? Aagh!