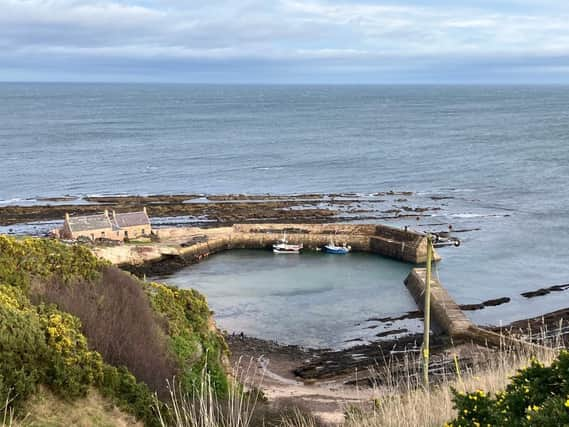 There's a real possibility I'm about to be blown over the cliff minutes into a walk with Country Girl as the wind gusts while we take in the view but we laugh, relieved to be outside and moving.
She works outdoors anyway but I'm generally indoors staring at a screen and the more that life is conducted online, the more I crave real experiences, drawn to the sights, sounds, tastes, touch and smells like a spaniel to muddy puddles.
It's not just because I'm looking down onto a beach I visited as a child and it's sparking vivid memories of being soaked, sandy and scraped by rock pools and my snappy dresser mother taking a bloody tumble down the rocks in kitten heels and a minidress that I feel so invigorated by the weather. It's the engagement of my body and all my senses in real life after too many screens have rendered me goggle eyed.
Grey meets grey, pigeon layered on top of pewter, as we look out at the vast sky stretched over the roiling North Sea with its white-capped waves dashing to a beach moving to meet it. Sand is whipped by the wind into long snaking lines moving diagonally down the bay around the few determined souls fighting their way along. Country Girl says "Hold onto your hat", swapping her beanie for a work one that means business and we set off on our ten-mile hike from Cockburnspath to Abbey St Bathans along the Southern Upland Way.
The only weather we don't get is rain and it's glorious as we squelch through mud and avoid cows, sheep and farm dogs barking their indignance and tramp through pine woods full of trees felled by the storms, the logging making the scent hang thick in the air and mocking the fake stuff we scoosh around bathrooms. In elevated wide open spaces we drink in vistas of rolling hills and patchwork fields as well as fortifying swigs from my hip flask for snow still lies in drifts in the lees of dry stane dykes and reminds us to get a move on because winter isn't done with us yet and the light's fading.
"Aw yeah, kinaesthetics," says Youngest Child, when I make it home. "Movement and your body, learning, connecting, it's good for dyslexics so I'm exploring it at the moment. And no, that doesn't mean I'm coming on a walk."