King Charles' Coronation: Pomp and circumstance? No, it's how dysfunctional the Royal Family is that we love the most – Aidan Smith
Most of us can relate to the Royal Family's sometimes very public struggles
I've done a lot of fourth birthday parties. All of my own children and many of their friends. The best were in the local trampoline centre where my younger brother's fourth birthday party was held, which with a never-changing jukebox makes it a nice link with the past, though obviously nothing compares to that 600-year-old Coronation Spoon.
At the big bash, Prince Harry stayed just long enough to see the old man crowned king, then dashed home 5,500 miles to California to be at his son's fourth birthday party. A good effort, some might argue, especially the dads who can be competitive about the number of kids' activities they heroically micro-manage on any given Saturday, when the ballet run across town takes on the hazards of the Gaza Strip and getting to violin lessons on time has the pressure of Tom Cruise in one of his overblown blockbusters frantically trying to defuse a planet-imperiling bomb with only seconds to spare.
But others will say: all that way to watch children get high on Haribo Tangfastics, then the comedown when they lose at pass-the-parcel, then the crying, then the fighting over the inflatable T-Rex tongue slide, then more crying – then the argument at the end with the party entertainer who wants his full fee despite turning up 45 minutes late and being pretty rubbish as well, telling at least three age-inappropriate jokes with two more open to question? Harry must be mad!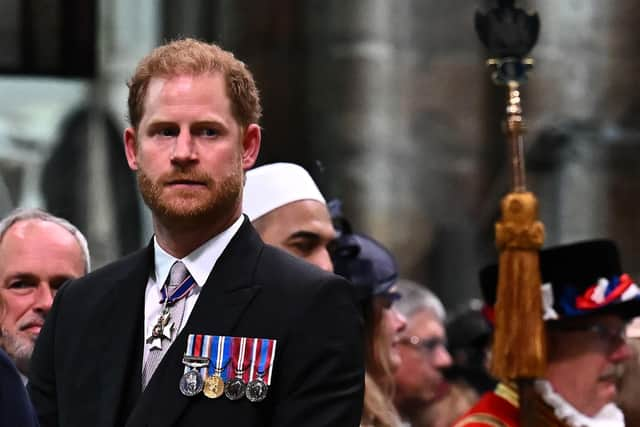 And another argument goes like this: he's a thoroughly modern father who takes his parenting responsibilities seriously – and with far more care than was evident when that "never complain" stiff-upper-lip garbage required him to walk, aged just 12, behind his mother's coffin.
And there's yet another argument: she made him come back for the party. He was under orders from Meghan. So of course he had to get back, and pronto. OK, so a lot of the coronation was off the scale and beyond our ken. We mere subjects, when organising our own big bashes, cannot muster all these horses nor call on an ex-magician's assistant, one-time high-diving reality show contestant and former Tory leadership candidate to hold an 8lbs sword for 51 unerringly still and serene minutes.
As for the actual winner of that leadership contest – who went on to become Prime Minister for what seemed like 51 minutes, all of them unerringly bonkers – how many of us glimpsing Liz Truss silently mouthed a catty: "How come she's been invited?" And how many of us at a wedding have wondered the same thing about a guest who'd been involved in some embarrassment or other and yet there they were, all dressed up and smirking away?
And as the family black sheep has shuffled, partnerless, into the church, how many of us have not known where to look and at the same time been unable to stop staring? This was the moment when the whole nation came together. Some may indeed have exclaimed "God save the King!" along with the congregation as per the original, muddled decree and a few might have stood to do it. But for many more, the homage would have been: "Praise be, your Majesty, for with its dysfunctionality – its divorces and dark scandals and the dad-dancing we shall witness at Windsor Castle on the morrow – your family is just like ours!"
We love the pomp and circumstance surrounding the Royals but we love their cock-ups more. Those moments when mere mortalness descends, which for them must be mortifying. When silly nicknames for each other are revealed. When it gets out that one wishes one was a little, rolled-up tube of highly absorbent cotton. When one thinks it's safe to have one's toes sucked by one's lover, unaware of photographers hiding in the trees (that's happened to all of us, right?). And when at important moments, in full view of the world, pens refuse to work.
It is difficult to know what to make of Harry's actions on Saturday. Son Archie will have other birthdays and many when, maybe unlike this one, he'll be old enough to remember his father being present. Coronations, though, don't come round all that often.
Ah, but he was there, third row, next to some other non-working Royals, albeit that he stayed mostly hidden behind the Princess Royal's frightening plumage. The hat, indeed, raises many questions. From which bird were the feathers extracted and is the species now extinct? Who was in charge of the seating plan? Was this the government's new anti-protest laws being used to spare Buck House blushes – first remove pesky anti-royalists from the streets, then blot out pesky princes in the abbey?
OK, so Harry turned up, but that was all he did. Why go all that way and not have lunch (apparently a place was laid for him)? Why not stay over, kick off the stiff formalwear and make it up with Pa and big brother? Make it up with – "dangerous … a villain" – Camilla. Have a laugh with everyone about Penny Mordaunt's sword outshining, from a previous Royal occasion, Pippa Middleton's bottom. Go to the concert and at least dance better than Prince Edward in his father's old overcoat.
He could have done all of this. He could also have brought his family with him and celebrated Archie's birthday here, but then I suppose Meghan would have been too much of a distraction.
Of course, improved relations, everyone getting on with each other again, that's not what the subjects want to see. To use a word this family, with its German roots would understand, there's an undeniable schadenfreude in watching them, every now and again, get things wrong and muck up. It can seem that they're just like us, only with servants.
Comments
 0 comments
Want to join the conversation? Please or to comment on this article.