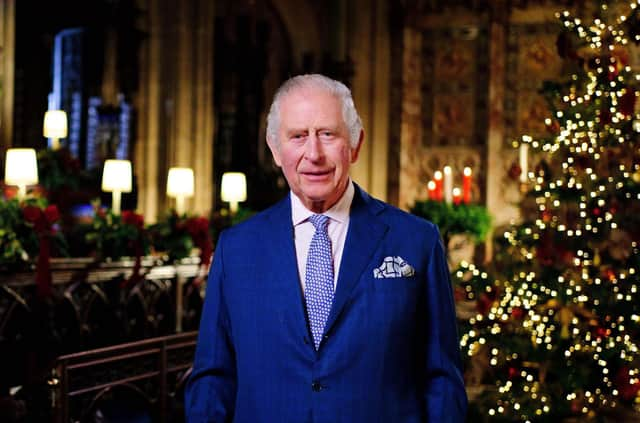 But if the past few years have taught us anything, surely it is that there is no way of anticipating what might come our way. The pandemic, war in Ukraine, rocketing energy prices and a cost-of-living crisis have all presented challenges that none of us had expected, and few could have predicted.
Then there is the industrial action which seems to be spreading across our public services like one of those bush fires attributed to climate change, adding yet another complication to life. Into this narrative, we should also add the historic experience of moving from one era to another having left the Elizabethan Age behind and moved into the reign of King Charles.
While that may seem like simply a change of personnel in the role of head of state, it marks both a generational shift in attitudes and a largely as yet unknown approach from the new monarch. The coronation this spring will undoubtedly be one of those uniquely British exhibitions of national pomp indicative of both renewal and continuity at one and the same time.
But against what sort of a background will it take place? Where will we be in our collective battle to revive the economy and protect our quality of life? Will the Conservative party manage to calm its internal squabbling long enough to put the country first and can the SNP accept the same goal rather than its independence obsession? Whatever our political allegiances, we have to hope that the answer to that last question is an affirmative from both parties.
There are too many pressing issues and challenges to individual or community well-being which have been put on hold for too long while both parties focussed on their own agendas. And our common resolution, as we return to parliament next week, must surely be to ensure that we are no longer distracted from those problems which have struggled to attract government attention, much less action.
There are emerging trends like a new coal mine and calls for fracking which undermine the fight to protect the planet and develop sustainable energy sources. While over the holiday period, research was published which underlined the fact that little if any progress has been made towards righting a wrong against a significant section of society. When I was elected in 2017, one of the first constituents to visit my surgery in South Queensferry was a WASPI woman whose life had been turned upside down by the ill planned and executed change in pension age for women born in the 1950s.
Almost six years on, an estimated 6,000 women in Edinburgh West alone and many tens of thousands more across the country are still awaiting justice. The date compiled by the WASPI organisation shows that a third of them have fallen into debt and around 80 per cent have suffered financial hardship as a result of the delay in learning about the changes to their state pension age.
Somehow in all the justifiable angst about Brexit, the pandemic, war, and the cost of living, their life-changing experience has been neglected. Now many of them tell me that their greatest fear is that any resolution or discussion of potential compensation will be dragged out until they are no longer here to see the justice they crave. In many ways, their situation should be a reminder to all of us that we may need the support of our neighbours and community at any time, regardless of how secure we might think we are.
Similarly, we are now seeing our NHS and care services struggle with the burden they carry on our behalf. Our public services are stretched and we all know there could be worse to come.
Seven decades ago, the Elizabethan Age began in the aftermath of a war which had bound the nation and its people closer than perhaps ever before. It was an era of unprecedented progress in the rights and living standards of our society.
And that spirit forged in the war and immediate aftermath was there, silently underpinning it all until we needed it again, and it re-emerged to be the hallmark of the last two years of the late monarch's reign.
Sadly, the frustration and pressures of those common challenges is now being reflected in resentment, even anger, from some that their generation will not perhaps know the same quality of life and financial comfort as previous ones. But that view is neither unique to this generation nor universally held.
As I trawled my memory for positives this year, I realised, without wanting to sound too much like a Hallmark card, that I was struck by the goodness that has always been there. In the individual donations that meant over £35 million was raised for Children in Need; so many people prepared to open their doors to host Ukrainian families that the system couldn't cope; and communities rallying to make sure there are warm spaces and hot meals for those without.
Our resolution going forward must be to nurture that togetherness rather than allow resentment to engulf us. To ensure that the new Carolean Age is marked by the same community spirit that graced the most challenging periods of Elizabeth's reign.
Now that 2022 is past, the new year offers an opportunity to fight back against last year's demands, focus on our strengths and work to create a new climate-conscious era with common good at its heart.