Lewis Capaldi may be the most stressed man in pop but he's also the funniest – Aidan Smith
My kids have followed the career of Lewis Capaldi avidly. This is remarkable considering how free and easy the young can be with their affections, how quickly the posters on bedroom walls can be ripped down and replaced.
The girls love his songs and warble them in accents which are more West Hollywood than West Lothian, while my teenage son loves how bawdy he can be, especially when he stuns a chat show host into silence. But they also enjoy the connection they have with the Bathgate balladeer through their big cousin Rory who works for his record company and is part of his inner circle.
I should say that Rory is extremely loyal to his boss. What happens on tour stays on tour. But occasionally there might be amusing titbits from what Rory jokingly calls top-level summits at the label – eg, what's to be done about Capaldi's mad hair. These are great for my kids' playground cred.
So Sunday's headline about their pop idol when I read it out to them – "There's a very real possibility that I'll have to pack music in" – was met with dismay. They don't know the full extent of how Capaldi's fabulous success has mucked up his mental health. But, with a guts-spilling Netflix documentary going live from tomorrow, they and the rest of his fans are about to find out.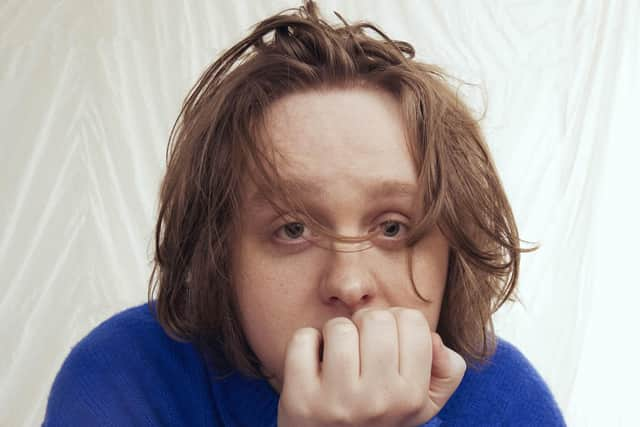 It's all in the film, called How I'm Feeling Now: the panic attacks, the twitches, the Tourette's. The "imposter syndrome" which can't be alleviated even after Sir Elton John messages him about his "beautiful songs which resonate with millions". And the seven-hour phonecalls to his mum Carol where she tries to calm him right down.
Capaldi has undergone therapy. He is attempting to reduce his anxiety through medication, exercise and – having once used festival downtime to serve steak bakes in a branch of Greggs – a better diet. But an interview in the Sunday Times, which will have happened long after the documentary wrapped, reveals that the demons have not entirely left the building.
The stress is caused by the music. "Otherwise I can be fine for months at a time," he says. "Right now, the trade-off is worth it. But if this gets to the point where I'm doing irreparable damage to myself, I'll quit."
The modern pop star is not striving for an air of mystery. "Letting it all hang out" is a phrase dating from 1960s hippydom but very much applicable to right now. Ed Sheeran has a four-part docu-series ready to air where he'll unload his own struggles with mental health. Sheeran is not interested in being shape-shiftingly elusive like, say, David Bowie, and Capaldi is not aping the intimidating hauteur of Lou Reed. A good thing, too, I say, having never really got on with him.
It's easy to be cynical about multi-million-selling artists having a tough time. What have they got to be sad about? Easy, too, to criticise this generation, famous or not, for being emotionally self-indulgent. But listen to what Capaldi, who's 26, says in How I'm Feeling Now about his panic attacks and ask yourself if it doesn't sound genuine, heartfelt and desperate: "I'm completely disconnected from reality. I can't breathe… I get dizzy… I'm convulsing. Either I feel like I'm going to be stuck like that forever or I'm going to die."
Clearly, this is way more than a pop star needs to give to his art. Some sweet tunes are usually sufficient. But Capaldi pours his all into everything he does – songs, interviews and now documentaries. And it's why my kids and many like them can pick up a rendition of Someone You Loved and see it through to the end, if the Tourette's ever gets so bad he has to stop. He's someone they love.
On the same day as Capaldi was confessing he might have to give it all up, there was a story celebrating Harry Styles for "reinventing masculinity" – a happy consequence of which was a seemingly never-ending succession of gorgeous girlfriends. Coldplay's Chris Martin, meanwhile, would appear to have little to worry about right now other than remembering to skip dinner so he might eventually look as buff as Bruce Springsteen.
These pop lives seem effortless next to Capaldi's. Maybe they're not, only Martin and Styles choose not to tell us. Capaldi on the other hand tells us everything. If this helps him, then how can we not listen and be sympathetic?
If this is a competition, then an advantage he has over the others is his everyman appeal. Most Scots know that Bathgate is just about the most unassuming place from which to launch a bid for global domination in your field, no matter that it's the birthplace of the inventor of obstetrical forceps and a founder of the Canadian Pacific Railway.
Capaldi is also funnier; indeed he could stake a claim for being the funniest man in pop. On The Graham Norton Show recently, he simultaneously lowered the tone and raised the laughter quotient among some serious-minded actors by revealing that on the short walk from the studio stage to the sofa he'd "farted". He went on to detail how, while struggling to come up with new songs for himself, he bashed out some tunes for other artists using the pseudonym Anita Jobby. Helpfully there was an explanation of the Scots vernacular.
Capaldi has been afflicted by difficult second album syndrome. That and a whole lot more. I wish him well with Broken By Desire to Be Heavenly Sent, which is released next month. Meanwhile, though not wanting to add to stress levels, if he could find a moment for those autographed photos he's promised my kids, that would be great.
Comments
 0 comments
Want to join the conversation? Please or to comment on this article.