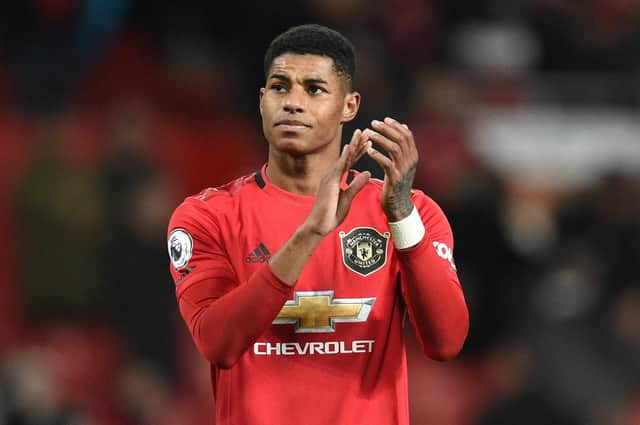 "I only started reading at 17," reads his tweeted statement, "and it completely changed my outlook and mentality. I just wish I was offered the opportunity to really engage in reading more as a child, but books were never a thing we could budget for as a family when we needed to put food on the table." The book club aims to "equip all children with the resources to develop life skills and overcome challenges by increasing access to books."
Citing sheer escapism alongside racial, religious and gender representation – he wants the books to be properly representative of modern society – the Marcus Rashford Book Club will also platform emerging writers and illustrators. "No matter where you grow up, talent should be recognised and championed." I couldn't agree more. And from a publishing perspective, it's a very well crafted initiative.
Think for themselves
There are echoes of Dolly Parton's Imagination Library in this book club. Established in 1995, the beloved, bedazzled country singer's book-gifting project has delivered an eye-watering quantity of books to children in the USA and beyond, hitting the staggering milestone in 2018 of 100 million books donated.
Parton has cited much the same reasoning as Rashford for her interest in providing kids with books, having grown up in a household with only the Bible to leaf through, and recognising the importance of literacy as a building block to wider education and opportunities.
Books also encourage little readers to develop empathy for others; fantasy scenarios help them think about themselves and the world around them. Books can be valuable family time, poring over pictures together or reading bedtime stories. For parents, a trustworthy, fact-checked book provides a moment of relief from the wild west of children scouring Youtube for content. They're sources of independent learning, confidence, imagination and aspiration.
But perhaps most importantly of all, books are fun and they are transportative. We all benefit from visiting an alternate universe once in a while. I feel this personally, because I can trace very clearly how books have shaped my own life. They're my greatest passion, my livelihood, and the essential forces propelling me forward.
Literacy skills are vital
Initiatives like Parton's and Rashford's are truly spectacular, and they should be lauded for using celebrity power as fuel to get good things done. But it's precisely because of all the good these programmes do that it's also important to acknowledge why they exist.
They are there to fill a gap. There are many thousands of children in the UK (as well as the USA, and other wealthy nations) who have never owned a book of their own. Just as many adults have felt dissuaded throughout their lives from picking one up.
The National Literacy Trust, which works to improve literacy levels in children and adults across the UK, describes succinctly how low literacy skills reduce opportunities throughout a person's lives. "Lacking vital literacy skills holds a person back at every stage of their life. As a child, they won't be able to succeed at school, as a young adult they will be locked out of the job market, and as a parent they won't be able to support their own child's learning. This intergenerational cycle makes social mobility and a fairer society more difficult."
For a few years now, in the run-up to Christmas, I've donated to the BookTrust Christmas appeal, which aims to send, as a surprise, the gift of a book to children across the UK who are in care or who are living in challenging circumstances.
I first became aware of the programme in my former life as a children's book publisher, an experience which opened my eyes to how many children go without. For the first time this year, they will also be supplying books through food banks, supporting families whose incomes have been particularly adversely affected by lockdown. The appeal is as festive as it is sobering, with the reminder that "some children may be spending this Christmas away from their families for the first time".
This year the Scottish Book Trust, which also runs year-round book giving initiatives in the form of characterful BookBug packages for primary school children and during Book Week Scotland, has a similar Christmas appeal. Imagine a book popping through the letterbox of a child who could really do with a treat, particularly this year. If able and inclined, you can donate to the appeal online.
But while these book institutions are able to do great work through the funding they receive, charity appeals to the public can only go so far, and especially in an economic downturn. The UK has a literacy problem that cannot be addressed by goodwill alone.
Other donation programmes, like books for schools vouchers from the Sun newspaper, or the old Computers for Schools scheme from Tesco, have provided a lot of resources to schools across the country. But there's something wrong with a society when school essentials are the by-products of commerce, incentivising consumer loyalty to a particular brand of teabags while doing a good deed. Private patronage should have been left in the Victorian era, but so many building blocks of society still depend upon the hard work of charities.
Libraries have long been in decline, shutting across Scotland and the UK. While private schools down south still get tax breaks (in Scotland, charitable tax breaks were rightly set to be axed until Covid saw this postponed), comprehensive school libraries, and teacher's buying budgets, are impossibly stretched.
Consider how much would be poured into the coffers of public funding if Amazon, the UK's biggest book retailer, was made to pay a fairer whack of tax rather than its current pitiable offering. How much fairer society would be, if every child had access to the same education and resources.
A message from the Editor:
Thank you for reading this article. We're more reliant on your support than ever as the shift in consumer habits brought about by coronavirus impacts our advertisers.
If you haven't already, please consider supporting our trusted, fact-checked journalism by taking out a digital subscription.