Martin Amis and my part in his fabulous literary life – Aidan Smith
They say don't meet your heroes – but Aidan Smith makes an exception for footballers and an inspirational writer
Five words, and I've been dining out on them all this century. "I liked what you wrote," Martin Amis told me. Martin Amis! The novelist of his generation!
It was on 20 May, 2000, that The Scotsman published my interview with Amis and it was on 20 May, 2023 that his death was announced. Now, I have a great job. Sometimes I get to meet people I really admire. Other times, people I can't stand but, hey, that's the way it crumbles, cookie-wise (which is a line from the equally witty-with-words Billy Wilder, though sadly we didn't meet). Thus when they pass, and particularly in Amis's case, I always count myself extremely fortunate that we shared an hour together – and also relieved that my questions weren't too dumb.
Particularly in Amis's case because, alongside Clive James and Charles Shaar Murray from the New Musical Express, he's the reason I write. And in Amis's case, we didn't just share one hour together – in all I interviewed him five times. He was up for a sixth until his publishers told me: "You'll have to get to Brooklyn." The phone number for his old address in London's Primrose Hill is still in my contacts book. I can't quite bring myself to cross it out.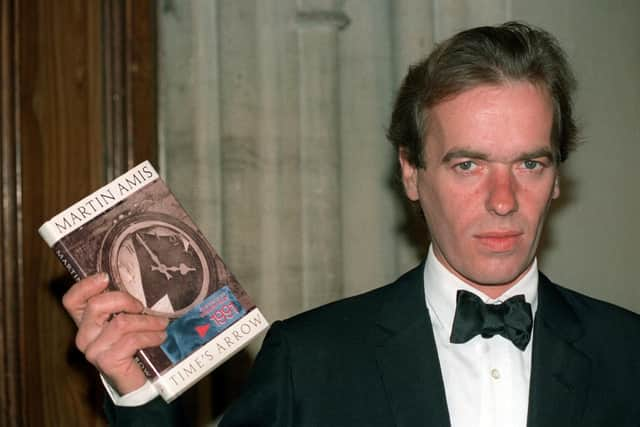 Now, I know what you're probably thinking: fan-boy. Groupie. Demented cult follower, perhaps in long white robes, who would have done anything Amis asked, such as beat up the critics who didn't like Yellow Dog. Probably you're imagining that in my house I've dedicated a creepy little room to his brilliance, similar to the one for Alan Partridge and covered floor-to-ceiling with photos – Marty with a ciggie, with a Paris goblet, in his "velvs" (velvet jacket and trews), chatting up a stunning blonde, pouting most Jagger-like.
But I loved his books and I loved our encounters. They say you shouldn't meet your heroes because, placed on such lofty pedestals, they can disappoint. That's sometimes been true of rock stars. Donald Fagen, the Amis-sharp wordsmith of Steely Dan, was exceedingly grumpy. Bryan Ferry was awkward and reticent, though maybe I wounded him by asking why the urgent, dazzling lyrics of early Roxy Music – not one word wasted, just like Amis – had been replaced by wine-bar wallpaper blandness with dismal titles like "Oh Yeah". But I came away from encounters with Denis Law and other golden-age footballers even more impressed than I'd been beforehand and the same with Amis.
A propos of nothing very much, he'd remark of David Cameron: "He doesn't look like a prime minister… epicene, and slightly bloated on inherited wealth." About toy shop Hamleys' wildly grinning, chanting staff disturbing his young sons: "We left quickly, agreeing we'd just witnessed another example of the a***hole-isation or ordinary life."
Amis always gave a good quote. That 2000 interview was on the back of his memoir Experience. He was seriously hungover from the launch party, so I wondered if him having been in full confessional mode for the book and on top of that tired and emotional had brought about my splurge of juicy info on dad Kingsley (sample advice: "Masturbation will turn you mad"), his long line of beautiful ex-girlfriends, the daughter he never knew he had, the cousin murdered by Fred West, the £20,000 teeth job, the height deficiency, his divorce, his worry the break-up would "weaken my boys' capacity for love" – and, shockeroonee, that some of the famed Amisese, such as "sock" (manky bedsit) and "rug rethink" (haircut), had in fact been minted by his friend Christopher Hitchens.
But, no, every interview was like this. The second, when he handed out the compliment, was for the film version of Dead Babies, written in a sock for a £250 advance. There was more on the sex wars (a pressing theme throughout), on Kingsley and how the old devil presented the teenaged Marty with a gross of condoms. Maybe, despite the legendary loverboy status conferred by gossip columns later, they weren't all used because Dead Babies' Quentin Villiers was the man he "desperately wanted to be – suave, epigrammatic and most of all tall". And mixed up in all the knockabout stuff, some sadness: the revelation his sister Sally, a wayward, troubled soul, had died only a few days before.
That day he inscribed my book: "Very good to see you again." After the third interview in Primrose Hill, he wrote: "This is becoming a pleasant habit." And frankly, I don't know why I didn't quit immediately afterwards. For how can a journalist, exactly the right age to be enraptured by his dazzling debut The Rachel Papers, who would slip Amisese into his copy ("Ford Fiasco… Garage of Thieves") only to be censured by an editor who was a fan too… how can it not be an unmatchable career-high to be asked by the great man to help with the naming of one of his gormless anti-heroes?
He'd never been stuck before. London Fields' Keith Talent had mates called Norvis, Shakespeare, Curtly, Truth and F***er. But this guy was a hack on a tabloid, the Daily Lark. "Curt Smoker, Curt Drinker or Curt Boozer?" Amis asked. Real names, all from the Manhattan phone directory. "Curt Smoker," I said, and that was how Yellow Dog came by its scuzzy truth-seeker.
The next inscription read: "On the fourth engagement." The fifth: "You drank all my wine!" That was the interview of my squirmiest Amis-themed moment when, in his louche drawl, my subject queried: "Didn't you ask me about my c**k last time?" Moments later we were on his floor together. Knowing I was a fellow student of Pilates, he wanted me to show him how to do "The Plank". A classic movie scene flashed across my mind: Women in Love, Ollie Reed and Alan Bates wrestling naked.
Comments
 0 comments
Want to join the conversation? Please or to comment on this article.