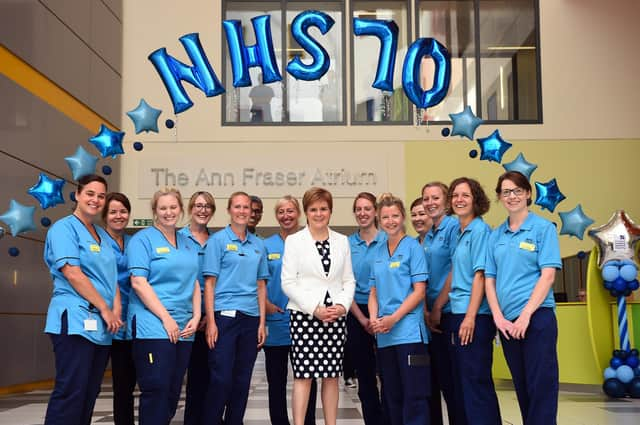 This winter the crisis in our NHS has reached dangerous new levels, casting a long shadow over the holiday period and even before that – but the First Minister and the Health Secretary were nowhere to be seen. At Christmas the number of Scots waiting more than 12 hours at A&E soared to its highest point on record, leaving almost 2,000 people a week stranded in waiting rooms for more than half a day.
Right now barely a month goes by without some kind of grim new record being set. Waiting lists for treatment are at an all-time high, with one in seven Scots stuck on one. Crucial cancer treatment targets are being badly missed, and performance keeps falling to new lows.
Delayed discharge has spiralled out of control, resulting in more than 1,800 beds being occupied every single day by someone ready to be discharged but waiting for a care package. This has piled pressure on already stretched services and is costing our NHS millions of pounds it can ill-afford. Heroic NHS staff are exhausted and demoralised, and to add insult to injury the SNP is riding roughshod over pay negotiations to impose a pay deal on nurses against their will.
The list of failures goes on and on. And while the situation has plummeted to new depths since the pandemic, this crisis has been 15 years in the making. The workforce problems which are piling pressure on services and staff dates back to Nicola Sturgeon's decision to slash nurse training places as Health Secretary in 2012.
The number of Scots languishing on waiting lists has soared on the SNP's watch, rising from 260,000 when the party came to power in 2007 to 420,000 in 2019 – before the pandemic hit. When Nicola Sturgeon became First Minister, 21 people had been waiting over a year for inpatient treatment, instead of the legal 12 weeks. But by the end of 2019, this had already soared to 1,290 – that's 60 times higher, on the SNP's watch, and that's also before the pandemic. And while cancer waiting times are at their worst point on record, the SNP haven't met their 62-day cancer treatment target once since 2012.
The SNP will always look for someone else to blame – Westminster, the pandemic, the opposition – but the truth is that it is a crisis of their making. Now lives are being put at risk daily, and the very future of our NHS is under threat. That's not hyperbole.
The Royal College of Emergency Medicine have suggested that around 50 lives could be lost in Scotland every week as a result of the chaos in A&E, while the chair of the BMA in Scotland recently warned that "there is no way that the NHS in Scotland can survive" in its current form.
NHS workers, experts and professional bodies have been raising the alarm for months and indeed years, but their warnings keep getting ignored. The SNP pretends this was deadly winter crisis was inevitable, but it didn't have to be this way. Scottish Labour's NHS winter recovery plan set out a series of proposals to prevent this catastrophe and build the foundation for a real recovery.
There is so much that could have been done, and our plans would have helped to reduce waits at A&E, supported fantastic but exhausted NHS staff, improved social care and tackled delayed discharge, and offered a much needed lifeline to struggling primary care and mental health services. But instead the SNP but their party before our NHS.
They were distracted by their own political obsessions and determined to protect their own incompetent Health Secretary. It's too late now for Humza Yousaf. If we don't act it will be too late for the NHS too. We need a new Health Secretary in whom we can have confidence, an end to the excuses, and a real recovery plan for our NHS.
And NHS workers must be at the heart of that plan. The incredible skill, service and sacrifice of health servce staff is the only thing that has prevented total collapse – but years of failed workforce planning by the SNP mean vacancies are through the roof, services are routinely short-staffed and millions of pounds are being wasted on locum and agency staff.
We also need to tackle waiting lists and diffuse the ticking time bomb of health problems left behind by the pandemic. We can do this by speeding up the roll-out of rapid diagnostic centres, accelerating the process of screening catch-ups, and finally delivering the national treatment centres the SNP promised back in 2016.
And we will never be able to fix the challenges in our NHS as long as Scottish social care is on its knees. The single biggest thing we can do to support care is to help carers, starting by giving workers the pay rise they deserve and delivering a fair deal for unpaid carers. The stakes are too high for the SNP to keep tinkering around the edges and managing decline. Labour created our NHS, and we will always fight to defend it.
Jackie Baillie is MSP for Dumbarton, Scottish Labour's deputy leader and her party's spokesperson for health