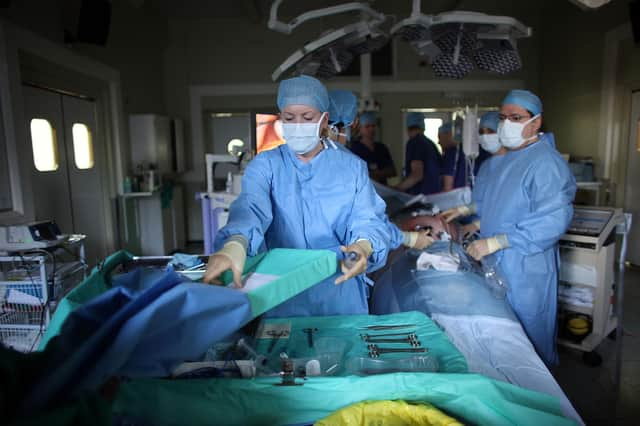 In a statement to the Commons, he affirmed that: "The British people need to know that when they have a heart attack, a stroke or a serious injury, an ambulance will turn up, and that if they need hospital care, they have access to it." I could not have agreed more. And it is an assurance in which, until recently, we could all have had unfaltering confidence.
But where my support for the minister's sentiments ends is that he was not talking about a far-reaching strategy to repair that most treasured of institutions that is the National Health Service. Nor was he committing to government investment of the time, money and faith in all our public servants that would ensure the realistic guarantees of service that we all desperately want to see, not least those who work in that vital sector.
No, this was not about problem-solving, this was political posturing. An empty, detail-light, vague promise of a mandatory minimum level of service to replace existing voluntary arrangements which will simply ramp up the rhetoric without saying how it will be achieved or offering any progress towards a solution.
Nobody wanted the current wave of strikes which further undermines recovery in sectors already stretched before the pandemic. We all respect the right to strike but do not want to see either the public or the economy pushed any further towards breaking point in this cost-of-living crisis.
The UK Government has driven the country to this. And what they have done with their Strikes Bill is somewhat akin to taking a mallet to peel a peach. It will not undo the deterioration that both of our governments at Westminster and Holyrood have allowed in our public sector.
We are already in a situation where too many people go to sleep at night worried that if they do have a heart attack or stroke, there will be no ambulance or hospital bed to allow the medical professionals to save them. And where parents are entitled to worry that their children are not getting the education they need to give them the start in life they deserve. No one should have to worry about their child when they wave them off in the morning.
In those circumstances, it is surely not too much to hope that when our Prime Minister and First Minister of Scotland sat down to dinner last week, the main item on their agenda was addressing those issues? That they put aside their political differences, including independence, and instead looked for a way to produce a common framework to reform and improve those sectors where staff are exhausted by three years of crisis management.
The public does not want to see our governments fighting, even if politically both parties think it works better for them. It doesn't work for us. Certainly, there has been very little evidence to date that either has a strategy of their own for solving the problems, and their now lengthy periods in office offer no opportunity to blame anyone else for their mess.
In Scotland, it is more than a year since calls for an urgent inquiry into the number of deaths caused by the crisis in emergency care. The situation is now so critical that the Royal College of Emergency Medicine is warning that every week more than 40 people die who need not have. And while the Health Secretary has outlined new measures, they have come months after they were needed.
Our schools were closed last week and will be again, threatening yet more disruption for a generation whose education has already been undermined not just by Covid, but by bulging classroom sizes and plummeting support for teachers.
And while the Scottish Government's response is to look ever more like a deer frozen in headlights, the UK Government's is to attack the strikes which are the result of the problems, rather than the problems themselves. The so-called minimum service level for the UK, which was unveiled by Grant Shapps and will go to parliament in Westminster today, will do nothing to alleviate the crisis in our public and emergency services or solve the rail strike. It is not good enough.
The government may think it is being cunning in its political positioning, but it is a plan which even that uniquely ineffective strategist Baldrick of Blackadder fame would have rejected. The major flaw in the Strike Bill is that it does not say how it will resolve the industrial disputes, what the minimum service level will be and how it will ensure that this level is met in normal times.
Perhaps that is why they are attempting to sneak this sweeping new law through Parliament with only the barest of scrutiny. It must surely be one of the best-known and most tired of political cliches to say that a strike is a failure on all sides. But that is the thing about cliches. They are cliches because they are true.
Our governments have failed. Our NHS and emergency services are stretched to breaking point and arguing about how we cope during strikes will not solve the problem or relieve their pressure.
There is only one solution. The government must sit down with all interested parties, including the devolved administrations and not let that discussion end without a solution acceptable to all. It is not our NHS or ambulance drivers, our teachers or train drivers who are letting us down.
It is our current governments which have failed them. It is time for them to realise that. Acceptance is, after all, the first step towards recovery.
Christine Jardine is the Scottish Liberal Democrat MP for Edinburgh West