Ushered landward by the winds of the North Sea and a rising spring tide, a series of catastrophic tidal surges resulted in one of the worst national peacetime disasters ever to hit these islands. The death toll was highest out at sea.
Some 133 people drowned after the Princess Victoria ferry, en route from Stranraer to Larne, sank off the County Down coast after huge waves broke through her stern doors. In Shetland, two fishermen perished, while in Islay, two members of the local lifeboat were lost to the storm.
On land, communities across Banffshire and Caithness were hit especially hard. The small enclave of Crovie, then a herring fishing community perched on the cliffs of Gamrie Bay, was effectively abandoned after being pulverised by giant waves and hurricane-force winds. Its sea defences were destroyed, with buildings and boats swept away in the storm.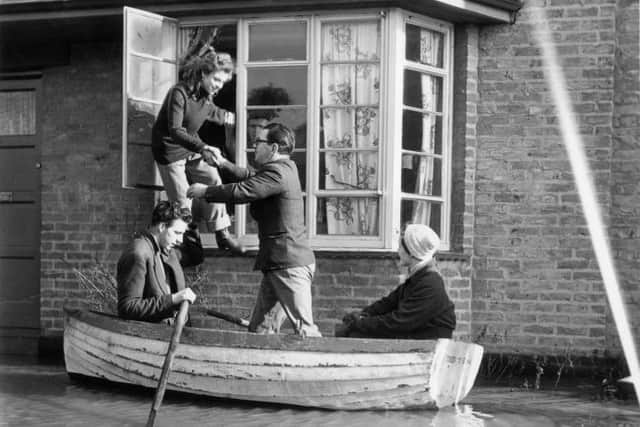 Across the UK, more than 320 people were killed, with over 160,000 hectares of land flooded and close to 25,000 homes destroyed. In the weeks and months that followed, politicians of the day focused on how to rebuild and replace coastal defences, with some cautioning against the dangers of complacency. "This phenomenon of nature has got to be faced by this island people," insisted Labour MP Frederick Elwyn-Jones. "We cannot afford the luxury of ignoring it or the risk of taking no action, in case nature attacks us once again."
Thankfully, many paid heed to such warnings. The North Sea flood was a wake-up call that exposed the inadequacy of Britain's coastal defences, and left Churchill's government in little doubt that such devastating disasters, though infrequent, could strike again in the future. In the years that followed, defences were raised by up to two metres, work began on what would become the Thames Barrier, and the Storm Tide Warning Service was established so as to flag up impending high water levels.
Seven decades on, it seems prudent to ask whether Mr Elwyn-Jones's warning is in danger of being forgotten. Thanks to the work of generations of scientists who have helped us understand the threats posed by climate change, we are far better prepared to put protections in place. Worryingly, we also know that time is running out to do so.
Sea levels around the coastline of Scotland have risen by up to three centimetres each decade, and research for the UK Climate Change Committee has identified as many as 59,000 people who are at risk of fluvial and coastal flooding. As global temperatures continue to rise, so will that total. All of which leads to intense frustration at Scotland's mitigation efforts to ready itself for major flooding events in the future, a process that continues to be waylaid by inexcusable delays and hand-wringing.
Three years ago this month, First Minister Nicola Sturgeon visited Hawick in the wake of ferocious floods which led to the partial collapse of the Bridge House guesthouse – a building that had stood in the Borders town for more than two centuries – and a neighbouring restaurant. "This has been an extremely difficult time for people who have been affected and our thoughts continue to be with these communities," she said. "Reducing flood risk is a priority for the Scottish Government."
Sadly, the facts tell a different story. Hawick, a community located precariously at the confluence of the River Teviot and the Slitrig Water, was chosen for one of the largest flood defence projects ever carried out in Scotland, approved under the Flood Risk Management (Scotland) Act 2009.
Funding for the project was agreed in July 2016, and the work was scheduled to have been completed by the end of 2021. That deadline was later pushed back to winter 2022, but in the foothills of 2023, the work remains ongoing. A revised completion date of the end of this year is in place. Until then, residents and businesses in Hawick remain rightly fearful whenever the Scottish Environmental Protection Agency issues a flooding alert.
The delays in the Borders project are in no way exceptional. It is one of 42 "prioritised" projects – subsequently revised to 41 – identified by the government eight years ago. All were due to be finished by 2021, but only 13 of the projects have been completed to date. Hawick is one of six schemes classed as "under construction", all of which are now more than a year behind schedule. All of the remaining 22 additional schemes are designated as 'under development', with no timescale for their completion. Six of them are "paused", with reviews underway to assess whether or not it is suitable for them to proceed.
The scale of these schemes should not be underestimated. They are vast civil engineering endeavours which require significant planning and preparatory work. Even so, the fact they have been delayed across the board makes a mockery of the claim that they are being prioritised.
Predictably, the postponements have also led to costs spiralling from £337 million to an estimated £985m. It is right that questions have been asked about fiscal prudence, but such concerns must be secondary, especially among those communities still waiting for the protection they were promised.
A key problem in all this has been the government's failure to ring-fence flood-risk funding at a local authority level. That must be addressed, especially at a time when councils are scrambling around for every penny and pound possible to protect frontline services. It is also galling to realise that the majority of Scotland's shoreline is still not covered by shoreline management plans, which act as the first line of defence in managing coastal erosion risks.
Seventy years ago, it required an unimaginable tragedy to rouse the authorities into action. The lessons from that disaster should not be overlooked today.