The Sun tells us that the Princess of Wales, Kate Middleton, is "standing firm" in the eye of the storm, apparently by holding an online meeting as planned; and The Star, now one of the funniest satirical publications available, has a banner headline reading "Sling Your Hook, Sunbeam!", and announces that it has "banned manbaby's whinges for at least a week... to give readers a well-deserved break".
In the sub-headlines and on the inside pages, though, the story of Prince Harry and his book – ghost-written by American writer JR Moehringer – continues to be the story that keeps on giving. The latest twist involves the question of whether Harry and Meghan should be invited to next year's coronation; and the whole episode serves as an ever more vivid and multi-layered demonstration of the very theme of Harry's book – that is, his contention that the royal family, to survive in the post-modern age, has had to strike a dangerous and often toxic bargain with the popular media who make them visible to their public, sometimes involving vicious briefing and counter-briefing by family members themselves.
In trying to drag that process into the light, Harry therefore makes enemies both of the monarchy itself – which likes to keep its co-dependent relationship with the media out of the spotlight – and of all those sections of the media, from veteran royal correspondents to downmarket dirt-diggers, which depend for their livelihoods on a steady stream of royal stories, and on the continuing mystique of royalty itself. Add to that another layer of irony – in that in order to gain attention for his book, Harry himself has to lard his narrative with juicy and often damaging personal details of royal family life – and it rapidly becomes apparent why, as Harry tells us, his father warned him that for the royals, taking on the press is simply a "suicide mission".
All of which invites serious discussion in at least three areas. The first involves the extraordinary and excessive verbal violence of the reaction against Prince Harry and his wife on the part of some British commentators. One columnist, for example, likened the book to Mein Kampf, while Jeremy Clarkson is still dealing with the fallout from that recent Sun column in which he sought to entertain readers with his truly revolting fantasies about the public humiliation of Meghan Markle.
Clearly something about the Sussexes, as a couple, rips the knitting of a certain traditionally minded demographic in Britain to a point where there is both an appetite for comment on them that borders on the unhinged, and a willingness to provide that coverage; and, as in the time when Harry's mother Diana was the object of hostile British media stories, it is difficult not to see in this conflict a battle between an old Britain driven half-mad by the feeling that it is losing its grip on a core element of its identity, and a new Britain which – despite some irritation with Harry's unique combination of privilege and self-pity – is much more relaxed both about emotional self-exposure and therapeutic talk, and about the kind of international and interracial happiness embodied by Meghan and Harry at the time of their marriage.
Secondly, this memoir should raise questions – although it probably will not – about the conduct of the British press in matters of celebrity and privacy, and whether it should, or even could, be more tightly and seriously regulated; indeed it seems likely that one purpose of the vehemence of the current anti-Harry reaction, in some quarters, is to shut down that debate before it can even begin.
And finally – despite Prince Harry's protestations about his continuing support for the idea of monarchy – his whole story should provoke debate about the institution itself, and the strange demands it makes of those who are born into it. In Harry's book, there is a thoughtful passage in which he describes his feelings on being cut off from the royal support system he had known all his life.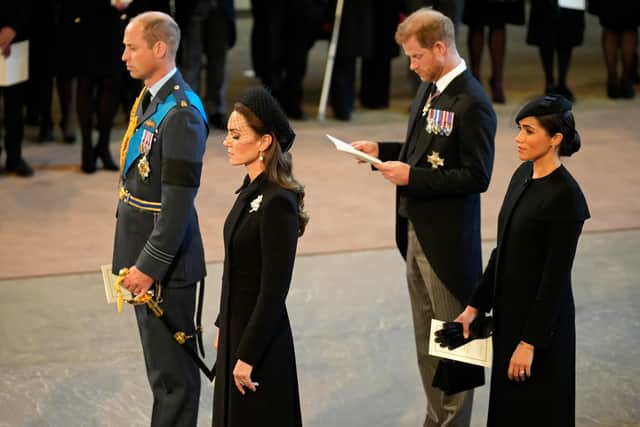 "I recognised the absurdity," says Harry, "of a man in his mid-30s being cut off by his father… But I'd never asked to be financially dependent on Pa. I'd been forced into this surreal state, this unending Truman Show in which I almost never carried money, never owned a car, never carried a house key, never once ordered anything online"; and it's surely time to ask whether an institution which imposes such a bizarre and isolating lifestyle on its unhappy-looking members is not approaching its sell-by date.
Whether Harry likes it or not, in other words, his book strongly suggests that the whole structure is gradually becoming too dysfunctional to sustain, at least in the British context, such an extraordinary weight of myth-making. The Windsors and their diehard supporters may be confident that the "firm" can keep ploughing on through this particular crisis; and that Harry, like his great-uncle the Duke of Windsor, has condemned himself to life in a grim kind of celebrity wilderness.
In the longer term, though, it seems equally likely that the sheer reactionary viciousness of some of those who continue to defend Britain's royal status quo is gradually becoming a liability to the institution they seek to uphold, and that the very intensity of the Harry row may signal an institution increasingly holed beneath the waterline by its internal contradictions, and no longer able to achieve the precarious marriage of myth and modernity somehow sustained by the Queen through the remarkable 70-year era that ended last September, never to return.