Nowhere is that clearer than Scotland's deposit return scheme, a flagship policy that formed the basis of a feasibility study eight years ago, and which was formally announced two years later. Now, after a 12-month delay, and with mere months to go before it is due to launch, it is hard to recall a well-intentioned initiative in post-devolution Scotland that has been so bedevilled by uncertainty and incompetence.
Naturally, if you are to take the word of circular economy minister, Lorna Slater, who has been spearheading the initiative since entering government, all is rosy. She says there is "great momentum" building towards August's grand roll-out, and has stood firm on the launch date, insisting it would be a "kick in teeth" for businesses if the project was subject to further delays. Those who have followed the initiative as it stumbles towards the summer deadline may not be surprised to learn that Ms Slater's civil servants offer up a considerably more downbeat assessment of the scheme's progress to date.
In December, the government published a report known as an "assurance of action plan" – essentially an evidence-based snapshot of the project's status. It concluded that while the successful delivery of a "sufficiently functioning" DRS appeared "feasible" for the August 2023 launch, there were "significant challenges" that required prompt resolution. It also noted that while the leadership and governance of the initiative had improved, and was still evolving, it still "requires further attention".
This throws up a host of questions. If the scheme will only be "sufficiently functioning" come August, which of its elements are being delayed or jettisoned, and what will it look like in practice? If some of those elements will be introduced after launch – a process described in a splendidly Sir Humphreyesque manner in the report as involving "some degree of subsequent evolution" – what is the timescale for their delivery? And if there remain leadership issues surrounding the DRS, what measures has the Scottish Government taken to ensure that they are resolved? These are not difficult questions to answer, nor are they contentious. Yet not a single one has been answered by Ms Slater or her Cabinet colleagues.
Indeed, since that report, the DRS has lurched from one crisis to another, with each misstep raising further questions over the basic competence of those involved in its inception and delivery. Having been urged for months by individual companies and industry groups to consider a grace period for small producers such as microbreweries, Ms Slater surprised all of them when, just two days before the deadline for producers to sign up to the DRS, she announced in a television interview that the government was "actively considering" such a measure. She surprised them further when she was unable to clarify what businesses would be eligible for any such grace period.
Then there are the structural issues around DRS, which, to be blunt, allows the Scottish Government – an institution not known for embracing transparency – to bat away legitimate questions in the public interest. Having pursued the philosophy of extended producer responsibility – a decades-old principle which dictates that a producer's responsibility for the environmental impact of its products and packaging extends past the point of sale and consumption – the government is able to hide behind Circularity Scotland Limited, a private company incorporated to act as the scheme's administrator.
The firm is exempt from freedom of information legislation, meaning that it has no obligation to disclose details around basic issues that any reasonable citizen might expect from such a flagship scheme. I discovered this first-hand when writing a story at the weekend concerning the questionable environmental record of the company enlisted to collect and sort billions of cans and bottles under the DRS. The government told me that decisions regarding contracts were for Circularity Scotland. As for Circularity Scotland? Well, it simply refused to tell me how many bidders there were for the contract, or reveal its value.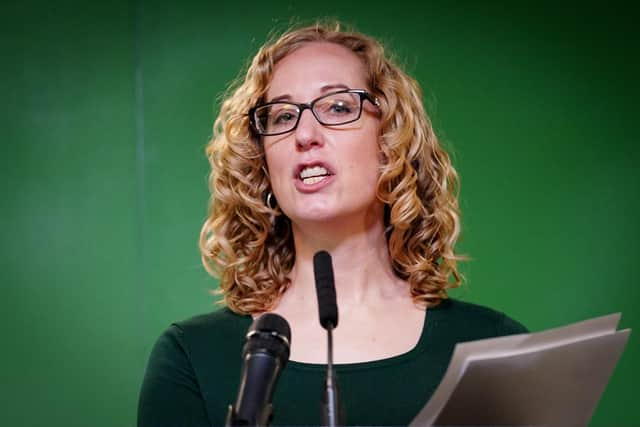 Ms Slater and the government have moved mountains to frame such scrutiny as partisan attacks, and no doubt, that motivates some of it. This is politics after all. But such defensiveness skirts around arguably the biggest problem facing the DRS. According to Zero Waste Scotland, the scheme is a "proven behaviour change initiative", one that will incentivise the public to do the right thing, and in the process, expedite Scotland's transition away from a 'make, use, dispose' society towards a circular economy.
This is a laudable and realistic goal. But it will only be achieved if there is a scheme in place that works. Its success is entirely dependent on the public having the necessary confidence to engage with and participate in it. Otherwise, the overarching initiatives of the DRS – curbing litter, reducing waste, and driving down emissions as part of Scotland's journey towards net zero – will be severely hampered from the get-go. The government has already handed £100,000 to a marketing agency to conduct research into consumer perceptions of DRS; its findings will be instructive.
Ms Slater has done little to provide reassurance, and she is running out of time. All three candidates in the SNP leadership race have signalled their intention to revisit the scheme, and even the support of those who seem most enthusiastic about its merits, such as Health Secretary Humza Yousaf must be viewed in the context of the Bute House Agreement and his promise to maintain the SNP's power-sharing majority with the Scottish Greens.
There is still time to provide clarity around some of the big questions surrounding the DRS, set out a timetable for its staged implementation post-August, and revamp a communications strategy that has offered intransigence instead of insight. In principle, it remains a scheme capable of sparking a transformational shift in how we safeguard our environment. In practice, the jury is out.