We may be known for some of our wilder weather, but without a clear plan and proper investment by the SNP Scottish Government, we are all too often feeling the chill of the wind, without reaping the economic benefits. The failure of Nicola Sturgeon and the SNP to develop a comprehensive industrial policy fit for the future is just one of a long list of missed opportunities during their years in power. Unless we rapidly change course, we will not be on track to meet our climate targets, deliver lasting energy security or reap the rewards from the coming green transition.
There will soon be a choice for the Scottish people to make: more warm words with no delivery from the SNP or a green prosperity plan which forms the centrepiece of Labour's economic policy. In no area is this better illustrated than the lack of support from the SNP to grow Scotland's green manufacturing sector.
Whilst many nations have taken active steps to back their businesses through targeted investment and regulatory support, the SNP has failed to do so. Consequently, the skilled and well-paid manufacturing jobs that should help us move from heavily polluting industries to low-carbon alternatives are all too often being taken up by workers overseas, meaning our young people and local communities are losing out.
One egregious example of the SNP government failing to back Scottish workers is the recent ScotWind auction. Scotland has one of the richest sources of potential wind power in Europe. With the right support, this could deliver substantial economic opportunities on the scale of the North Sea oil boom of the last century. There are jobs and industrial capacity to be gained from building, installing and maintaining a fleet of wind turbines. Then, with an ambitious plan including commitments to ensuring Scottish companies benefit from growth across the supply chain, we could develop the skills and infrastructure to not only meet domestic energy demand, but also create a major export market to provide similar green technology and manufacturing to the world.
This would not only be a major economic boon to Scotland, but would put us front and centre of global efforts to transition away from Russian oil and gas, and meet the Paris climate agreement's targets. But the SNP's ScotWind auction did none of this. Instead, the foreign companies chosen to run the wind projects will be mostly relying, once more, on foreign companies to make the turbines.
That's why Labour's plan for an extra £28 billion of green capital investment each year until 2030 is so vital. It's a commitment of significant resources that could help Scottish entrepreneurs and businesses get the catalytic public investment needed to stop them falling behind in the manufacture of wind turbines, green steel, battery gigafactories, green hydrogen, or wave technology.
It will build industries in every region of the UK, with the plan for offshore wind injecting investment into nine projects, two of which will be Forth and Tay, and north-east Scotland. Net-zero industrial zones will also be set up, including one at Grangemouth, and will see a £1 billion investment.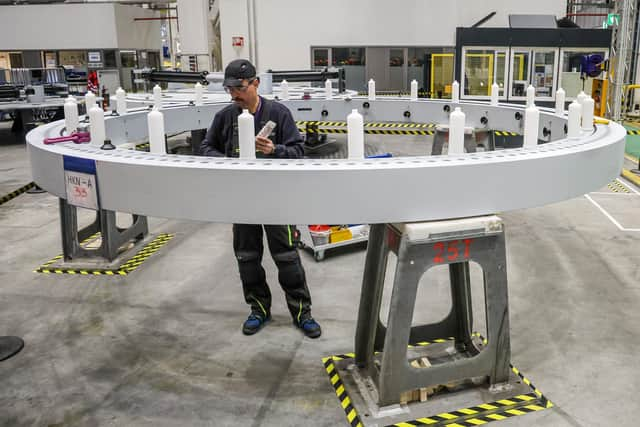 It's not about crowding out private investment; it's using the power of government to kickstart the long-term growth of the sector that is essential to our economic success. It will create secure, skilled jobs for plumbers, electricians and joiners, as well as for designers, scientists and engineers. Good, unionised jobs that pay well, with money that flows back to communities across Scotland. An example of how this can work is the Fife Renewables Innovation Centre which houses businesses at the frontier of the clean-energy revolution. The potential is there, but we need to go further.
Right now in Scotland, the SNP government is failing because they are not providing the stable environment and clear strategic direction that businesses need to invest, and because they do not follow through on the sort of active industrial strategy required to seize the opportunities of the future. This failure must stop.
UK and Scottish government leadership is required to create the conditions that allow local economies to thrive, bringing together expertise across Scotland's start-ups, small businesses, national and international companies, workers, trade unions and local councils to ensure success.
Scotland still boasts many of the assets that drive innovation: talented graduates and apprentices, manufacturing experience, substantial research and development capacity through our globally respected universities, a robust financial services industry, and opportunities to draw on massive capital investment from right across the UK.
The choice is simple: we can sit by while our peers steam ahead in the global race for the jobs and industries of the future; or we can use all the powers at our disposal to let Scottish businesses and working people compete in that race. Be in no doubt that other nations are seizing these opportunities, whether it's the Biden administration's Inflation Reduction Act galvanizing green energy in the United States, or Ursula von der Leyen announcing plans for an EU Net-Zero Industry Act to allow European Union nations to compete.
In Scotland, we are at a crossroads. We have the opportunity to become a superpower in environmental industries, but this will not happen by chance. With the right backing, Scottish manufacturers can drive national prosperity and make Scotland a world leader in green production methods and technologies. We've got no shortage of intellect or creativity but without a clear strategy, government investment and the use of every lever possible to support our home market, we risk being left behind in the green industrial revolution.
A zero-carbon economy – made right here in Scotland – is the prize. But it is becoming ever clearer we need a change in government to deliver it.
Gregor Poynton is a campaigns and communications consultant, a former UK and Scottish Labour party election strategist and Labour activist