These three working-class lads won't be bowed by criticism from backbench Tories or the biased management of the BBC. If you have faced down 50,000 roaring Scousers, the yelps of a few posh boys hold no fears. Whatever the outcome of the VAR on Match of the Day, I think the real free speech hero of the week has been, wait for it, Kate Forbes.
Forbes showed she really wants to end Humza Yousaf's continuity leadership bid as well as the continuity of her own mediocre government, her words not mine. She blasted her SNP rival in last Tuesday's brutal STV debate in an apparent attempt to boost her support, if not among the party membership, then among opponents of the nationalists.
She tore into the hapless Humza's record in government with these not-to be-repeated-often-enough words: "Humza, you've had a number of jobs in government. When you were transport minister, the trains were never on time. When you were justice minister, the police were strained to breaking point. Now as health minister, we've got record-high waiting times. What makes you think you can do a better job as First Minister?"
Forbes, of course, broke the golden rule of SNP politics, which is to speak no evil or ill of the past leadership, lest that reflect badly on their legacy or the future of the fantasy that all of Scotland's problems can be solved by waving a flag. It's not that she was speaking a truth that hasn't been voiced before – I've been saying what she said about Yousaf for many years. He is a charming individual but he has all the depth of a summer puddle. Few even on his own side have faith in someone who promises everyone everything but has yet to deliver anything.
He is not the establishment candidate for nothing – he's going to need all the propping up the SNP machine can muster if he actually becomes First Minister. As I've said before, I worry far more about Forbes' fiscal conservatism than her social conservatism. Councils across Scotland are already living under the effect of "Kate's cuts" and there's nothing she's said to convince anyone that she wouldn't deliver more of the same Tory policies wrapped in tartan plaid.
We do owe her a favour for her bluntness, though little good it might do her amongst the faithful. For any member of the SNP to grant themselves the freedom to criticise the previous leader, the track record of their own government, is almost unheard of. Forbes lifted the lid on the simmering tensions that have been kept in lockdown by Nicola Sturgeon and through her husband's control of the party machinery for the last eight years.
Not only has Forbes legitimised internal criticism of the SNP, but she has also given licence to every client organisation, financially reliant charity, NGO and quango that has been cowed and silenced by the aggressive dominance and toxic politics of nationalism to give voice to their complaints.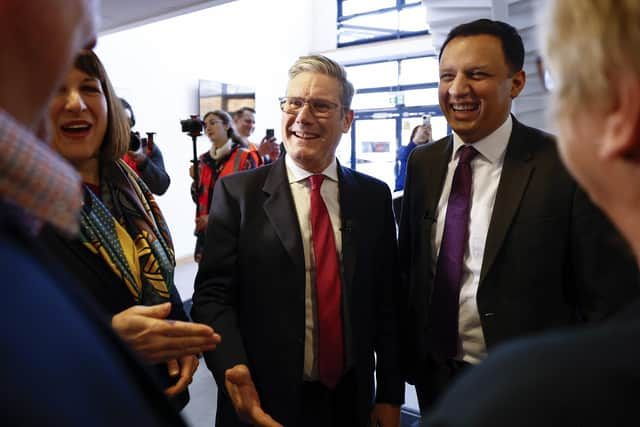 If one positive comes out of this flat-tyre debate I would hope that it is to open the door to some strident criticism of Sturgeon's Reign of Error, as it has been called. I don't just expect a debate within the SNP on the future direction of nationalism – the public are also alive to the twin failures of nationalism and delivering on domestic policy.
No one will win in this three-way Mexican standoff which Sturgeon has saddled the SNP with. A house divided is a house defeated, and divided parties don't win elections. I know because I've been there. For years, our opponents have revelled in Scottish Labour's open and often too-honest disputes.
But how the tables have turned. The discipline and the sense of unity and purpose under Anas Sarwar in Holyrood and Keir Starmer at Westminster are in stark contrast to the turbulent years that we have been through. We've emerged stronger and better, as hungry and impatient for change as the country is.
Not one of the three hopeless hopefuls can meet that growing clamour for politics that solves problems, rather than dreams them away. They cannot even come up with any coherent strategy on how to achieve independence, though the Forbes outburst has given some nationalists the permission to think for themselves. We have even had comments offstage from Ben MacPherson, one of the more anonymous ministers in the Scottish Government, calling for some realism and saying that independence is as far away as the kite that Ash Regan is flying for Alex Salmond's ambition.
The contest still has time to run but whoever replaces Sturgeon is going to be a loser. Panicked Yousaf has even promised the fundamentalist wing a snap election if he wins and the circumstances are right to deliver independence. When you consider the circumstances are the same as 2014, it is an easy promise to make.
Bring it on I say, we can't have a snap election quickly enough to get rid of this lot. As Welsh leader Mark Drakeford reminded us in his emotional speech to his annual conference last weekend, Labour is in a hurry to meet the moral obligation our party has "to run towards the dangers that blight so many lives, and never ever run away from them".
Let's get this SNP circus and the promises of the neverland candidates over and bring on the real campaign for a Labour government, and in Mark Drakeford's words "let's not leave until tomorrow the difference we can make today".
Jackie Baillie is MSP for Dumbarton, Scottish Labour's deputy leader and her party's spokesperson for health