And that's just to balance the books after cuts that the SNP is forcing upon them. The 32 local authorities across Scotland are going to have to take a hit of 240 job losses on average, although in some areas this is likely to be worse. These numbers were leaked from a document drawn up by Cosla, the body which represents all 32 councils, and brought to the light of day by Scottish Labour.
When Anas Sarwar confronted Nicola Sturgeon with the facts in the Holyrood chamber last Thursday, she really had nowhere to hide. The public is being asked to foot the bill for public services which are getting worse by the week because the SNP government underfunded councils for 15 years, even when her ministers had more money to spend.
The real-world effect is going to be devastating. Car parks at council offices are already half empty, staff look across the serried ranks of empty desks of colleagues whose jobs have already been cut. Councillors across Scotland are already preparing to close hundreds of public buildings such as leisure centres, concert venues and sports stadiums as they grapple with the cost of inflation and years of real-terms budget cuts passed on by the Scottish Government.
I have the campaign medals from working in the old Strathkelvin District as well as East Dunbartonshire Council. As someone who used to work in local government, I understand how it adds up to so much more than local administration. For me, councils are at the heart of our lives as the providers of services that really make up the local fabric of our communities.
Whether it is at the start of your life in nursery services and schools, through to the end of life with burials and cremation, councils are there for their local communities. Councils provide remarkable everyday services which everybody will have experienced. If you kicked a ball on a football pitch provided by the local council or learnt to swim in a municipal pool, you owe these life skills to your council. I still remember getting my first library account card from a council-run library, the passport to opportunity.
Councils, of course, provide really critical services, like roads, transport and housing to ensure that people have a roof over their head, not to mention the one we all rely on, our weekly bin collection. That council focus on education, on planning, on economic development is a big part of the glue which makes for a thriving local economy and thriving local communities.
I think ministers have underestimated the power of localism to transform communities in their swingeing package of cuts. In many parts of Scotland, council jobs are a mainstay of the economy, employing people who put their money back into the area while delivering these vital public services.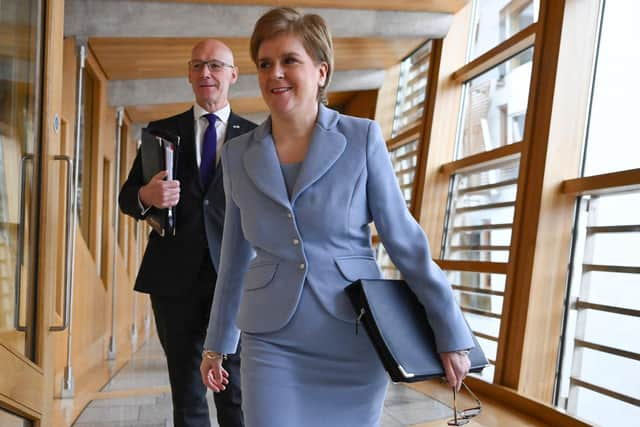 When the SNP first came to power in 2007, they talked about having a relationship with local government that was based on parity of esteem. There were concordats. They said they would remove ring-fencing and trust local government to deliver for them. It didn't take long for the shine to come off and the dull, centralising SNP undercoat to show through.
Councils have suffered the best part of a decade of cuts, most funding is ring-fenced and can only be used for what the Scottish Government thinks is important, not what local communities think is important. An antiquated system of funding keeps councils locked in step with the government. The SNP promised to scrap the council tax in 2007 but they have failed to modernise a system that is crying out for change. Meanwhile £1 billion has been stripped out of local government budgets since 2013, leaving our local elected representatives to take a scythe to the places they love.
John Swinney talks about over £500 million going to councils but the reality is that's for new commitments. The only money for core services is a sum of £38 million which is split between 32 local authorities. That is not even enough to cover next year's pay settlement, never mind actually improve any services.
Councillors know that they have had to enact so many cuts over the last decade that their reserves, kept for emergency or disaster situations are empty. That is why you get even loyal SNP councillors speaking out. There is nowhere left for them to go except to cut people from the organisation – 7,000 jobs across Scotland.
The SNP are very quick to blame Westminster if they experience cuts but they have doubled down on passing on these cuts and more to local government, visiting communities across Scotland with austerity on stilts. SNP ministers clearly misunderstand the importance of local government in communities in providing opportunities, education and skills, and encouraging local economic development, all the things that make for strong communities.
Worse than that, I think they are deliberately sacrificing local government to send a signal that local services and local democracy do not matter at all. But that is a strategy bound for failure. We have one of the most centralising governments in Europe. The SNP simply don't understand that Holyrood might be as distant as London when it comes to local communities.
We need to trust local government, not smother it in a thousand cuts and we need to reform the council tax and come up with a new system of funding for local government that empowers and enables them to deliver for their communities.
Jackie Baillie is MSP for Dumbarton, Scottish Labour's deputy leader and her party's spokesperson for health