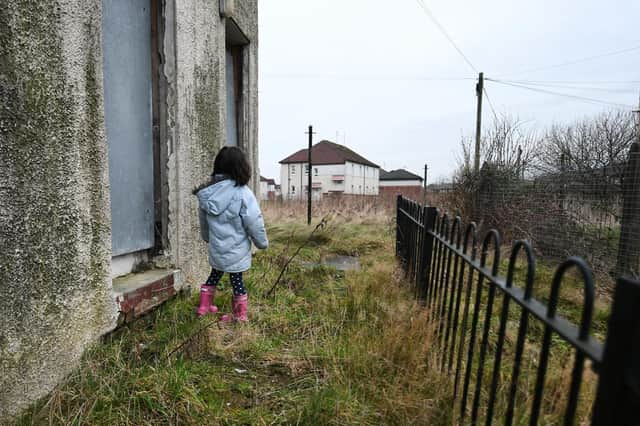 I was six years old, and talkative. The response of my teacher – a dark-haired, stick-thin creature not long out of college – was to tape my mouth shut with extra-wide, super-sticky, school-issue Sellotape. After an hour or so, it was unceremoniously removed, but the threat remained. Speak out of turn again and my garrulous tongue would be silenced.
It was 1960s rural Scotland, so no-one thought that my teacher was particularly nasty, nor was she that unusual. Children were to be seen, not heard. On moving schools a couple of years later, I soon discovered that my new headmaster's favourite pastime was to walk up and down a line of children waiting to go back into class, snapping his thick leather belt along the row of bare legs.
A skinny child, I quickly learned to make myself as small as possible, and usually managed to avoid the sadistic sting of his tawse. Others, particularly the bigger boys, were not so lucky.
The mindless violence continued into high school, with one science teacher attracting a reputation for unspeakable cruelty. A veteran of World War 2 – a bomber pilot some said – he would gleefully spend the first 20 minutes of a double period meting out punishments for transgressions from the previous lesson.
He had a punishment jotter, where he lovingly listed the beatings to come. Anticipation was clearly part of his MO. It was not unusual for him to use his very thick belt more than twenty times on a pair of shaking, crossed hands, pausing only to allow his victim to swap from left to right.
But today, such institutional child cruelty simply could not happen unnoticed, or so we are led to believe. Children are protected from the worst aspects of adult behaviour. The office of the Children's and Young People's Commissioner – which celebrated its 18th birthday last year – is a fierce champion of children's rights.
Scotland's Children's Parliament set up the #Unfearties campaign in 2017 to encourage adults in authority to stand up for children. Today, there are more than a thousand supporters of the movement, including the First Minister.
Government guidance, published in 2021, sets out clearly the responsibilities and expectations of everyone who works with, or comes into contact with, children and young people. And society reveres children, placing them at the centre of all our lives, their every need catered for, their voices heard loud and clear. The reality, however, is much darker.
Children across Scotland remain at risk from predatory adults, often those charged with the responsibility of looking after them. And despite the plethora of platforms available to young people, from social media to the Scottish Youth Parliament, children continue to suffer in silence, too scared to speak out, or worse, ignored when they do.
Recent examples include a case in Aberdeenshire where teachers sent each other disparaging WhatsApp messages about the children in their care. Scotland's Children's Commissioner later described them as "unprofessional, abusive and degrading." And former teacher Linda McCall was sentenced to 150 hours community service in 2021 after being found guilty of assaulting pupils over a 14-month period at the Tweeddale Support Unit in Peebles.
A small group of campaigners are determined to make Scotland safer for children. Neill McLennan, Christine Scott, Alison Dickie and Bill Cook have submitted a petition to the Scottish Parliament which will be considered by the citizen participation and public petitions committee next month.
It calls for an independent inquiry into concerns that child protection issues have been mishandled by public bodies, including local authorities and the General Teaching Council Scotland. Crucially, they also ask for the appointment of an independent whistleblowing officer for education and children's services.
The campaigners are very clear as to why there is a need for further safeguarding systems. "We need to be certain of the whole truth, and be able to hold the perpetrators to account", they insist, adding, "it's the very least we owe to survivors out there – those who have fought so hard to be heard and those yet to be heard."
Alison Dickie has a very personal reason for being part of the campaign. A former SNP councillor in Edinburgh and vice-convenor of the council's Children and Families committee, she was shocked by whispered allegations of serious abuse at the city's secure units for vulnerable young people.
A report last year by the council's monitoring officer confirmed that the pupils at St Katharine's and Howdenhall residential schools had suffered physical and mental abuse over a ten-year period that "compromised their safety and wellbeing," yet early warnings about the abuse were ignored.
Alison Dickie has a very personal reason for being part of the campaign. A former SNP councillor in Edinburgh and vice-convenor of the council's Children and Families committee, she was shocked when by the scale of child protection allegations shared with her, and raised her concerns with senor officers and relevant authorities.
But, even given her senior position within the council and her status as an elected representative, she found it difficult to secure the information and reassurance she required.
Writing in the Edinburgh Evening News in 2021, she described how she had been effectively told to stop digging. "Over the years, I've been told to 'stand back', 'it's too big', 'we always knew there was something wrong but you'll get nowhere', and even 'watch yourself, it's dangerous.'
"Most often, I've been told 'it's all historic,' but the cases stretch to unresolved events of today and allegations about perpetuating culture. How, then, can we be confident about today if we haven't properly dealt with the past?"
If a woman of influence with an impressive CV of public service cannot make her voice heard, what hope is there for Scotland's abused children to be listened to? Time for the #unfearties to keep their promise.