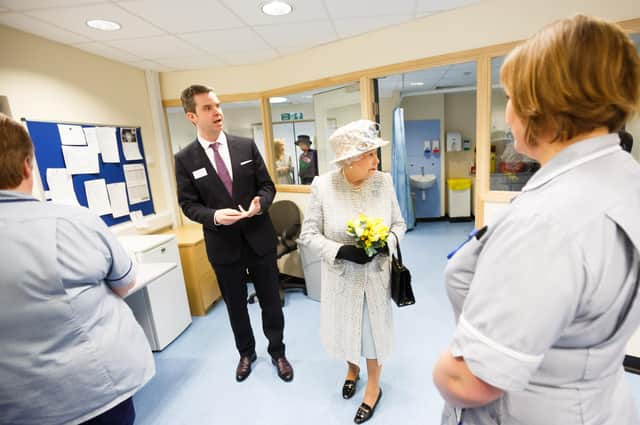 I'm thinking of investing in a handbag, so I can swing it from my arm as I get wheeled in for yet another adventure in anaesthetics. Sorry, I've been binge-watching 'The Crown'. This season involved both our own dear Queen and Margaret Thatcher, so you can imagine, there's been a lot of serious handbag action.
The week before the phone had rung, which startled me, but then I'm easily startled. I answered it, half thinking it was yet another young person calling up to tell me I had been in a traffic accident, but I was blameless.
'Pop along on Monday'
But it wasn't. It was a lovely nurse called Katie from the Royal. "Hello," she said, "we've got a slot on Tuesday for your lung surgery. Wondered if we might pencil you in for it?"
"Well", I said, "let me check my hectic social calendar." I glanced at the blank pages of my diary. Got a sneaky feeling Ivanka Trump's is just as empty these days now that daddy lost the White House.
"Yes," I said, "looks like I might just be available after all." I mean, it's only life-saving surgery, one doesn't wish to appear too keen.
"Marvellous," she said, "pop along on Monday and we'll operate on Tuesday." There's that word "pop" again. The NHS just loves it.
Ward 102 turned out to be a rather jolly place, Covid-19 notwithstanding. God knows the staff must be scunnered with this mask-wearing business. We only have to wear them to drift in and out of Lidl, but they have them glued to their faces for entire 12-hour working shifts, and yet they still manage to radiate that nurse smile and make with the banter and fun.
Various people introduced themselves to me once I was installed in my bedside chair. I really did start to feel like the Queen. Must get that handbag.
Sleeping tablet or booze?
Top prizes go to the incredibly cheerful horse-riding anesthetist, who ended our little chat with "would you like a sleeping tablet, or would you prefer alcohol this evening?" I had a choice of sherry or whisky.
Well, I have always believed in the organic route, and also, if someone offers you a dram, it's rude to refuse.
The equally cheerful surgeon came along and had a chat about keyhole surgery. They put a camera in first, he said, adding, it's a special one. Well, I thought, glad he's not just shoving his iPhone in there. And then, and I quote, we'll "poke about for a bit". Clearly, a Scottish surgical procedure.
That evening, I had my whisky and my wardmates and I got incredibly silly on one dram. There may even have been an attempt at a socially distant Gay Gordons.
It's always the same after surgery. You wake up to a nurse calling your name, and then I usually attempt to punch someone. Last time I demanded I take my books back to the library. This time I babbled on about my cat having a huge bahookie.
The nurses were laughing, and the surgeon was clearly chuffed as he said "We got it all".
I said, "Can I have another whisky?" and went back to sleep.
A message from the Editor:
Thank you for reading this article. We're more reliant on your support than ever as the shift in consumer habits brought about by coronavirus impacts our advertisers.
If you haven't already, please consider supporting our trusted, fact-checked journalism by taking out a digital subscription.