UK may have minister for 'common sense' but chaos reigns at Westminster – Christine Jardine
Home Secretary Suella Braverman's sacking, David Cameron's return and talk of trying to oust Rishi Sunak all distract from the actual business of running the country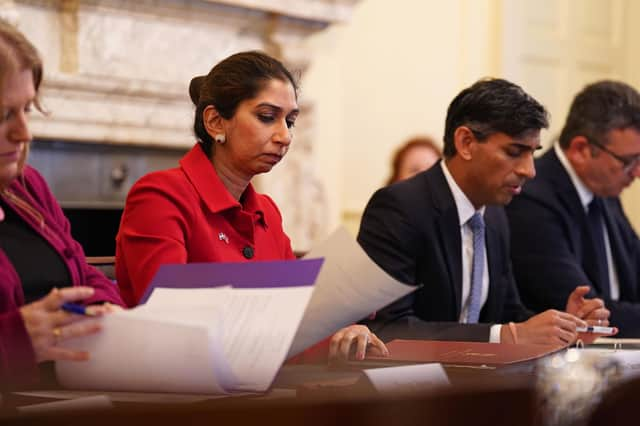 Just when you think you have had the most extraordinary week that parliament can throw at you, the fates conspire to prove you wrong. This time last Monday I was thinking: "We have King's Speech debates and the Rwanda decision on Wednesday but at least it won't be as mad as last week."
Then we landed and I turned on my mobile phone. Those fates were at it again. The Home Secretary was sacked, former Prime Minister David Cameron was back in government, and the Israel/Hamas conflict was threatening to split Labour and derail the party's election challenge.
It wasn't even 11am and much, much more was to come before I could turn around and head home on Thursday. At times, it felt as if the actual running of the country was simply an addendum to events. The autumn statement, then only a week away, just another task to be slotted into the chaotic melee of crises and divisions.
And a reshuffle now? That just meant more confusion. Who knows who the new Treasury team is? What on earth is a minister for common sense? Can anybody remember what Michael Gove's job is? And what is this about calls for yet another Tory leadership contest? Are they serious? It is the theatre of the absurd at its most ridiculous.
And all of it playing out while the worst Middle East crisis in decades threatens to unleash a wave of anti-semitism and Islamophobia the likes of which most of us never have, or wanted to, experience. You might think that would focus minds on what we need to do. Promote some national unity. Put politics aside. But the sacked Home Secretary, Suella Braverman, decided instead to launch a spiteful attack on the Prime Minister.
A third of the Labour frontbench resigned because they voted for an SNP amendment which said "ceasefire". Their own didn't. I voted for both Labour and SNP amendments because the combination of the two – one calling for a ceasefire, the other for humanitarian action and a two-party state – came close to proposing what I believe is the key: a political process towards a two-state solution with no place for Hamas, immediate humanitarian aid and the release of the hostages. If only we could have found the unity to combine the two amendments.
But even in these most difficult times, with constituents calling for action and widespread concern about the implications of an escalation in the Middle East, it didn't happen. Instead, the body politic opted for yet more division.
As I got off my flight home on Thursday, emotionally and physically drained by events, it was time to switch on that phone again. This time it had the solution to the conundrum over Scottish Health Secretary Michael Matheson's £11k iPad bill. His sons, Holyrood had been told, were watching the football. I didn't know whether to laugh or cry.
This week the Scottish Parliament will debate Israel and Gaza. Let's hope they can pull their attention away from iPad bills, internal disputes and SNP-inspired chaos long enough to be constructive.
At Westminster, we will hear the Chancellor's autumn statement and undoubtedly more on the Middle East. Maybe that minister for common sense will come in useful after all.
Comments
 0 comments
Want to join the conversation? Please or to comment on this article.