Under Nicola Sturgeon, the Scottish government has wasted years neglecting those who need its help most – Brian Wilson
Scotland has a problem more fundamental than Covid-19 or drug abuse. It's called poverty and while symptoms are manifest, commitment to finding a cure scarcely exists.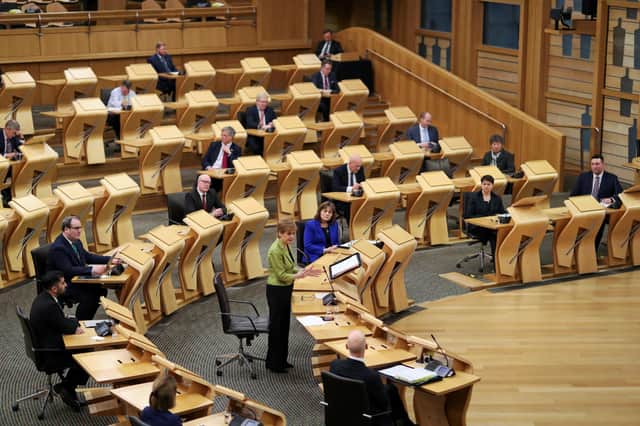 Poverty of expectation, poverty of environment, poverty of opportunity… after 13 years of Nationalist government, the dial remains undisturbed on any equality indicator.
Of course, Scotland is not immune to banking crashes or UK government policies – though the right to create our own benefits system, having been noisily demanded and agreed to, remains quietly unimplemented.
The vast majority of social issues in Scotland are capable of being addressed under devolved powers. The political argument should be about priorities rather than the constant constitutional drone.
Astonishing life expectancy gap
Contrary to myth, the Scottish government is well-funded and has been from the outset. With £2,000 more per head than the UK as a whole, there should be an awful lot more to show for it.
The Covid death rate in depressed areas is 2.3 times greater than for prosperous ones – though the poor, elderly population has already been culled through an astonishing life expectancy gap of 12 years in places a few miles apart.
This week, we had the latest drug death figures to remind us of another dark corner which the spotlight rarely falls upon and is marginalised until its annual outing as a political embarrassment. The best that can be said of Nicola Sturgeon's performance at Holyrood is that it was craftier than last year's.
Then, it was the usual story – Westminster's fault over a side-issue marginal to the overall problem – which is that Scotland's drug deaths have doubled on Ms Sturgeon's watch, to a rate 3.5 times greater than the rest of the UK.
Taking responsibility for drug deaths
This year, it was the "I take responsibility" spin without precision about what she takes responsibility for. Is it for cuts to key public services and voluntary organisations working in the field of drug abuse and rehabilitation – pocket money to Holyrood but life and death to hundreds of poor souls?
Is it for the fact that, as Ruth Davidson pointed out, the Castle Craig rehab facility in Edinburgh this year admitted five Scottish NHS patients, compared to 257 in 2002 because the Scottish government won't pay for them (to take one sample of many damning statistics)?
Is it for last year's deflection tactics, wasting months that could have been used listening to good advice? Is it for leaving in place a minister whose ineptitude has until now been concealed only by his anonymity?
If Ms Sturgeon takes responsibility for all that, then perhaps she should be contemplating the political plank rather than hapless Mr Fitzpatrick. (Incidentally, how many appearances had the now sacked "public health minister" been permitted on the daily Sturgeon show over nine months? I think zero is the correct answer).
A real political debate
Ms Sturgeon's big idea, in her new "responsibility" mode, is to turn up at a task force meeting next month to discover what must be done. After 13 years, that sounds more like a photo opportunity than a newly coined commitment.
With the worst record in Europe, there should long ago have been a senior, identifiable politician responsible for addressing this complex issue, with the clout to provide public leadership and make a difference. That is what devolved government should look like.
They are scarcely awash with talent or experience of the world beyond Holyrood. How many ministers can be identified with an ongoing commitment to any of the challenges Scotland faces? The new minister for drug policy, Angela Constance, scarcely fits that bill.
By next May, there will have been 14 wasted years in which life has gone on reasonably well for those of us who do not rely on the power of government to make a crucial difference.
It is the neglect of Scots most in need of that power, to improve their life prospects, that Ms Sturgeon should be forced to apologise for on a regular basis.
If voters fail to demand that kind of debate about the society we live in – the issues which political campaigning used to be about – it will be Scotland's failing and not just the SNP's.
A message from the Editor:
Thank you for reading this article. We're more reliant on your support than ever as the shift in consumer habits brought about by coronavirus impacts our advertisers.
If you haven't already, please consider supporting our trusted, fact-checked journalism by taking out a digital subscription.
Comments
 0 comments
Want to join the conversation? Please or to comment on this article.