Placards calling for an end to what many believed to be an immoral war caused instant angry flare-ups among conservative citizens standing on the pavement. Some shouted: "Hippies get a job!" Others told us to "Go to Canada!" Despite this, the young, passionate, and determined protesters were enjoying the camaraderie of thousands of like-minded spirits as they walked along the street.
A few months earlier, I had joined hundreds of people marching in my hometown urging citizens to join us in boycotting lettuce. We believed that farm workers in Texas, mostly illegal immigrants, should be fairly compensated for their labour. Our campaign was successful and, as a result of our protests, the Farm Workers Union was established.
The 1970s was a time of unlimited passion for causes that included equal rights, a woman's right to choose, fair pay for all, and, yes, peace. Therefore, when I recently passed an Edinburgh primary school and watched a handful of teachers holding picket signs and loudly cheering when passing drivers honked their horns, I became hopeful. Once more citizens were showing their support for one another.
In an age of acrimonious social media debates, I often wonder why we are choosing to shout online, rather than in person, to voice our views about important issues. Occasionally groups such as All Under One Banner will organise a march to promote Scottish independence. However, there seem to be few other high-profile groups that are assembling citizens to protest over the cost-of-living crisis, equal rights for marginalised groups, and many other important causes.
Could this reticence to assemble in public be due to a fear of being criticised for promoting some kind of 'blasphemous' message? Is the problem political correctness that seeks to deplatform and cancel speakers, rather than welcome different points of view? Regardless of the reasons for the decline in peaceful protest, I fear future generations are missing the excitement and warmth of like minds coming together to advance important causes. Perhaps one way to encourage folk to return to the streets is to contrast the often-negative aspects of social media with the energising and positive social experience of legitimate public protest.
London's Hyde Park has long featured a "Speakers' Corner" to encourage people to exercise their right to free speech in a peaceful manner. There was once a hangman's gallows in the park where 50,000 people were executed and each prisoner was given the privilege of a final speech prior to their death. In the latter part of 19th century, protest groups would end their marches in Hyde Park and, one time, the parks commissioner was forced to resign after barricades blocking entrance to this public place were torn down by 150,000 people. From suffragettes to those demonstrating against the Iraq war, millions of citizens have gathered in Hyde Park to raise their voices in mostly peaceful protests.
Edinburgh also has a Speakers' Corner, at the Mound, but it's not widely known. Perhaps it would be used more often if relocated to the Mercat Cross on the Royal Mile or to one of our world-class parks, such as near the Scottish Parliament.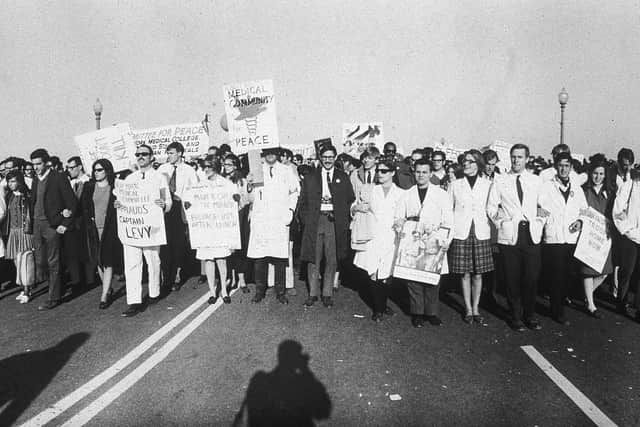 The US singer-songwriters Pete Seger and Lee Hays attended many demonstrations and wrote perhaps the best protest song: If I Had a Hammer. Popularised by Seger and other folk artists like Peter, Paul and Mary, it joyously reminds us of the hopefulness of positive protest:
"I got a hammer and I've got a bell
And I've got a song to sing, all over this land
It's the hammer of justice, it's the bell of freedom
It's the song about love between my brothers and my sisters, all over this land."
Perhaps one day soon we will have a designated public space that allows many thousands of our fellow citizens to hold hands and raise their voices in song and where they may experience the joy and jubilation of citizens assembling together to peacefully express their views and advance their causes through a song of love and freedom.
Joe Goldblatt is emeritus professor of planned events at Queen Margaret University. His views are his own. To learn more about his views visit www.joegoldblatt.scot